LFB team roster update from around the clubs
---
---
LFB team roster news from Arras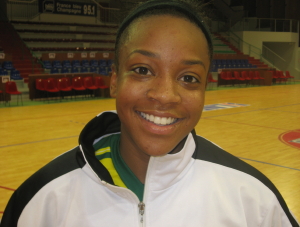 Mia Fisher (right) joined Asptt Arras three days before the start of the season as medical cover for Sarah Michel.
However her first duty was to play point guard because Leilani Mitchell was still playing in the WNBA.
This signing was only possible because Jenna O'Hea, although Australian, has a European passport.
We spoke with Michel during the LFB open and she mentioned that she was out for two months from the date of diagnosis. She is expected back by the end of October. Fisher is on a four-week contract.
But with Julie Bertin not due back until the end of November it is likely Fisher will be on the roster until then.
Roster announcements from Challes-les-Eaux
At Challes they had to sign Bosnian international
Ivona Bogoje
as medical cover for Marlous Nieuwveen who had back operation in August.
The exact date of her return is not certain but it is hoped that she will be fit to start playing in November.
Tanisha Wright is fit again
At Tarbes the medical cover period for
Elin Eldebrink
lasted only two games as
Tanisha Wright
is fit again to play.
Eldebrink did not have to wait long to find another club as she has signed with Estudiantes in Spain.
All the players missing from the WNBA during the Open LFB have finally joined their clubs in France.
Maïga Hamchétou
Although not directly related to the LFB roster news, we came to learn the sad news that the father of Maïga Hamchétou passed away last week Friday.
Hamchétou was the LFB MVP in 2006-2007 while playing for Mondeville. She had also played for Nice in the Ligue Féminine de Basketball.
She was hurt during the Olympic games while captaining Mali and is likely to miss most of the European season.
---
Team roster news announcements as the Open LFB approaches
Michele Van Gorp is back in France
Return to women playing basketball blog page
Return from LFB team roster news announcements to LFB news page
Picture credit:
womensbasketball-in-france.com

Date created: 11 October 2008

---