LFB team roster 2008-2009
Ligue féminine de basketball, effectif 2008-2009
Part two
---
---
The second part of the LFB team roster preview for 2008-2009 is concluded by reviewing the remaining seven teams playing basketball in the Ligue Féminine de Basketball.
Lattes-Montpellier – Basket Lattes Montpellier Agglomération
A 10-game winning streak between December and February of last season helped Montpellier finish the regular season in third place.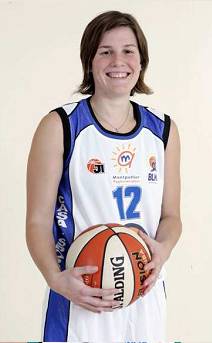 They then went on to beat USVO in the LFB play-off series to set up a final show-down with Bourges Basket, which they lost.
Montpellier had declined the offer to play in the FIBA Europe EuroLeague Women and had decided to participate in the EuroCup Women instead as they were keeping a tight reign on their expenses.
For this season Valéry Demory has to build a new team as only three players remain from the 2007-2008 roster.
Elodie Bertal who will captain the side is fully recovered from last season's injury. She will be joined by Aurélin Bonnan and Gaëlle Skrela (in picture).

Although a number of players have left after two successful seasons, Montpellier appear to have recruited well.
They are expected to do well in the league. However the participation in the EuroLeague Women which is new for most of the players will be energy sapping.
LFB team roster: Elodie BERTAL, Aurélie BONNAN, Leslie FOURNIER, Sylvie GRUSZCZYNSKI, Pauline KRAWCZYK, Sheana MOSCH, Alexia PLAGNARD, Gaëlle SKRELA, Manon VIERNE and Khadijah WHITTINGTON
Head coach: Valéry Demory
Nantes Rezé – Nantes Rezé Basket 44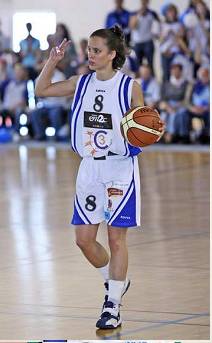 The club's ambition last season was to move up to the LFB. They achieved this as they won their ticket by taking the regular season title.
However they were not crowned as France NF1 champions as they lost in the final of the play-offs to Basket Landes.
Simon Guillou has put together an interesting roster. Clarisse M'Paka makes a return to the LFB after two seasons in NF1 and Leslie Ardon returns after her time in Spain.
The influx of youth playersr with Camille Aubert and Doriane Tahanne joining Carinne Brossais - added to the experience of their captain Maria Vincente Santa Cruz (right) and Sandrine Ronot - gives this side an interesting look.
The late addition of Michele Van Gorp adds another dimension to Guillou's style. However the expectation is that they will find the going tough in the LFB and spend most of their time in the bottom half of the table.
LFB team roster: Yuliya NDREYEVA, Leslie ARDON, Camille AUBERT, Carinne BROSSAIS, Morgane CARDIN, Kaela CHAPDELAINE, Clarisse M'PAKA, Sandrine RONOT, Doriane TAHANE, Michele VAN GORP and Marie VICENTE SANTA CRUZ
Head coach: Simon GUILLOU
Mondeville – Union Sportive Ouvrière Mondeville Basket
Once Caroline Aubert decided to leave Mondeville to play in Russia, the club's season practically came to an end.
Her departure and the injury to Lenae William may have caused Mondeville their chance of making the season-ending play-offs and a place in this season's FIBA Europe EuroLeague Women.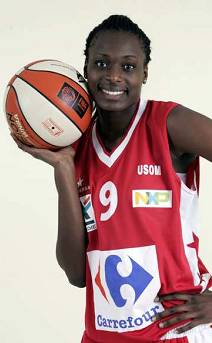 The goods news for Olivier Hirsch is that he has been able to keep his core roster together with seven players coming back.
Pauline Jannault who had signed with USVO with the intention of joining up with ex-Mondeville coach Hervé Coudray came to a premature end with the disappearance of USVO.
Mondeville have some of the best three-point shooters in France with Jennifer Digbeu (left) and Jannault on their roster.
In addition the signing of Clarisse Costaz should solve their problems at the point guard position.
The Caroline Aubert factor will be around for most of the season as she will be watching from the stands as she takes the season off to have a baby.
Paoline Salagnac will wear the captain's band for this season
LFB team roster: Kelly CORRE, Clarisse COSTAZ, Jennifer DIGBEU, Naura EL GARGATI, Natasa IVANCEVIC, Pauline JANNAULT, Nyree ROBERTS, Paoline SALAGNAC, Ingrid TANQUERAY and Lenae WILLIAMS
Head coach: Olivier HIRSCH
---
---
Reims – Saint Jacques Sport de Reims
It could be said that Reims sent USVO out of existence when they beat them last January.
USVO never really recovered from that defeat and went on to lose five other games during the second round of the season.
Reims' bubble finally burst in March and they dropped from fifth place to ninth by the end of the regular season.
Only three players remain from last season's roster forcing Philippe Sauret to build a new team.
His preparation has been hampered with injuries and the arrival or non-arrival of Valeriya Berezhynska.
While the budgets of other clubs have gone up, Reim's has been reduced by a significant amount.
Marie-Laure Fleury-Kindoki (right) will captain the team again this season. Mame-Marie Sy-Diop and Manon Sinico are the other survivors from the team that beat USVO.
Orsolya Englert makes a return to France. She played in the LFB with Arras two seasons ago.
LFB team roster: Valeriya BEREZHYNSKA, Lucie BOUTHORS, Orsolya ENGLERT, Marie-Laure FLEURY-KINDOKI, Jenny FOUASSEAU, Sara OUERGHI, Cassandre PIEDBOIS, Amélie POCHET, Manon SINICO and Mame-Marie SY-DIOP
Head coach: Philippe SAURET
Tarbes – Union Tarbes Gespe Bigorre
Tarbes had a season that will not be forgotten in a hurry.
They had three head coaches, almost brought the league to a standstill and yet ended up winning the LFB challenge round and qualified for FIBA Europe EuroCup Women.
Only two players remain from the main roster of last season, Liz Moeggenberg, (left) the new captain, and Isabelle Yacoubou-Dehoui who is back to her best after a great summer with the French national team.
However the arrival of N'Deye N'Diaye who has played in the LFB before, along with the Swedish point guard Frida Eldebrink should bring out the best in Moeggenberg who finished last season on a high. She was the LFB challenge round MVP.
Frida Eldebrink will not be alone as her twin sister will play for at least one month as medical cover for Taisiia Bovykina.
Tarbes have a complete roster with a good mixture of veterans and youth and have the potential to be one of the top runners this season.
LFB team roster: Marion ARFELIS, Isis ARRONDO, Taisiia BOUYKINA, Béatrice CASTETS, Frida ELDEBRINK, Liz MOEGGENBERG, N'Deye N'DIAYE, Polina TZEKOVA, Tanisha WRIGHT and Isabelle YACOUBOU-DEHOUI.
Elin ELDERBRINK (medical cover)is a late addition to the roster.
Head coach: François Gomez
UHB - Union Hainaut Basket
USVO and Saint Amand have been merged into one unit.
All the matches in the LFB will be played in the hall of Saint Amand while EuroLeague action will be played at the old home of USVO.
Fabrice Courcier (left) has been appointed as the head coach for this new team. He has put together an impressive roster.
Courcier came with three players from Saint Amand while only one player from USVO is part of the new team.
Most of the players have already played together on different teams or in national colours so integration should be easy.
UHB's preparation was hampered with many of the players being away on national duty. They also had difficulties in arranging pre-season games.
UHB will still be expected to challenge for domestic honours and also be more competitive in the FIBA Europe EuroLeague Women.
Vedrana Fonseca is back after a season away and will captain the new formation. There is no Australian in the roster, however the team will be joined by a Swedish international player Chioma Nnamaka.
LFB team roster: Tiffany STANSBURY, Sabrina PALIE, Mélanie PLUST, Bintou DIEME, Clémence BEIKES, Vedrana FONSECA, Chioma NNAMAKA, Laetitia KAMBA, Kathy WAMBE, Sabrina REGHAISSIA and Bernie N'GOYISA
Head coach: Fabrice Courcier
Villeneuve - Villeneuve d'Ascq - Entente Sportive Basket Villeneuve d'Ascq Lille Métropole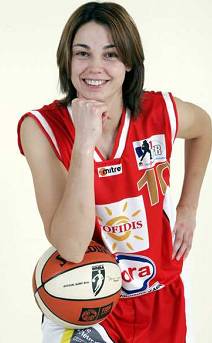 Abdou N'Diaye is the driving force at Villeneuve.
Despite the loss of a number of players this season, he has taken his time to assemble a suitable team roster.
Géraldine Robert will captain the team. Robert with Lujbica Drljaca (in picture) and Fatimatou Sacko form the core block of the roster.
The signing of Jolene Anderson may turn out to be the signing of the season as her style of play fits the N'Diaye philosophy.
Florence Lepron has finally changed directions by going a different path to Céline Dumerc (both played at Tarbes and Bourges). She should take up the role of first point guard.

LFB team roster: Audrey ALVES, Tracy ALBICY, Martina REJCHOVA, Florence LEPRON, Laury DATCHY, Lujbica DRLJACA, Géraldine ROBERT, Fatimatou SACKO, Milijana EVTOUKHOVITCH and Jolene ANDERSON
Head coach: Abdou N'Diaye
---
Part one of the team roster review 2008-2009
Return to women playing basketball blog page
Return from LFB team roster preview 2008-2009 to LFB news
LFB Team Roster Preview 2007-2008
Team roster preview 2007-2008 Part one
Team roster preview 2007-2008 Part two
Picture credits: All pictures on this page have been supplied by the FFBB/LFB Press Center

Date created: 27 September 2008

---