LFB team roster 2008-2009
Ligue féminine de basketball, effectif 2008-2009
---
---
The LFB team roster for each team in the Ligue Féminine de Basketball has been finalised for the 14 teams. This preview which is in alphabetical order will be split into two pages:
ASPTT Arras - Arras Pays d'Artois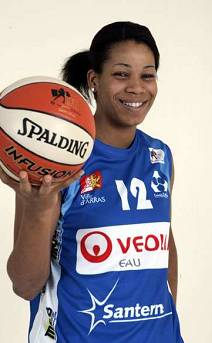 Bruno Blier
will be hoping for a better third season in the LFB after a difficult 2007-2008. Sheana Mosch who has left the club for Lattes-Montpellier was the star player of the team.
Carla Thomas came up big during the second half of the season and with a solid performance by Marielle Amand (left) the team escaped the relegation zone by finishing 12th.
Only three players remain from last season's roster. Julie Bareness has been nominated as captain for the season. It is a young team with only one player above the age of 24.
Leilani Mitchel will be a late arrival to the club due to her involvement in the WNBA play-offs.

LFB team roster: Marielle AMANT, Julie BARENNES, Julie BERTIN, Stéphanie BEUZELIN, Nathalie DOMA, Princesse GOUBO, Sarah MICHEL, Leilani MITCHELL, Jenna O'HEA and Vaïda SIPAVICIUTE
Head coach: Bruno Blier
Aix en Provence - Pays d'Aix Basket 13
Erick Lehmann
had a difficult first season in the LFB last year. His side lost at the Open LFB in overtime to Mourenx and had to wait until the fifth round to register a victory.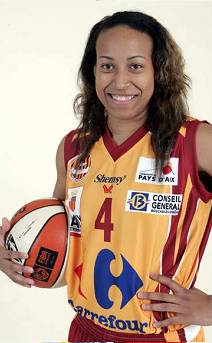 Nathalie Lesdema joined the club for twelve weeks as medical cover at the beginning of last season and helped the club to record some impressive victories in the FIBA EuroCup Women despite their erratic form in the league.
Aix were unable to get going all season but managed to climb out of the relegation zone to finish in 11th place at the end of the season.
They lost to Tarbes in the LFB challenge round and hence did not qualify for Europe.
This season they have only eight players in the team roster. Only three players from last season's main roster remain. Magalie Lacroix will captain the team again and also continue her work with the club's basketball academy.
Aix is expected to finish higher than last season.
LFB team roster: Renea CAMINO, Fanny CAVALLO, Anaïs DEAS, Hollie GRIMA, Magalie LACROIX, Yacine SENE, Kristin Brooke (K. B.) SHARP (in picture) and Laurence VAN MALDEREN
Head coach: Erick Lehmann
Basket Landes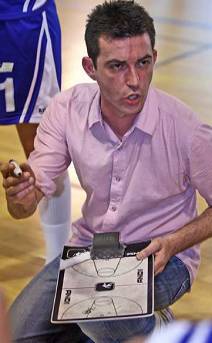 The NF1 champions from 2007-2008 are one of the most interesting clubs of recent times to reach the top flight.
In 2006 they were playing in NF2 (Division 3). After only two seasons in NF1 they are in the elite division for women playing basketball in France.
They used to attract 1000 spectators to their games while playing in NF1. Not many teams have gone to Basket Landes and came away with a victory.
The core of the team that won the NF1 championship have stayed at the club. Hence their recruitment has been light with just three additions.
Anaïs Le Gluher will captain the team in their first adventure in the LFB.

LFB team roster: Lucie CASCAILH, Naignouma COULIBALY, Emmanuelle DENION, Ekaterina DIMITROVA, Bineta DIOUF, Marion LABORDE, Eva LAFAYE, Coralie LAPEYRE, Anaïs LE GLUHER, Elizabeth MONTERO, Ana PEROVIC and Pierrette SYLVA
Head coach: Olivier Lafargue (above in picture)
---
---
Bourges Basket - Bourges Basket SA
Pierre Vincent will be hoping that Bourges Basket will continue their recent domination of the LFB by defending their title.
Last season they had eleven players on their team roster which will not be the case this season as he will have just ten players. Four players have left and three news players have come in.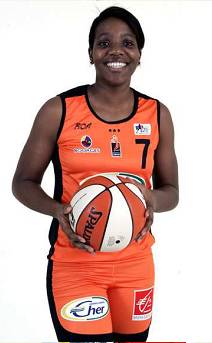 While the departure of Belinda Snell, Florence LePron and Sonja Kireta was always on the cards, the decision of Sonja Petrovic was a surprise to the club.
Not many clubs in the French league can lose four players of the quality of the player's that left and start a new season as if nothing has changed.
But with seven players from last season still at the club, Bourges is the exception.
Céline Dumerc will captain the team but is likely to share this duty with Cathy Melain who will retire from the professional game at the end of the season.
Bourges will be out to defend all their domestic titles and also try to win the EuroLeague women title.
LFB team roster: Nora BUDJOSO, Ana CATA-CHITIGA, Céline DUMERC, Ana LELAS, Katarina MANIC, Cathy MELAIN, Nwal Endéné MIYEM (in picture), Emméline NDONGUE, Carine PAUL and Alessandra SANTOS DE OLIVEIRA
Head coach: Pierre Vincent
COB Calais - Côte d'Opale Basket Calais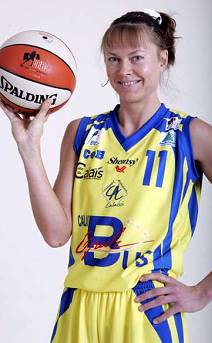 Calais was saved from relegation after the fusion of Saint Amand and USVO.
Cyril Sicsic was able to keep four players from last season and can only hope that things will be better this time around.
Lina Brazdeïkyte (left) will captain the team again. She did not play with Lithuania this summer and will be well rested for the season ahead.
Mariame Dia has also returned and is back for her third season.
Sara Leemans has decided to make her trip outside Belgium to play in the French league with Calais.
The combination of Leemans, Anne Sophie Pagnier and Olayinka Sanni will be exciting to watch.
LFB team roster: Lina BRAZDEIKYTE, Aurélie CIBERT, Solène COSQUER, Joyce COUSSEINS-SMITH, Mariame DIA, Sara LEEMANS, Christelle MOREL, Lauren NEAVES, Anne-Sophie PAGNIER and Olayinka SANNI
Head coach: Cyril Sicsic
Challes les Eaux Baske
They had a roller coaster season in 2007-2008 and still finished in fifth place. Corinne Benintendi, the only female coach in the LFB this season, had to deal with injury after injury last season as well as with the unexpected departure of Jessica Davenport.
However her side managed to be competitive in the FIBA EuroCup Women competition and were the only side in France to beat Bourges Basket.
This season she brings three new faces to the LFB amongst her five recruits. She will also have a new assistant coach as Matthieu Pouillot is now head coach at Roche Vendée (NF1).
Marlous Nieuwveen who came to Challes' rescue with some impressive numbers at the end of last season had a back operation during August.
She will not be fully operational at the start of the season but with the return of Silvia Janostinova-Bedu the side is well covered.
Martina Luptakova-Gyurcsi (right), last season's MVP, will captain the team again.
LFB team roster: Mélanie ARNAUD, Laina BADIANE, Kirby COPELAND, Stéphanie DUBOIS, Emilie DUVIVIER, Aïda FALL, Silvia JANOSTINOVA-BEDU, Martina LUPTAKOVA-GYURCSI, Marlous NIEUWVEEN and Carly WILSON
Head coach: Corinne Benintendi
Clermont-Ferrand - Stade Clermontois Auvergne Basket 63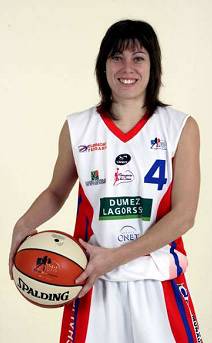 Emmanuel Coeuret's first season as head coach for a team in the LFB went well as his side was never involved in the relegation battle.
They spent most of the season in the top half of the table despite having one of the smallest professional roster in the LFB.
Claudia Das Neves and Pauline Krawczyk were responsible for a lot of the offensive work last season. Jennifer Butler's work around the boards made Clermont difficult to play against.
Only Das Neves remains from the trio but with the addition of Emma Randall and the young Pauline Thizy, just finished from the CFBB, the team have a more balanced roster in all the positions for the new season.
The captain will be be former French U21 international Anaël Lardy (in picture above) who turns 21 in October.
LFB team roster: Claudia DAS NEVES, Valérie LABBE, Anaël LARDY, Noémie LEMAIRE, Guiday MENDY, Eléna NIKIPOLSKAÏA, Lourdes PELAEZ SAN GIL, Emma RANDAlL, Pauline THIZY and Claire TOMASZEWSKI.
Head Coach: Emmanuel Coeuret
---
Part two of the team roster review 2008-2009
Return to women playing basketball blog page
Return from LFB team roster preview 2008-2009 to LFB news
LFB Team Roster Preview 2007-2008
Team roster preview 2007-2008 Part one
Team roster preview 2007-2008 Part two
Picture credits: All pictures on this page have been supplied by the FFBB/LFB Press Center

Date created: 26 September 2008

---