LFB round 18 comes to an end
The 18th round of the LFB has come to an end two weeks after the first game.
Villeneuve d'Ascq recovered from a 16-point first quarter deficit to beat Arras, while Bourges Basket cruised at Calais.
Nantes-Rezé stunned Mondeville with a final quarter blitz for an important round win.
In the game played two weeks earlier Basket Landes stunned Tarbes while Charleville-Mézières and Challes-les-Eaux also won.
With Villeneuve winning, Calais' battle against relegation is becoming harder as they are now three games behind.
The situation is worse for Toulouse who are six games behind the teams in 12th place. With just eight LFB games remaining it seems unlikely that they will get out of the relegation zone.
You can read the LFB basketball news from the previous round.
Villeneuve d'Ascq beat Arras in 4th North derby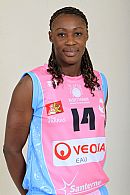 The LFB derby between Villeneuve and Arras lived up to its promise with both teams having their moments.
The match started with both sides trading baskets (6-6) and then Pauline Akonga N'Simbo (10 points in the first quarter) and Arras went on a 12-0 run to crack the game wide open.
Villeneuve were not able to find their scoring touch in time. Despite a buzzer beater by Olayinka Sanni from Villeneuve d'Ascq they trailed by 16 points at the first quarter.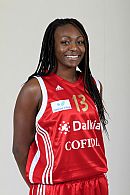 Arras started the second quarter leading (26-10) but went cold while Sanni (right) started the Villeneuve fightback with the first 5 points of the quarter.
Arras started to miss their shots and Villeneuve went on a 12-0 run to reduce their deficit (27-30) with a triple by Carla Thomas with just under three minutes left in the half.
The game became more intense and Arras were 7 points clear just before the buzzer. However Thomas fired a shot from beyond the arc to the delight of the home fans (32-36).
Sanni led the scoring with 100% at the break with 13 points.
The third quarter belonged to Ingrid Tanqueray who scored the last 9 points for Villeneuve as they went into the final quarter with a 3-point deficit (47-50).
The final quarter started badly for Arras with Marielle Amant having to limp off the court with less than 30 seconds played.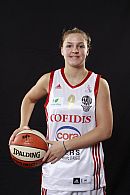 Laurie Datchy (in picture) got the hots off to a good start with a couple of free-throws. She finally put Villeneuve in the lead with a triple (54-50) with 8 1/2 minutes to play.
Sanni kept Arras at bay with some solid defending, while Thomas stretched the home team's advantage (57-50) midway through the quarter.
Back to back treys by Datchy and Thomas gave the hosts a 13-point lead (63-50) with four minutes left to play.
Amant recovered from her knock and returned to the match for Arras to start the fightback.
Leilani Mitchell fired in a trey which was quickly followed with points by Olesia Malashenko and Johanne Gomis as the deficit came down to 5 points (59-65) with two minutes left to play.
Arras got no closer and Villeneuve held on to win the game (72-62).
Villeneuve d'Ascq 72-62 Arras
Villeneuve d'Ascq: Carine Paul 2, Ingrid Tanqueray 12 (6 assists), Marjorie Carpréaux 5 (4 assists), Laurie Datchy 11, Fanny Ploegaerts DNP, Carla Thomas 18 (10 rebounds), Olayinka Sanni 15, Elodie Bertal 0, Adrijana Knezevic 9
Arras: Leilani Mitchell 10 (5 assists), Krissy Badé 1, Sarah Michel 2, Johanne Gomis 12, Olesia Malashenko 12, Adja Konteh 0, Marielle Amant 4, Aija Putnina 4, Pauline Akonga N'Simbo 17 (10 rebounds)
LFB news from the two remaining matches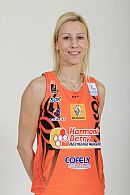 Bourges Basket started the game slowly giving Calais some hope with just a 2-point lead after the first quarter (15-13).
However once Cathy Joens (4-of-7) and Styliani Kaltsidou (4-of-5), in picture, started to hit their shots from beyond the arc there was just one team in the match.
Leading (70-43) after three quarters, Bourges relaxed, allowing their guests to edge the final quarter.
COB Calais 62-86 Bourges Basket
COB Calais: N'Deye N'Diaye 6, Sylvie Gruszczynski 14, Mélanie Devaux 5, Aurélie Cibert 9, Mélanie Arnaud 8 (4 assists), Manon Sinico 8, Pelagia Papamichail 8 (11 rebounds), Brigitte Ardossi 4, Marine Foiret DNP, Marine Capon 0
Bourges Basket: Anaël Lardy 5, Maja Miljkovic 2 (4 assists), Nwal-Endéné Miyem 18, Styliani Kaltsidou 16, Jennifer Digbeu DNP, Catherine Joens 16 (4 assists), Paoline Salagnac 6, Emméline Ndongue 12, Ilona Burgrova 12
---
Nantes-Rezé made up for their defeat at home (74-76) by beating Mondeville (69-64)in the return match.
Laurent Buffard will be delighted with the outcome because in case of a tie at the end of the regular season, his team will place higher on points difference.
The match itself was a yo-yo affair with the lead practically changing hands on each score for the first 15 minutes (25-25).
Mondeville finished the first half a little stronger and went into the break with a 5-point lead (35-30).
Mondeville stayed in front all through the third quarter and withwith just under nine minutes to play they led (53-43).
Emilija Podrug started the Nantes rival with 5 points which was completed by Caroline Aubert with 3:30 to play to go briefly into the lead (58-57).
Aurélie Bonnan and Aija Brumermane restored the advantage for the hosts as the battle in the paint became more intense.
However Nantes were in no mood to leave without the points and with 29 seconds to play Joyce Cousseins-Smith was a little off centre at the top of the arc and hit the triple for the lead.
The end was messy with the hosts failing to score while Mame-Marie Sy-Diop (right) added 4 more points.
USO Mondeville 64-69 Nantes-Rezé
USO Mondeville: Touty Gandega 4, Anne-Sophie Pagnier 2, Esther Niamké-Moisan 0, Aija Brumermane 2, K. B. Sharp 19, Lenae Williams 10 (4 assists), Yacine Séné 0, Pauline Thizy 0, Aurélie Bonnan 15 (5 assists), Valeriya Berezhynska 12
Nantes-Rezé: Florine Basque 0, Caroline Aubert 9, Joyce Cousseins-Smith 15 (4 assists), Mélanie Plust 0, Allison Hightower 10, Yuliya Andreyeva 5, Mame-Marie Sy-Diop 20, Sabine Niedola 3, Emilija Podrug 7
---
Return from LFB Basketball News to Ligue Féminine de BasketBall index
Go to Women Playing Basketball In France Home Page
Return to the top of page
---
LFB basketball news picture credits:


womensbasketball-in-france.com
LFB

Date created: 16 February 2011
---