Basket Landes stun LFB champions Tarbes
Basket Landes' LFB ambitions for this season remain intact after beating Tarbes (76-50) in front of their supporters.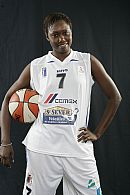 Bineta Diouf (left) had an almost perfect shooting day hitting 7-of-9 from the field for her 14 points. She also picked up 10 rebounds and dished out a couple of assists for Basket Landes.
She was outscored by Jennifer Humphrey who scored 17 points. Tamera Young and Anaïs Le Gluher also finished in double digits with 13 and 11 points respectively. Katarina Manic had 8 dimes while scoring 6 points.
Tarbes were without Ana Cata-Chitiga for this match and had the worst possible start allowing Basket Landes to open up a 10-point lead (12-2) with six minutes played.
Tarbes rallied back with Jelena Dubljevic and Naura El Gargati in the thick of the action as they reduced the deficit quickly. They trailed (14-17) with eight minutes on the game clock.
However Anaïs Le Gluher from Basket Landes with a trey and a couple of free-throws put the hosts back in command. Diouf completed the scoring for Basket Landes to finish the first quarter with a 10-point advantage (24-14).
Tarbes were unable to find a way to break down the defense of Basket Landes during the second quarter. Basket Landes maintained their composure and went into the locker room with a 19-point cushion (45-26).
Tarbes were making no headway in bringing down the score. Any hope of a comeback disappeared when Erin Thorn had to quit the game (32-51) after 26 minutes.
Basket Landes continued to pace themselves with points coming from all over the court to lead (59-36) at the end of the third quarter.
The control of the hosts was such that their coach, Olivier Lafargue, decided to allow Julia Borde (who scored) and Marion Pujos some court time at the end.
After the LFB match Jennifer Humphrey first of all thanked her team-mates for the brilliant season that she was having. Then she spoke about the club's ambition for EuroCup Women next season.
Basket Landes: Aminata Konate 2, Katarina Manic 6 (8 assists), Bineta Diouf 14 (10 rebounds), Anaïs Le Gluher 11 (5 steals), Julie Barennes 0, Tamera Young 13 , Julia Borde 2, Marion Laborde 7, Laurie Lapeyre 2, Marion Pujos 0, Jennifer Humphrey 17 (9 rebounds)
Tarbes: Jelena Dubljevic 8 (8 rebounds), Erin Thorn 2 (3 assists), Ivanka Matic 9, Pauline Jannault-Lo 0, Isis Arrondo 2, Naura El Gargati 8, Florence Lepron 8, Darline Nsoki 1, Brooke Smith 12 (3 assists)
---
The rest of the news from round 18
Return from LFB Basketball News to Ligue Féminine de BasketBall index
Go to Women Playing Basketball In France Home Page
Return to the top of page
---
picture credits:


LFB

Date created: 06 February 2011
---