LFB round 18, part one
After a LFB break of one week due to the Coupe de France, four matches from the 18th round were played.
These games were originally planed for Wednesday, 16 February 2011. But the teams that are not involved in the EuroLeague Women and EuroCup Women competitions were allowed to bring their games forward.
In the TV match broadcast by Ardennes TV Charleville-Mézières beat Toulouse (68-45).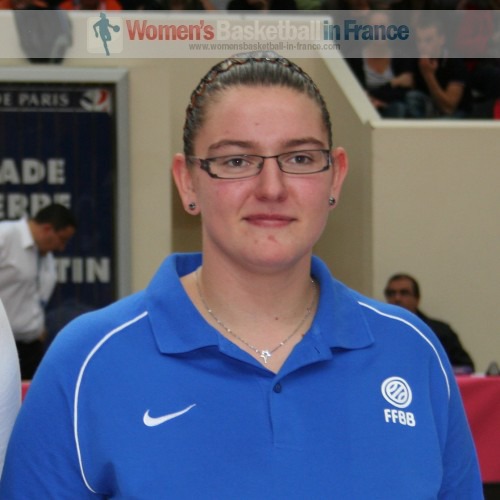 The suspense did not last long with Charleville-Mézières controlling the first quarter (21-10) with 9 points coming from Djéné Diawara.
All 10 players from Charleville-Mézières got on the score sheet as the game fizzled out as a contest by half time with the hosts leading (40-18).
Romuald Yernaux turned his bench regularly and gave youth international Eléonore Grossemy (in picture) her most minutes in the LFB to date.

Charleville-Mézières: Amel Bouderra 7, Belinda Mboma 2, Carine Contessi 3, Sarra Ouerghi 6, Alexia Kusion 2, Ekaterina Dimitrova 2 (6 assists), Kristen Mann 12 (8 rebounds and 4 assists), Djéné Diawara 20 (8 rebounds), Eléonore Grossemy 8, Patrycja Gulak-Lipka 6
Toulouse: Lou Mataly 0, Jessie de Colo 3, Camille Aubert 9, Chandrea Jones 14, Emilie Maurice 10, Leslie Matanga 0, Lola de Angelis 0, Shanavia Dowdell 2, Suzanna Milovanovic 7
More basketball news and scores from Saturday
Challes-les-Eaux snapped their two-game losing streak with an important victory against Lattes Montpellier (64-55).
Challes-les-Eaux were led in the first half of the match by Mistie Bass with 9 points as her side headed in the locker room leading (35-29).
With 2 points coming from Virginie Bremont and back to back scores from Ana Lelas, Montpellier were back on level terms (35-35) after 25 minutes.
Challes-les-Eaux regained control with a trey from Bianca Thomas. By the end of the third quarter they opened up a 20-point lead (49-39).
Montpellier who were not having the best of days were unable to get a run going and ended up conceding defeat.
Notes: Ashely Morris is the medical replacement from Montpellier for Alicia Poto.
Challes-les-Eaux: Romy Bär 8 (5 assists), Bianca Thomas 18, Alexia Plagnard 2, Sabrina Palie 5, Mistie Williams-Bass 11 (8 rebounds), Magali Lacroix 8 (6 assists), Clarisse Costaz 5, Jennifer Fleischer 7
Lattes-Montpellier: Ashley Morris 3, Virginie Bremont 7, Iva Perovanovic 5, Cyrielle Hugues DNP, Ana Lelas 11, Gaëlle Skrela 0, Sandra Dijon-Gérardin 6, Ines Ajanovic 14, Fatimatou Sacko 9
---
Union Hainaut Basket were unable to make home court advantage count. They lost to Aix-en-Provence (64-70) who went 9-of-19 from the three-point line.
Despite a 2-point lead at the end of the first quarter, it was Aix-en-Provence going into the break (37-27) thanks to a couple of three-pointers by Margaux Okou-Zouzouo.
UHB rallied back after seeing their deficit grow to 13 points during the third quarter. They trailed by just 3 points at the start of the final quarter.
However three-pointers by Zoi Dimitrakou, Nathalie Hurst and Hollie Grima from Aix-en-Provence stopped Union Hainaut Basket from regaining the lead.
Union Hainaut: Amanda Jackson 13, Emilie Duvivier 5, Clémence Beikes 11 (10 rebounds and 5 assists), Emilie Silbande-Petiteau 0, Noémie Lemaire DNP, Céline Girard DNP, Laëtitia Kamba 10, Jasmon Covington 18, Elsa Martins DNP, Alison Bales 7
Aix-en-Provence: Emmanuelle Gorjeu 0, Zoi Dimitrakou 12, Isabelle Strunc 0, Margaux Okou-Zouzouo 7, Natalie Hurst 16, Sabrina Réghaïssia 11, Carren Gay 8, Hollie Grima 16
---
The rest of the news from round 18
Return from LFB Basketball News to Ligue Féminine de BasketBall index
Go to Women Playing Basketball In France Home Page
Return to the top of page
---
LFB basketball news picture credits:


womensbasketball-in-france.com
LFB

Date created: 06 February 2011
---