All the stories for the LFB basketball news from the games of the round eight can be located by either clicking on the links below of scrolling down the page.
Tarbes have won eight games in the LFB and two in the FIBA EuroCup Women as they remain perfect for the season.Tarbes' strength this season has been their collectiveness.
Even when they did not play well individually they managed to turn things around as a team.
They turned over the ball 22 times and dished out only 8 assists but still won on the road against Challes-les-Eaux (62-57).
Tanisha Wright had an up and down game but managed to score 21 points including 2-of-2 from beyond the arc.
Also Frida Eldebrink had a poor day by her standards. Yet she still scored 8 points with 2-of-5 from beyond the arc.
The two teams continued to chase each other up and down the court during the first minute of the second period with Challes getting back on level terms (22-22) thanks to Badiane.
The lead was to change several times for the rest of the quarter as neither side was able to put a sequence of points together with Tarbes going into the locker room ahead (34-33).
However it was Tarbes that went into the final period with the advantage (53-51).
The last quarter was an anti-climax as both sides found it difficult to score, Tarbes finally made the break-through with Wright.
The match fizzled out with Tarbes holding on to win (62-57).
For Challes Badiane finished on 19 and Luptakova-Gyurcsi scored 12 points. Badiane was also credited with 4 assists alongside Emilie Duviver.
LFB basketball news: Box score information has been removed from linking site.
LFB basketball news from the three other games played on Saturday
Simon Guillon, Nantes-Rezé's head coach, said at the beginning of the season that you could not win games when you had more turnovers than assists at this level.
His team finished with 14 assists and 20 turnovers and ended up losing at home to Arras (53-61). Arras did not have a good game either although they did come up with 17 assists (10 for Leilani Mitchell - right) but turned the ball over 17 times.
Michele Van Gorp was the best player on display in a match that never took off. She scored 19 points and was joined in double digits by Kaela Chapdelaine with 10 points and 6 assists.
A poor third quarter by the home side allowed Arras and Bernice Mosby to go into the final period leading (48-41).The last quarter was exciting as Nantes-Rezé chased after the score. However turnovers at crucial times allowed Arras to hold on to win.
Mosby led the scoring with 18 points and was joined in double digits by Mia Fisher with 12 points.
LFB basketball news: Box score information has been removed from linking site.
---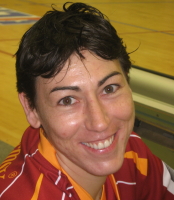 When Yacine Séné (14 points) hit her three-pointers (4-of-5) and Magalie Lacroix (17 points - left in picture) dominated the paint then Aix-en-Provence are difficult to beat.
But when you add Hollie Grima on fire (27 points and 5 assists) and Renae Camino (14 points) hitting the big three-pointer when needed and K. B. Sharp dishing out assists left right and centre, then Aix-en-Provence are next to impossible to beat in the LFB.
Clermont-Ferrand are a strong team at home. But they had no answer to the fire power of their guests. They trailed (34-44) at the interval. Any chance of coming back in the third period was ended by Hollie Grima as she scored 6 straight points for Aix to open the third period (12-4).
Grima then put the game out of reach of their hosts as she scored to give her side a 20-point lead (61-41).
Aix went into the final period leading (69-48) and were never in danger of letting the game slip, despite relaxing in defense. Aix went on to win (95-69)
Claire Tomaszewski (14 points) fouled out of the game early in the final period for Clermont-Ferrnad. This left Emma Randall alone offensively (16 points and 11 rebounds). Claudia Das Neves was not having a good shooting day with 7 points but did finish with 7 assists.
LFB basketball news: Box score information has been removed from linking site.
---
Montpellier never appeared to be in trouble as they hosted Basket Landes but still had to work hard for the victory.
Basket Landes had the better of the opening minutes and led (8-3). But it was Montpellier that edged the first period (20-19).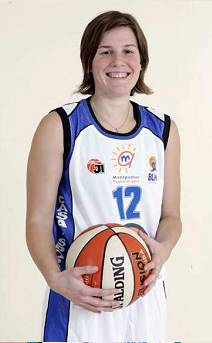 The guests did get the lead back briefly during the second period (26-24) but went into the locker room trailing (43-36).
Montpellier appeared to have had the game won by the end of third period as they stretched their advantage (63-47).
However Basket Landes are not a team that give up easily. They attempted to unstable their hosts and managed to bring down the score slightly (56-68).
Time was against them and with Gaëlle Skrela (right) from Montpellier in no mood to let this game go, her side went on to win (74-65).
Sheana Mosch led the scoring with 18 points. Pauline Krawczyk and Skrela both had 16 points.
For Basket Landes Marion Laborde with 17 points was one of four players in double digits.
LFB basketball news: Box score information has been removed from linking site.
---
---
Iziane Castro Marques made LFB Basketball news headlines
The game between UHB and Bourges Basket was relegated to secondary news when it was announced that Iziane Castro Marques had been drafted in as medical cover of Fatimatou Sacko.
She qualified to play this weekend for Villeneuve d'Ascq's game against Calais.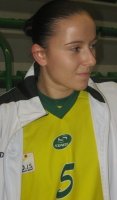 Jolene Anderson got the game off to a flying start with a three-pointer for Villeneuve. But this was all the home fans had to cheer about during the opening spell because Anne-Sophie Pagnier (left) from Calais fired in back to back treys.
Calais then went on the rampage and led (20-7) with less than eight minutes played. Ljuba Drljaca fired in a three-pointer off a pass from Castro Marques as Villeneuve fought back.
Lauren Neaves's physical presence in the paint was causing Villeneuve all kinds of difficulty as Calais held on to their lead (22-16) going into the second quarter.
Hence the home team changed their defensive strategy and made up their deficit to go briefly in front (26-25) off another trey by Anderson.
Calais responded by working to their centres Neaves and Sanni Olayinka to score 9 unanswered points. Afterwards Villeneuve continued to struggle and their opponents went into the interval ahead (43-30).
During the third period both sides had their moments with Calais stretching their lead to (68-50) going into the final quarter.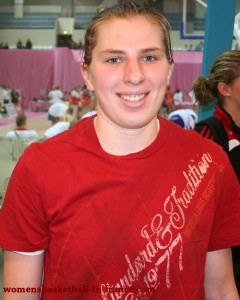 Then Villeneuve went all out in a typical derby fashion with Anderson (right) scoring all over the court to reduce their deficit to 8 points (64-2) with just under five minutes to play.
Calais had lost Olayinka to 5 fouls yet it was the loss of Florence Lepron for Villeneuve with 3:36 to play, which was the turning point of the game.
Villeneuve struggled without her. Despite the efforts of Anderson and Castro Marques Calais finished the game stronger to win (83-76).
For Calais Neaves was the player of the match with 24 points hitting 11-of-12 from the field, she also had 14 rebound and 4 assists. Pagnier and Aurélie Cibert both scored 16 points.
Anderson scored 25 points that included 5-of-8 from beyond the arc. Drljaca scored 19 points and Castro Marques finished with 10 points and 4 assists.
LFB basketball news: Box score information has been removed from linking site.
---
In the first game on Sunday, Mondeville ended their six-game LFB losing streak with a home victory against Reims (76-69).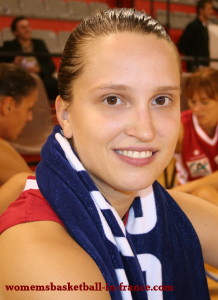 Clarisse Costaz (left) was the catalyst in Mondeville's victory. She scored 9 points including two three-pointers as she finished 4-of-4 from the field during the first period. She also had time to dish out 2 assists.
However Mondeville did not have it all their way in the first period because Amélie Pochet from Reims was very active.
She hit two three-pointers and was supported by Manon Sinico who was also on form as both teams finished the first quarter level.
The second period was end to end basketball with the lead changing on numerous occasions. Neither side was able to gain control. Lenae Williams who is now completely recovered from her injury started to come into the game more for Mondevillle as her side went into the interval leading (34-31).
Paoline Salagnac drove to the basket and caused Reims all kinds of problems as she picked up foul after foul and free trips to the free-throw line. 10 of her 16 points came from the charity stripes.
Mondeville opened the first lead of any significance (47-41) as Williams hit a three-pointer. They then extended their advantage to 10 points by the end of the quarter (57-47).
Mame-Marie Sy-Diop (right) was everywhere during the final period for Reims as her side chased after the score. But as hard as they tried they were not able to bring the score down enough to worry their hosts.
A trey by Costaz followed by a second one by Williams (72-62) ended Reims' chance of getting back into this game with 2½ minutes left to play.
Mondeville held off the last efforts of Sy who scored 12 of her team's last 14 points to win (74-69).
Costaz finished the game with 19 points and was joined in double digits by Williams on 17 and Salagnac with 16 points.
For Reims Pochet scored 22 points while Sy-Diop finished on 18.
LFB basketball news:Box score information has been removed from linking site.
---
They were no firer works in the match between Union Hainaut Basket and Bourges Basket. UHB, playing at home, were never in front in this match and were only on equal terms with their guests at (4-4) with 59 seconds played in the game.
Cathy Melain's passing caused UHB problems early on as she quickly notched up 3 assists. Afterwards Bourges put together a 7-0 run (17-8) to take control of the match and lead (20-14) by the end of the first period.
The second quarter resembled a game of chess as both sides cancelled each other out. Bourges had an 8-point lead (27-19) early in the quarter but had to be content with a 4-point lead at the break (35-31).
Both sides went defensive at the start of the third period. For the first three minutes only 6 points were scored all by Bourges (41-31).
UHB struggled with their opponents' defense and finished the quarter trailing by 15 points (40-55).
The final period was just a formality for Bourges as they paced themselves to victory (70-54).
Bourges had four players in double digits with Endéné Miyem leading the way with 14 points. Ana Lelas finished on 12 points while Emméline Ndongue and Alessandra Santos De Oliveira both scored 10 points each.
For UHB Kathy Wambe was the leading scorer with 9 points.
LFB basketball news: Box score information has been removed from linking site.
---
All the results from round eight:


Challes-les-Eaux 57-62 Tarbes

Nantes-Rezé 53-61 Asptt Arras

Clermont-Ferrand 69-95 Aix-en-Provence

Montpellier 74-65 Basket Landes

Mondeville 74-69 SJS Reims

Union Hainaut Basket 54-70 Bourges Basket

Villeneuve D'Ascq 76-83 Cob Calais
---
LFB Basketball News from round 7
LFB Basketball News from round 6
LFB Basketball News from round 5
LFB Basketball News from round 4
LFB Basketball News from round 3
Return from LFB basketball news to women playing basketball blog
Return from LFB basketball news from around the clubs to LFB news
LFB basketball news picture credits:
womensbasketball-in-france.com
Ligue Féminine de BasketBall
Leilani Mitchell - University of Utah
Tarbes Team Picture - Tarbes
Date created: 01 November 2008
Last Update 02 November 2008
---