Bourges, Tarbes and Union Hainaut are top of the LFB basketball news
---
---
The third edition of the LFB basketball news reviews the weekend action from Bourges Basket, Tarbes Gespe Bigorre and Union Hainaut.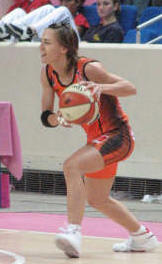 Bourges Basket continue their demolition of the their opponents with their third victory by at least 20 points.
COB Calais, playing at home, were their victim this time around. Their opponents got off to a good start as Céline Dumerc (left) hit a shot from beyond the arc to open the scoring.
Fortunately for Calais Anne-Sophie Pagnier was not afraid to shoot from down-town to bring the team level (3-3).
Bourges pushed ahead by scoring the next 5 points. Yet COB were not intimidated and were chasing after the score. They trailed by a single point after seven minutes of play (8-9).
Bourges were forced to change things around and went on a 7-0 run to finish the first period in front (16-10).
The match - as a contest - came to a rapid end as Bourges dominated the second quarter at both ends of the court. They went to into the locker room with a comfortable advantage (33-17).
Calais never recovered and fell further behind as their guests controlled the game to win comfortably (73-43).
Calais: Leemans 6, Pagnier 7, Cousseins 7, Dia 3, Cibert, Brazdeïkyte, Morel 2, Neaves 15, Sneed 3

Bourges: Santos 13, Manic 2, Melain 10, Miyem 10, Cata Chitiga, Dumerc 12, Paul 3, Lelas 6, N'Dongue 13, Bujdoso 4
---
If you are looking for excitement this season, then the team to watch is Union Hainaut Basket.
On paper they have a roster that would be expected to dominate with ease most teams in the Ligue Féminine de BasketBall.
Playing at home in the hall of Hainault (and not at Saint Amand) they welcomed LFB newcomers Nantes-Rezé.
In their first two games, they had to pull off escape acts that "Houdini" would have appreciated to win.
So it must not have come as a surprise that after 25 minutes of play the match was tied (42-42).
This time Union Hainaut basket did not have to wait until the last minutes to secure victory as Bintou Dieme came to their resuce with 10 points before the end of the third period to give them a 12-point advantage going into the final quarter (54-42).
They then controlled the last period to win (73-57) with Chioma Nnamaka leading the scoring with 19 points. Dieme was the only other player in double-digits with 12. Kathy Wambe dished out 6 assists.
For Nantes Kaela Chapdelaine led the scoring with 16 points and also dished out 3 assists. Leslie Ardon contributed 10 points.
LFB basketball news: Box score information has been removed from linking site.
---
Tarbes are the third team with a perfect record this season and were made to work hard against Basket Landes in their last match before coming away with a victory (52-43).
The first half was exciting but not the second half as both sides had a shooting day to forget with Tarbes shooting 18-of-52 from the field while Basket Landes went 16-of-52.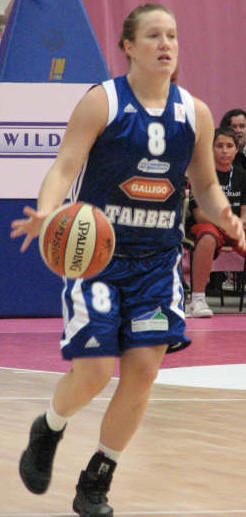 Isabelle Yacoubou-Dehoui was very active before the interval with 8 of her team's first 10 points. Basket Landes with their travelling supporters were not to be intimidated and only trailed by 5 points by the end of the first period (14-19).
Basket Landes were more aggressive during the second quarter and reduced their deficit to 2 points (29-31) as the half was drawing to an end.
Frida Eldebrink (left) increased with a three-pointer Tarbes' advantage to 5 points before going into the locker room (34-29).
The second half of the match was poor offensively for both sides while defense was the order of the day.
Tarbes managed to increase their lead by ending the third period 9-4 to go into the final quarter (43-33). The last 10 minutes were more intense with Tarbes holding onto their lead to win (52-41).
LFB basketball news: Box score information has been removed from linking site.
---
---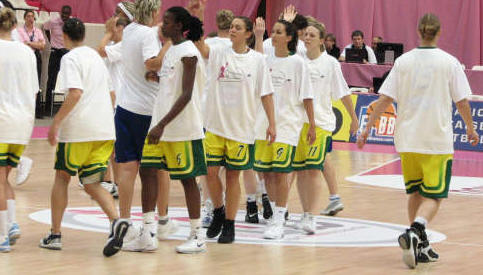 Clermont's perfect start to the season came to an end this weekend as they lost on the road to Reims (81-74).
Reims dominated the first half of the game and led by 22 points at the interval (50-28). However their guests fought back during the second half but ran out of time.
Reims: Englert 10 (and 7 assists), Sy-Diop 19 (and 15 rebounds), Pochet 6, Sinico 5, Berezhynska 10, Bouthors 8 , Ouerghi 6, Kindoki-Fleury 17
Clermont-Ferrand:: Lardy 13, Tomaszewski 12, Das Neves 11 (and 3 assists), Thizy 5, Randall 23 (and 16 rebounds and 3 assists), Labbé 2, Mendy 4, Lemaire 4
---
Aix-en-Provence recorded their first victory of the season by beating Challes-les-Eaux (61-55) with Renea Camino scoring 20 points for the winners.
She was joined in double digits by K. B. Sharp with 17 and Hollie Grima with 10 points.
For Challes Silvia Janostinova-Bedu was the only player in double digits with 10 points.
LFB basketball news: Box score information has been removed from linking site.
Montpellier got back to winning ways as they defeated Mondeville (70-54) with Sheana Mosch (left) leading the way with 17 points.
LFB basketball news: Box score information has been removed from linking site.
---
Asptt Arras hosted Villeneuve d'Ascq and came out second best as Fatimatou Sacko went to work to finish the match with 29 points to hand Arras their third defeat of the season.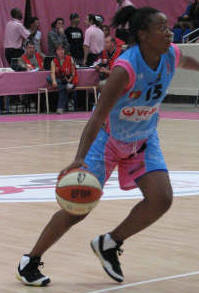 Arras stayed in contention for the first 25 minutes with Mia Fisher (right) doing her best as a make shift point guard.
Fisher's reputation as a fighter has earned her the respect of the opposing coaches.
During the first period Villeneuve used three players to subdue her while Jolene Anderson was given the task of keeping Jenna O'Hea at bay.
This tactic worked as Villeneuve opened a 10-point lead by the end of the first period.
However Arras managed to hold their own during the second period but were unable to reduce their deficit.
Villeneuve controlled the second half of the game and went on to win (75-60).
LFB basketball news: Box score information has been removed from linking site.
---
All the results from round 3 :
Tarbes 52-43 Basket Landes
Union Hainaut 73-57 Nantes Rezé
Mondeville 54-70 Lattes Montpellier
Union Hainaut 73-57 Nantes Rezé
Aix-en-Provence 61-55 Challes
Calais 43-73 Bourges
Arras 60-75 Villeneuve
Reims 81-74 Clermont-Ferrand
---
LFB Basketball News from round 2
Return from LFB basketball news from around the clubs to LFB news
LFB basketball news picture credits: Womensbasketball-in-france.com
Date created: 06 October 2008

---