Clermont-Ferrand making LFB basketball news headline
---
---
Clermont-Ferrand
's future in the Ligue Féminine de BasketBall has made the LFB basketball news headlines last week after the resignation of the club's president Lionel Leyrat.
The club has a financial deficit which has effectively reduced the professional roster. Elena Nikipolskïa and Lourdes Peleaz have not been granted licences to play by the LFB until the situation is resolved.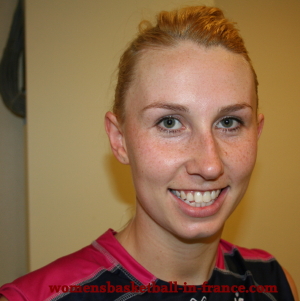 All the same this handicap has not stopped Clermont from starting the season with two wins. They beat Montpellier at home (93-86) with Emma Randall (left) scoring 28 points. She was perfect from the free-throw line as she finished the evening with 12-of-12 and she also had 9 rebounds.
Claudia Das Neves, better known as Claudinha , scored 24 points, while captain Anaël Lardy finished with 18 points and 7 assists. Claire Tomaszewski, known by the nick name TomTom, finished on 14 points.
For Montpellier the final result was a shock as they appeared to have everything under control early in the game. They led by as much as 10 points before falling behind at the interval (53-48). Elodie Bertal was already on 23 points at this stage of the game.
Bertal was not to score again but Khadijah Wittington on her début for Montpellier stepped up. By the end of the third period Clermont-Ferrand's advantage was back down to a single point (68-67).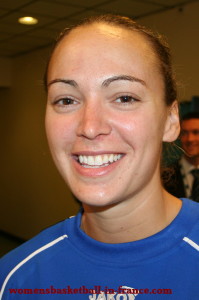 The home side continued to play as a collective unit. With a shooting percentage of 60 % from the field and the important contribution from their limited bench held on to win.
For Montpellier Bertal - although she did not shoot the ball again in the second half - led the scoring with 23 points, Wittington in her 17 minutes on the court finished with 17 points. Sheana Mosch (right) also scored 17 points while Aurélie Bonnan had 14 points.
LFB basketball news: Box score information has been removed from linking site.
---
Villeneuve d'Ascq 42-65 Bourges Basket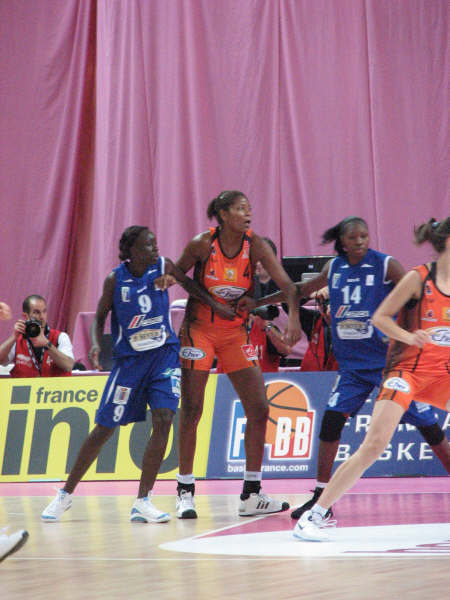 Bourges Basket made light work of Villeneuve d'Ascq after a hotly contested first period.
Florence Lepron
, playing for Villeneuve in this season, was very active.
But it was Bourges, through their Brazilian international Alessandra Santos De Oliveira, (left) that made the first break of the match (11-7).
Villeneuve fought back and a Lepron buzzer shot at the end of the first period brought the hosts to within 2 points (16-18).
The match was tied (18-18) early in the second quarter as Bourges Basket struggled offensively.
However they then went on a 14-4 run going into the interval leading by 10 points (36-26).
During the third period Bourges stepped up in defense and only allowed their opponents 4 points while scoring 15 to increase their advantage to (51-30) before going into the fourth quarter.
Pierre Vincent was able to give all his players a good run as they notched up win number two for the season.
Villeneuve-d'Ascq: Rejchova 6, Lepron 6, Drljaca 8, Robert 3, Sacko 9, Evtoukhovitch 6, Anderson 4

Bourges: Santos De Oliveira 10, Manic 8, Melain 4, Miyem 7, Cata-Chitiga 2, Dumerc 11, Paul 2, Lelas 5, Ndongue 14, Bujdoso 2
---
<
---
In the remaining four matches played in the second round
Tarbes
completely destroyed Arras (82-49).Tarbes opened with a (26-6) lead on concluding the first period and never looked back.
All ten players from Tarbes scored with five of them in double digits.
LFB basketball news: Box score information has been removed from linking site.
---
COB Calais won their first game of the season against Aix en Provence(70-65). Aurélie Cibert (right) led a balanced COB attack with 17 points in a hard fought game. The advantage turned in favour of Calais, late in the third period, with back to back treys from Cibert (52-46). The side took an 8-point advantage into the final period (54-48).
Then the two teams fought tooth and nail. With just under three minutes to go Calais' lead was just 3 points (66-63). In a match where only one free-throw was missed all evening Cibert and Lauren Neaves drew important fouls as the game was winding down to win trips to the free-throw line. Their success was enough to stop Aix and win the game (70-65).
In fact Aix have started the season in the same way as last season with two defeats.
LFB basketball news: Box score information has been removed from linking site.
---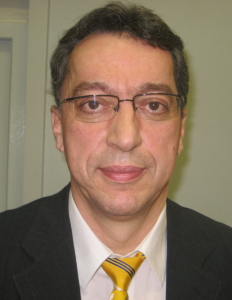 Philippe Sauret, the head coach from Reims, has already had experience playing at the home of Basket Landes while in NF1. Hence he knew that it would not be easy to come away with a victory.
All the same Reims had the better start and led (9-5). Yet that did not last long as the hosts went on a 7-0 run to go in front briefly. The sea-saw battle continued with the hosts finishing ahead (18-15).
Basket Landes never allowed their guests to settle and went into the interval with an increased advantage (40-31).During the third period the hosts started well and pushed their lead to 14 points before suffering a 10-0 run. However they managed to hold off their guests and went into the final quarter with a 10-point advantage (61-51).
Basket Landes then paced themselves to their first ever victory in the LFB (80-67).
LFB basketball news: Box score information has been removed from linking site.
---
It is clear that UHB will be the team to watch this season if you are looking for excitement in the LFB.
Against Challes-les-Eaux this Wednesday and for the first half of the match they appeared to have everything under control. They led (31-23).
In the final quarter they were still ahead by 9 points which they increased to 12 (52-40). Afterwards the home side came storming back and with just over one minute to go Challes regained the lead (62-61).
Then disaster struck for Challes when two of their own players ran into each other with the Australian Carly Wilson coming of the worst. UHB took advantage of the situation to score and take the lead for good to win (67-62).
LFB basketball news: Box score information has been removed from linking site.
---
A full match report on Nantes-Rezé against Mondeville can be found on our site by following this link.
All the results from round two of the Ligue Féminine de BasketBall:

Nantes Rezé 37-53 Mondeville
Tarbes 82-49 Arras
Basket Landes 80-67 Reims
Villeneuve 42-65 Bourges
Calais 70-65 Aix en Provence
Challes 62-67 Union Hainaut
Clermont 93-86 Lattes-Montpellier

---
Return from LFB basketball news from around the clubs to LFB news
LFB basketball news picture credits: Womensbasketball-in-france.com
Date created: 02 October 2008

---