2012 EuroLeague Women
Final 8 day 2 with first finalist determined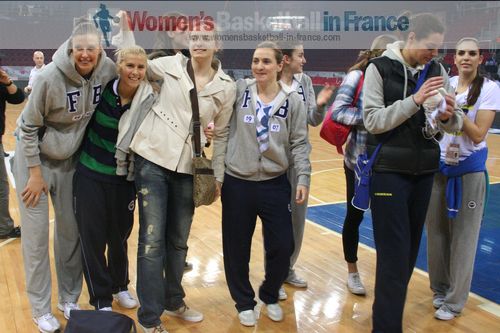 Ros Casares
opened the second day of the EuroLeague Women Final 8 with a hard fought victory against Sparta&K Moscow Region Vidnoje.
Ros Casares' place in the final was assured after UMMC Ekaterinburg beat Wisla Can-Pack afterwards but still both teams are eliminated from the title race.
Then Beretta-Famila was beaten by Rivas Ecópolis and are also out of the title race. In the final game of the evening, Fenerbahçe SK maintained their unbeaten record by defeating and eliminating the hosts Galatasaray Medical Park after having already lost on day 1 of the Final 8.
1. Ros Casares down spirited Sparta&K Moscow Region Vidnoje
2. UMMC Ekaterinburg's win is no ticket for the final of EuroLeague Women
3. Rivas Ecópolis came back to beat Beretta-Famila
4. Fenerbahçe SK eliminate the hosts in an explosive encounter
Day 2 picture gallery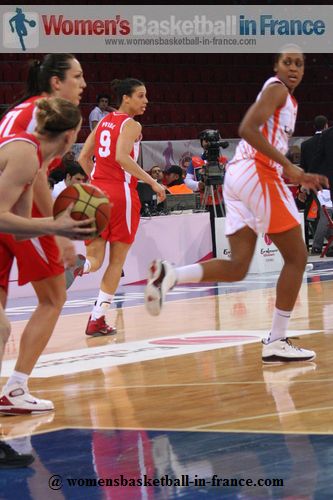 Move your mouse on the small pictures to view
Ros Casares keeping cool headed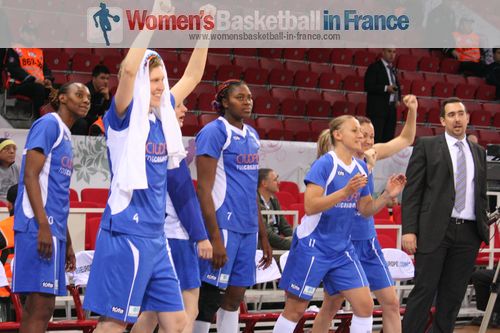 A 12-0 run at the start of the final quarter by Ros Casares was enough to turn the game in their favour as they overcame a 5-point deficit to lead (63-55) with six minutes to play.
The last five minutes were up and down with the Russian side reducing the deficit to 2 points on several occasions. However the turning point of the game with 40 seconds to go was when Becky Hammon was called for a five-second violation when holding off Silvia Dominguez.
Pokey Chatman (in picture) complained a little too much and picked up a technical for her efforts. Eshaya Murphy and Lauren Jackson hit the resulting free throws and the EuroLeague Women game was decided.
The Russians led for more than 30 minutes in the match thanks to their shooting from beyond the arc (11-of-23) and good transition basketball. Yet the experience of the Ros Casares players pulled them through.
Listen to comments from Maya Moore and Roberto Iniguez
Sparta&K Moscow Region Vidnoje: Candice Dupree 10, Sonja Petrovic 14, Evgenia Belyakova 3, Nika Baric 3, Tatiana Korovushkina DNP, Marina Kuzina 8, Ksenia Tikhonenko 0, Jelena Skerovic 3, Becky Hammon 16, Seimone Augustus 10, Head Coach: Pokey Chatman
Ros Casares: Jana Veselá 8, Silvia Dominguez 10, Isabelle Yacoubou 3, Miriam Foraste, Laia Palau 9, Katalin Honti DNP, Ann Wauters 14, Eshaya Murphy 11, Lauren Jackson 16, Sancho Lyttle 0, Maya Moore 6, Head Coach: Roberto Iniguez
UMMC Ekaterinburg and Wisla Can-Pack are not in the EuroLeague Women final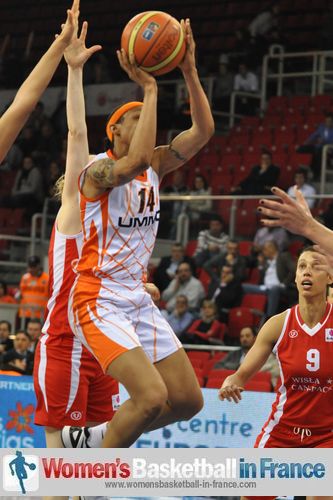 UMMC Ekaterinburg led for most of the game. Yet it took a good bit of defending by Candace Parker with 30 seconds to play that won the match for the Russian side.
She somehow knocked the ball away from Nicole Powell under her own basket to prevent Wisla Can-Pack making it a 1-point game.
Wisla were forced to foul the rest of the way which allowed Deanna Nolan (in picture) two trips to the charity stripes. She made all 4 shots while Sue Bird's buzzer beater three-pointer iced the victory (67-59).
The victory did not mean anything for UMMC because they had been eliminated from the race to the final before the game started.
On the other hand with their second defeat Wisla are also out of the title race. Their turnovers at critical moments cost them not only their victory but also the chance to qualify for the final.
Listen to comments from Candace Parker and Yelena Leuchanka
UMMC Ekaterinburg: Olga Arteshina 9, Sandra Linkeviciene 4, Sandrine Gruda 4, Yelena Leuchanka 7, Hana Horakova 0, Sue Bird 8, Maria Stepanova 2, Tatiana Vidmer DNP, Candace Parker 12, Deanna Nolan 19, Shay Doron DNP, Svetlana Abrosimova 2, Head Coach: Algirdas Paulauskas
Wisla Can-Pack: Anke De Mondt 11, Milka Bjelica, Paulina Pawlak 2, Pauline Pawlak 0, Ana Dabovic 2, Nicole Powell 23, Katarzyna Kreze 0, Ewelina Kobryn 16, Magdalena Leciejewska 0, Erin Phillips 3, Petra Ujhelyi 2, Joanna Czarnecka Dnp, Head Coach: Jose I. Hernández
Fourth team: Beretta-Famila out of the title race
Rivas Ecópolis controlled the pace of the first quarter after an opening (8-0) that enabled them to establish a (17-10) first-quarter lead.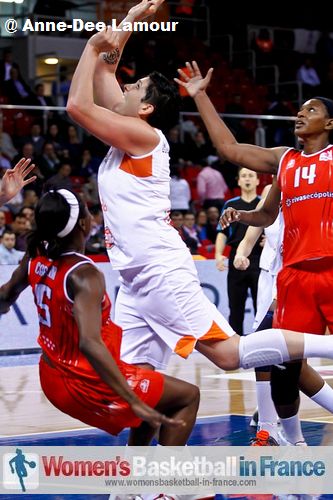 The Italians needed a win to stay in the EuroLeague Women Final 8 competition. They started to crash the boards at the offensive end with Cheryl Ford and Janel Mc Carville as they staged a comeback.
Rivas relaxed a little too much and Raffaella Masciadri punished them with a buzzer beater three-pointer to close the half (27-30).
The pace of the game picked up during the third quarter with neither team controlling the game. However Rivas held on to the lead and went into the final quarter ahead (45-43).
Despite a 2-point advantage Rivas was on the back foot and with just under eight minutes to play Beretta went in front for the first time.
The game went back and forth with both teams defending well and making scoring difficult.
With 3:39 minutes to play the pendulum swung in favour of Rivas with when Anna Cruz hit a three-ball. This was quickly followed by back to back three-pointers from Elisa Aguilar.
Asjiha Jones completed the 11-0 run and put the Spanish side back in the driving seat with 42 seconds left to play, leading (61-52).
The remaining time was played out on the free-throw line with Rivas coming out on top (65-58) for their second win in the EuroLeague Women Final 8.
Listen to comments from Asjiha Jones
Beretta-Famila: Chiara Consolini 3, Ivana Jalcová 2, Liron Cohen 10, Janel Mc Carville 7, Maja Erkic 7, Raffaella Masciadri 5, Emanuela Ramon DNP, Aija Brumermane DNP, Jenifer Nadalin 6, Cheryl Ford 11, Laura Macchi 7, Head Coach: Maurizio Lasi
Rivas Ecópolis: Laura Nicholls 5, Essence Carson 8, Kourtney Treffers DNP, Elisa Aguilar 11, Vega Gimeno 3, Amaya Valdemoro 0, Asjiha Jones 28, Anna Cruz 10, Gema Garcia 0, Tijana Krivacevic 0, Sandra Pirsic 0, Head Coach: Miguel Martinez Mendez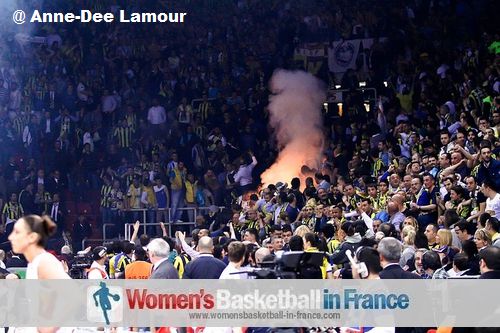 Fenerbahçe SK won explosive derby
8573 people turned up for the most explosive encounter of the EuroLeague Women on and off the court. The official attendance is a new record for an ELW Final stage.
As the game started an avalanche of streamers followed by fire crackers descended on top of us. We were actually hit on two occasions by fire crackers.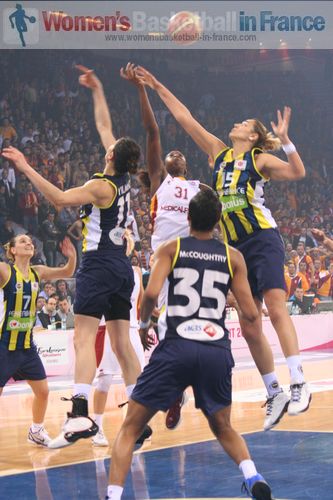 While all these activities were going on outside the court, the game had started and the teams were level (4-4) with two minutes played.
Both sides remained locked together until the sixth minute (9-9). Then the hosts took control and raced off to a first-quarter lead (26-18).
Tina Charles and Diana Taurasi continued to dominate for the hosts while their guests suffered set-back after set-back. First Angel McCoughtry had to sit out after 48 seconds into the second quarter with 3 fouls. Then six minutes into the quarter Penny Taylor came off second best in a clash of knees with Isil Alben.
After initial treatment, Taylor returned but was limping and eventually had to leave the game for good.
The hosts took full advantage and went into the locker room with (45-36) in front.
After the break McCoughtry returned. She sparked her team into action with 6 straight points while the arena erupted with supporters from both sides having a shouting match.
Zane Tamane was calm, throwing her weight about in the paint while her mean-mate Birsel Vardarli controlled the pace as they took the lead (59-57) at the end of the third quarter.
The last quarter was energy sapping with the only points in the first two minutes coming from the charity stripes. Taurasi was clever enough to foul off a good screen set by Tina Charles.
The teams were tied for the last time (63-63) with six minutes to play. Galatasaray did not have the legs or the match fitness to compete in the closing stages of the second game in the EuroLeague Women Final 8 and hence lost (67-75).
Listen to comments from Zane Tamane
Fenerbahçe SK: Elina Babkina 5, Zane Tamane 19, Birsel Vardarli 17 (5 assists), Esmeral Tuncluer 2, Kübra Siyahdemir 0, Nevriye Yilmaz 3, Devran Tanacan DNP, Penny Taylor 4, Ivana Matovic 9, Olcay Cakir DNP, Nevin Nevlin DNP, Angel McCoughtry 16, Head Coach: George Dikeoulakos
Galatasaray: Epifaniya Prints 17 (5 assists), Yasemen Saylar DNP, Ayse Cora DNP, Bahar Caglar 7, Isil Alben 0, Ivanka Matic 3, Diana Taurasi 20, Saziye Ivegin 0, Ticha Penicheiro 0, Tina Charles 19 (12 rebounds), Egle Sulciute 1, Head Coach: Ceyhun Yildizoglu
EuroLeague Women Final 8 - Day two live blog
---
Where to watch EuroLeague basketball
Visit our 2011-12 Ligue Féminine de Basketball page
Visit our EuroLeague Women index page
Visit WBBIF blog for latest news
Return to the top of EuroLeague Women news page
EuroLeague Women Final 8 picture credits:


womensbasketball-in-france
Ann-Dee Lamour

Date created: 29 March 2012
Date updated: 30 March 2012

---