Sylvia Fowles will play in EuroLeague Women all star game
---
---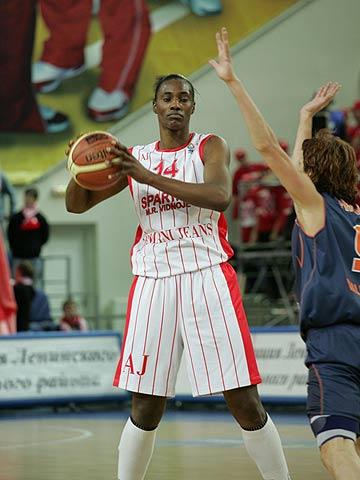 The first women to dunk in the EuroLeague Women competition
Sylvia Fowles
will play in the all star game in Paris on 8 March 2009.
Lauren Jackson and Diana Taurasi pulled out late from the Rest of the World team. However Spartak Moscow Region gave permission for Fowles to attend.
Europe has also lost two players. Current FIBA Europe player of the year Maria Stepanova and fellow team mate Agnieska Bibezycka from UMMC Ekaterinburg, also in Russia, also pulled out.
The final roster with jersey numbers is as follows:
Europe
4: Jelena Milovanovic - MKB Euroleasing
5: Céline Dumerc - Bourges Basket
6: Cathy Melain - Bourges Basket
7: Becky Hammon - CSKA Moscow
8: Shay Doron - Besiktas Cola Turka 12: Ann Wauters - CSKA Moscow
13: Anna Vajda - MiZo Pécs 2010
14: Anastasiya Veremeenko - Nadezhda
15: Nevriye Yilmaz - Fenerbahce
16: Géraldine Robert - Villeneuve d'Ascq

Head Coach: Pierre Vincent (Bourges Basket)
Rest of the World
4: Alessandra Santos - Bourges Basket
5: Laura Ashley Harper - Besiktas Cola Turka
6: Candice Dupree - Wisla Can Pack
7: Sheana Mosch - Lattes Montpellier
8: Dominique Canty - Wisla Can Pack
9: Alana Beard - LOTOS PKO BP
10: Tamika Whitmore - Gambrinus Brno
11: Crystal Langhorne - TEO Vilnius
12: Bernadette Ngoyisa - Union Hainaut Basket
14: Lindsay Whalen - ZVVZ USK Prague
15: Sylvia Fowles - Spartak Moscow Region

Coaches: Laszlo Ratgeber (Spartak Moscow Region ) & Lubor Blazek (ZVVZ USK Prague)

---
How to watch the all star game
Return to Women playing basketball blog
Return to EuroLeague Women season 2008-09 Index page
picture credits:
FIBA Europe

Date created: 07 March 2009

---