Live coverage of the 2009 EuroLeague Women all star game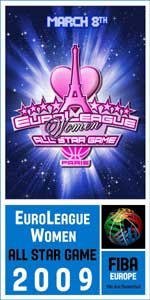 The fourth EuroLeague Women all star game between Europe and the Rest of the World will be shown live on the internet on Sunday, 6 March 2009 at 14:30 CET (13:30 GMT).
FIBA Europe will be using web streaming technology provided by the French Basketball Federation (FFBB).
The online live coverage will be made available to viewers all over the world provided there are no broadcasting TV rights in your region.
You will be able to view the game by following the All Star Game Link.
This link will open a new tab or window on your computer.
Hervé Coudray, the head coach of USO Mondeville, and Ivani Ballarini who is the team manager for the women French national basketball team, will provide the commentary.
---
Return to Women playing basketball blog
Return EuroLeague Women season 2008-09 Index page
Poster credits:
FIBA Europe

Date created: 06 March 2009

---