Fourth EuroLeague Women all-star game comes to the home of Basket in the City
---
---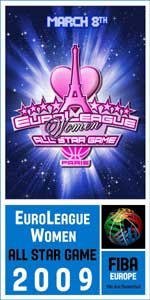 The Fiba Europe Euroleague Women 2009 all-star game roster has been recently announced.
The fourth edition of this gala event will be held in Paris, France, at the home of the Open LFB annual event Basket in the City.
There will be five players currently playing in France on the basketball roster.
Pierre Vincent who is the head coach of Bourges Basket has been given the job of coaching the European team.
Cathy Melain, one of the five players from the French league (LFB), who is retiring at the end of this season has been awarded a wild card entry for the game.
She was given this honoured recognition for her contribution to women playing basketball in Europe.
The basketball rosters are made up from the number of votes players receive.
Due to certain rules not all of the players topping the poll will not be able to participate.
You can watch the game at your leisure HERE.


For the European selection the five players with the most votes were:Ann Wauters, Amaya Valdemoro, Agnieszka Bibrzycka, Anke De Mondt and Shay Doron.
However Amaya Valdemoro, and Anke De Mondt will be absent fom the gala due to an agreement between the Spanish Federation (Copa de la Reina - Queen Cup)and the organising commitment.
Another agreement which was granted to the Italian Federation means that no players from these two leagues will participate in this event in 2009.
For the Rest of the World team the five players with the most votes were:Sylvia Fowles, Lauren Jackson, Candice Dupree, Diana Taurasi and Sue Bird.
Unfortunately due to rules which set a limit of two players per club means that Sylvia Fowles and Sue Bird who had less votes than their team mates will miss out.
The team rosters as released by FIBA Europe
EUROPE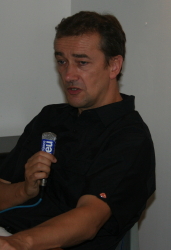 Coaches:

1. Pierre Vincent (Bourges Basket)

2. Gundars Vetra (UMMC Ekaterinburg)

The starting five:

Ann Wauters - CSKA Moscow
Agnieszka Bibrzycka - UMMC Ekaterinburg
Anna Vajda - MiZo Pécs 2010
Céline Dumerc - Bourges Basket
Shay Doron - Besiktas Cola Turka
The remaining team members:

Maria Stepanova - UMMC Ekaterinburg
Nevriye Yilmaz - Fenerbahce
Anastasiya Veremeenko - Nadezhda
Evanthia Maltsi - ZVVZ USK Prague
Jelena Milovanovic - MKB Euroleasing
Becky Hammon - CSKA Moscow
Géraldine Robert - Villeneuve d'Ascq
Cathy Melain - Bourges Basket

REST OF THE WORLD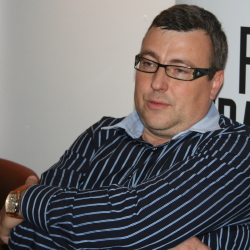 Coaches:

1. Laszlo Ratgeber (Spartak Moscow Region - left in picture)

2. Lubor Blazek (ZVVZ USK Prague)

The starting five:

Alessandra Santos - Bourges Basket
Lauren Jackson - Spartak Moscow Region
Candice Dupree - Wisla Can Pack
Diana Taurasi - Spartak Moscow Region
Dominique Canty - Wisla Can Pack

The remaining team members:

Bernadette Ngoyisa - Union Hainaut Basket
Laura Ashley Harper - Besiktas Cola Turka
Crystal Langhorne - TEO Vilnius
Tamika Whitmore - Gambrinus Brno
Lindsay Whalen - ZVVZ USK Prague
Alana Beard - LOTOS PKO BP
Sheana Mosch - Lattes Montpellier

Three-point shooting contest participants:
Agnieszka Bibrzycka - UMMC Ekaterinburg
Céline Dumerc - Bourges Basket
Evanthia Maltsi - ZVVZ USK Prague
Lauren Jackson - Spartak Moscow Region
Diana Taurasi - Spartak Moscow Region
Sheana Mosch - Lattes Montpellier

---
Return from EuroLeague Women to Women playing basketball blog
Return EuroLeague Women season 2008-09 Index page
EuroLeague Women picture credits:
FIBA Europe
womensbasketball-in-france.com
Date created: 10 February 2009

---