No post season in EuroCup Women for Nantes-Rezé
The group phase of the 2012 edition of EuroCup Women has come to its end with Nantes-Rezé joining the list of 15 clubs eliminated from the competition.
The group phase was not plain sailing for any of the clubs from the Ligue Féminine de Basketball but at least four clubs are in the draw for the knock-out stage of the competition.
Arras had already booked their ticket for the next phase. Hence their final match against BC Chevakata was just a match to determine final rankings. If Arras had won by more than 9 points then they would have topped the group.
The match was exciting and remained close up to the final minutes before Arras pulled away to win (75-68). Leilani Mitchell had her best game of the season for Arras with 17 points.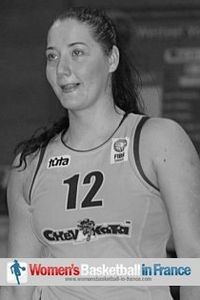 Pauline Akonga-N'Simbo also had 17 points while Krissy Bade ran her socks off while scoring 11 points, dishing out 5 assists and collecting 4 defensive rebounds.
Olesia Malashenko (in picture) who now plays for BC Chevakata was given a warm welcome by the Arras supporters. She scored 12 points against her former team-mates.
BC Chevakata were on a EuroCup Women road trip. They had beaten Belgium side BBC Sint-Katelijne-Waver (70-40) three days earlier to complete round 5.
Hainaut Basket was the only other French team to win in this round. They beat Gran Canaria (67-48). Both teams had already qualified.
The first 20 minutes were evenly contested with Hainaut Basket just holding on to the lead (36-30) at the break. Hainaut stepped up collectively at the start of the third quarter and blew away their guests 21-7 to end the game as a contest.
Radoslava Bachvarova had 19 points for Hainaut Basket while Amanda Houts fired in 18 points. Dandra Moss had 20 points for the guests.
With this victory Hainaut Basket topped EuroCup Women Group D.
French clubs do not travel well in EuroCup Women
Basket Landes travelled all the way to Ruzomberok and were soundly beaten (85-66).
Basket Landes only had 16 turnovers this week and actually had a reasonable shooting percentage. Despite a good spell at the end of the first quarter for them to lead (18-17) they were never really in the game with the exception of Anaïs Le Gluher-Cano who scored 19 points.
For MBK Ruzomberok
Carmen Guzman
went 4-of-6 from behind the arc to lead all scoring with 30 points. Basket Landes finish the group phase with 3 wins and 3 defeats but are still qualified for the eighth-final of the EuroCup Women.
USO Mondeville had to travel to Israel to face Elitzur Ramla and also returned with nothing as they were beaten (79-60).
Amanda Jackson and Shay Doron with 19 and 18 points each did most of the offensive damage while Laine Selwyn and Tanisha Wright dished out 9 assists between them.
There is not much to say for Mondeville: Touty Gandega led the side in scoring with 14 points but should not be happy with her turnover score while Laetitia Kamba had 12 points and 9 rebounds. All the same Mondeville are still in the competition.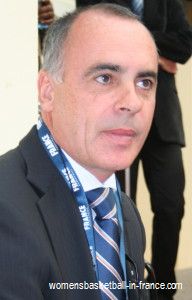 All Laurent Buffard (in picture) needed was a victory and Nantes-Rezé would have qualified for the next phase. However their opponents, Optimum Ted Ankara playing at home, also needed the victory.
The Turkish side played to their strength inside the paint which got them to the free-throw line on 27 occasions of which they were able to convert 25 of them. Optimum Ted Ankara went in front for good after seven minutes (16-15) and scraped their way to the final buzzer. Gülsah Akkaya and Matee Ajavon with 18 and 16 points were the leading scorers for the winning team.
Nantes-Rezé once again were hoping for magic from beyond the arc but 7-from-29 was a poor return.
In addition with just 3-from-6 from the free-throw line it was always going to be difficult. Aminata Diop led the scoring with 18 points and Lenae Williams fired in 17 points while Caroline Aubert scored 8 points and dished out 8 assists.
---
Round 5: A review of the weeks action
Visit our EuroCup Women index page
Visit WBBIF blog for latest news
Return to the top of ECW news page
EuroCup Women picture credits:


womensbasketball-in-france.com
Arras Basketball club

Date created: 8 December 2011
---