Basketball news: Bourges Basket are in cruise control
The basketball news from
The players of Villeneuve d'Ascq are feeling much better
after their victory against Limoges (86-70), the first game of the seventeenth round in the
Ligue Féminine de Basketball
.
Essence Carson (left) completed her contract with Bourges Basket on a high with 14 points in the victory (68-48) against Basket Landes.
Arras signed N'Deye N'Diaye this week. She made her début for the club in the road victory against Aix-en-Provence (80-70).
Although Lauren Neaves was back in action for COB Calais she was unable to help her team stop the ladies of Laurant Buffard from taking the victory. Nantes-Rezé won comfortably (85-58).
Challes-les-Eaux' winning streak continues in 2010 with a home victory against Armentières (79-50).
In the final games on Sunday Lenae Williams scored 29 points in helping Mondeville to win against Toulouse (76-66) while Tarbes completed the domestic double over Montpellier (70-65).
You can read highlights of LFB basketball news from the weekend action by clicking on the links below or by scrolling down page:


Bourges Basket cruised to victory

COB Calais' troubles continue

Challes-les-Eaux and Arras won

USO Mondeville beat Toulouse

Match results and statistics

Bourges Basket rolled past Basket Landes
Bourges Basket scored the first 5 points of the game and then paced themselves for the rest of the quarter.
Essence Carson's buzzer beater gave Bourges a 9-point lead at the end of the first quarter (17-8).
It was one way traffic for most of the second quarter with Bourges going 20 points clear (32-12) with just over 17 minutes played.
Pierre Vincent continued to turn his bench as Bourges ended the game as a contest by the interval (41-16).
After the break, Bourges dropped the pressure and allowed Basket Landes to bring some respectability to the scoreline.
The highlight of the third quarter was a three-pointer period-ending buzzer-beater by Ekaterina Dimitrova (right) from Basket Landes (36-56).
In the final quarter Aja Parham's appearance was just 30 seconds. She went down clutching her knee and was helped off the court.
With a little over three minutes left to play, Carson scored her final points for Bourges Basket with a shot from down-town (66-45).
She was given a standing ovation from the Bourges supporters when Romane Bernies replaced her with 90 seconds left to play.
Carson finished as top scorer with 14 points with Bourges running out winners (68-48). Emméline Ndongue, Styliana Kaltsidou and Miyem Nwal-Endéné all finished in double digits with 12, 11 and 10 points respectively.
For Basket Landes, former Bourges Basket player Sabrina Reghaissïa was top scorer with 13 points.
Return to the top
Basketball news: what is the future of Calais?
COB Calais have been hit badly by the new rules of the LFB concerning financial control.
Jennifer Humphrey (left) and Iva Roglic were given contracts until 31 December 2009. Calais were told to get their finances in order before the contracts could be extended.
Roglic was injured just before Christmas, so would not have been able to play while the club has been refused an extension for Humphrey.
So it is official that Calais' first team roster for the rest of the season will be made up of five senior players and three youth players.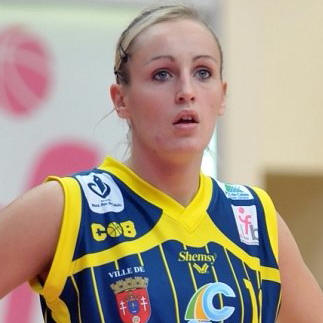 Calais, playing at home, held Nantes-Rezé for 20 minutes and trailed by just 4 points at the interval (30-34). But they were blown away during the second half of the match and ended up losing (58-85).
Kelly Corre who joined Calais from the Mondeville basketball academy in September is making her way back to the basketball court after injury. She played for 10 minutes and scored 7 points while Elsa Martins, another youth player, was on the court for 18 minutes.
Mélanie Devaux (above) is just 17 and played seven minutes. She is the third youth player. The club will rotate players from the academy to make up the number of players for the Ligue Féminine de Basketball games.
Swedish international Elisabeth Egnell and Anne Sophie Pagnier led the COB attack with 16 and 14 points each.
Return to the top
Basketball news:Challes-les-Eaux shone while Arras hung on
It appears the new year resolution for Challes-les-Eaux is working as they notched up another victory (79-50) against Armentières.
Challes, playing at home, required Kirby Copeland's (left) magic and 8 points during the first quarter to hold off their guests and Virginie Bremont (7 points) to lead (14-11).
Challes put an 11-0 run together during the second quarter (29-16) to take control of the game for good. They went into the locker leading by 13 points (40-27).
Armentières fought tooth and nail during the third quarter but then ran out of energy and collapsed during the final quarter.
Copeland and Marie Ruzickova scored 14 points each for Challes-les-Eaux. For Armentières Mia Fisher was the top scorer with 18 points while Bremont contributed 14 points.
In the other match, Aix-en-Provence made the mistake of allowing Arras to have the upper hand during the opening quarter (10-23) and then spent the remaining 30 minutes chasing after the game.
Arras were handicapped during the second half of the match without Pauline Akonga-Nsimbo but held on to their advantage with their shooting from beyond the arc to win the game (80-70).
Return to the top
Basketball news: Mondeville escaped with the victory
Mondeville were without Temeka Johnson and Aurélie Bonnan for the game. Bonnan is having back problems while Johnson is waiting for clearance from the
Ligue Féminine de Basketball
after undergoing some medical tests.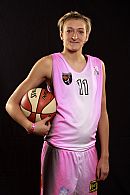 The first quarter was an offensive festival with Mondeville finishing in front (23-22) despite the efforts of Katharina Fikiel (left) from Toulouse who scored 10 points.
The offensive festival continued in the second quarter with the teams trading baskets for the first six minutes (37-37).
After almost two minutes of not scoring, Fikiel was the catalyst for a 9-0 run that took Toulouse into the locker room leading (46-37).
Lenae Williams started to hit from long distance and scored 11 of Mondeville's 18 third-quarter points which left the teams tied going into the final quarter (55-55).
Williams hit back to back three-pointers for Mondeville to take the lead (63-57) with eight minutes left to play.
Fikiel, Leah Metcalf and Agathe Nnindjem-Yolemp went to work for Toulouse and the teams were level again (63-63) with three minutes left to play.
A trey by Pauline Thizy (right) put Mondeville in the lead for good with a little under three minutes left to play.
Toulouse started to struggle and to make things more difficult Emmanuelle Hermouet was called for a technical foul just before the game entered money-time.
Williams converted the resulting free-throws (68-63) and Toulouse were unable to recover and ended up losing (76-66).
Williams led the scoring with 29 points (7-of-14 from beyond the arc). Aija Putnina and Yacine Séné fired in 12 and 11 points each while Clarisse Costaz scored 10 points and dished out 9 assists.
For Toulouse Fikiel led the way with 14 points while Agathe Nnindjem-Yolemp followed up with 13 points. Swanne Gauthier and Emilie Maurice also finished in double digits with 10 points each while Hermouet finished with 9 points and 6 assists.
However the basketball news section in Toulouse tomorrow might focus on Hermouet who finished the match holding her knee.
Return to the top
---
LFB round 17 results
Bourges Basket 68-48 Basket Landes
Villeneuve d'Ascq 86-70 Limoges
Challes-les-Eaux 79-50 Armentières
Tarbes 70-65 Lattes Montpellier
Go back to the top of page
---
Basketball news: Look back at round 16
Return from Basketball News to Ligue Féminine de BasketBall index
Go to Women Playing Basketball In France Home Page
---
Basketball news picture credits:
Ligue Féminine de Basketball - LFB
Olivier Martin @ Basquetebol.org
Romain Chaib @ Basquetebol.org
Date created: 30 January 2010
Last update: 31 January 2010

---