Basketball news: a victory at last for Villeneuve d' Ascq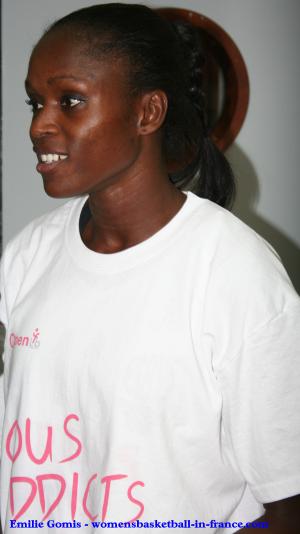 Basketball news: Emilie Gomis leading Villeneuve to victory
For Abdou N'Diaye, January 2010 has been a month to forget after a series of five defeats in all competitions despite his signing of a new contract with Villeneuve d'Ascq.
His team were eliminated from Coupe de France last weekend.
Before this setback they were beaten twice in the EuroLeague Women competition and twice in the Ligue Féminine de Basket.
Limoges were also eliminated from the French cup last weekend and lost Kerline Verjuin who had sprained her ankle during the match.
However the good news for the club was the clearance to play from the FFBB of Greek international Pelagia Papamichail.
Basketball news game report: Villeneuve put down Greek connection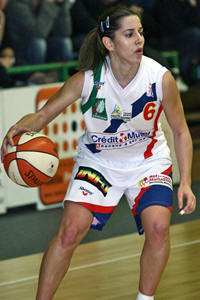 Villeneuve, playing at home, started the game aggressively and led (12-5) after five minutes. Limoges were saved early on by the Greek connection of Aikaterini Spatharou (left) and Papamichail.
However Limoges had no answer for Lady Comfort during the first ten minutes. They allowed the hosts to move 10 points clear (23-13).
Villeneuve were able to interchange players frequently while stretching their advantage (37-18) with 15 minutes played.
Villeneuve made the mistake of relaxing a little too much. So Limoges came storming back with Jessie de Colo and Spatharou (35-42) scoring from all over the court.
Emilie Gomis came to the rescue for Villeneuve with some of her trademark moves to enter the locker room with a 13-point lead (50-37).
After the break Villeneuve changed tactics and switched to their shooting game. Gomis connected three times in a row from beyond the arc while Jolene Anderson was successful once as their side moved 20 points clear (64-44).
The hosts then changed tactics once again. They took of advantage in the paint to increase their lead to 25 points (77-52) going into the last quarter.
Villeneuve controlled the pace of the game until the 35th minute (82-59). The moment they relaxed Limoges reduced their deficit slightly to lose (86-70).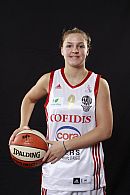 Gomis led the Villeneuve attack with 20 points and was joined in double digits by Laurie Datchy (right)and Ana Cata-Chitiga (15 rebounds) with 18 and 12 points each.
Elodie Bertal and Comfort finished with 11 points each. Ingrid Tanqueray did not score but provided 7 assists.
For Limoges Papamichail led the way with 18 points. Spatharou fired in 15 points and dished out 5 assists while De Cola and Erica Davis scored 14 and 11 points each.
Basketball news: Box score
Go back to the top of page
---
The summary from the rest of the matches from round 17
Return from Basketball News to Ligue Féminine de BasketBall index
Go to Women Playing Basketball In France Home Page
---
Basketball news picture credits:
Ligue Féminine de Basketball - LFB
womensbasketball-in-france.com
Limoges ABC

Date created: 30 January 2010
---