Ligue Féminine 2 basketball news:
Party in Lyon
gate crashed by Limoges
Three weeks ago the basketball news from Lyon came from FIBA with the confirmation that Turkey will host the 2014 World Championship for Women and that Great Britain will have a place in the 2012 Olympics games.
This weekend the Lyon hall was packed with supporters hoping for a victory and a defeat for Roche-Vendée.
Roche Vendée were beaten by Cavigal Nice Basket 06 on the road (53-72). So all Lyon needed was a victory for promotion to the Ligue Féminine de Basketball (LFB).
Limoges did not read the script and ran out winners against Lyon (58-42).
Johanna Tayeau fired in back to back treys for the first 6 points of the game for Limoges.
Lyon did not help themselves with missing the unmissable and trailed by 12 points by the end of the first quarter (6-18).
Lyon finished the game with just 1-from-17 from beyond the arc and only hit 26% of their shots.
Limoges had beaten Lyon during the first phase and maintained their composure, shot the ball better and ran out winners to (58-42).
All is not lost for Lyon who need to win just once in the remaining four games.
The rest of the basketball news
Stéphane Lalart will return to coach Armentières next season, while the future of current coach Abdel Bellouni is not certain. Bellouni is quoted as saying he will not return as assistant coach next season.
Meanwhile on the court this weekend Mia Fisher's off balance shot in the dying seconds was enough for Armentières to hold off Le Havre (58-57).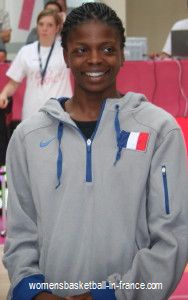 Olivia Epoupa was the driving force behind the victory of the CFBB (64-62) against Angers but unfortunately was not able to finish the game after she appeared to have twisted her ankle.
This victory brought an end to a 20-game losing streak.
Illkirch-Graffenstaden did just enough for their 4th consecutive victory (57-52) against Pau Lacq Orthez. Voiron have mathematically secured their LF2 status for next season after beating Perpignan (78-66).
Dunkerque Malo's recent good form continues with a hard fought victory against Pleyber-Christ (81-75).
The battle to avoid relegation is still complicated with six teams still involved.
The fate of Elan Béarnais Pau-Lacq-Orthez was sealed last weekend, while Angers' fate now depends on them winning their remaining four games and some extraordinary results elsewhere.
While Dunkerque, Perpignan and the SIG are two games clear of Le Havre and Rennes they are not out of danger.
Results of week 26:
Reims BF 78-65 Rennes
Lyon BF 42-58 Limoges
Nice 72-53 Roche-Vendée
CFBB 64-62 Angers
Illkirch-Graffenstaden 57-52 Pau Lacq Orthez
Voiron 78-66 Perpignan
Dunkerque Malo 81-75 Pleyber-Christ
AL Aplemont le Havre 57-58 Armentières
Look back on the previous LFB 2 news.
---
Return to Ligue Basketball news page
Return to women playing basketball in France Home page
GO Back to the top of the page
---
Basketball news picture credits:
womensbasketball-in-france.com

Date created: 03 April 2011
---