Ligue Féminine 2 basketball news
It is the end for Pau Lacq Orthez
For
Aurélie Lopez
and Pau Lacq Orthez the basketball news of this season has been about their difficulty in winning basketball games.
They have failed to build on their good start to 2011 and are the first team to be mathematically relegated this season after losing this weekend.
Pau Lacq Orthez, playing at home, had the best of the first quarter against AL Aplemont Le Havre (22-20).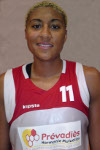 However six minutes without scoring and conceding 11 points (22-31) in the second quarter marked the end of the match for Pau Lacq Orthez.
Lopez's team managed a total of 22 points for the rest of the game while Le Havre cruised to victory (76-44) with former Wake Forest player Alexandra Tchangoue (right) scoring 23 points and dishing out 5 assists.
Lyon BF missed the opportunity to wrap up the Ligue Féminine 2 title and book their ticket for the LFB next season by losing on the road to Roche-Vendée (51-52).
Roche-Vendée scored just 3 points in a rather defensive final quarter. Slovak Republic international Gabreila Kubatova who scored 15 points and picked up 10 rebounds was the player of the match for the hosts.
Roche-Vendée can still stop Lyon from winning the regular season title provided they win their last five games and Lyon do not win again.
The rest of the basketball news from round 25
Rennes went 0-from-7 from beyond the arc but still had too much power for the CFBB to end up winning (65-57) with Kadidia Minte and Maud Medenou leading the way with 17 and 14 points each.
Olivia Epoupa was the leading scorer for the CFBB with 14 points.
The derby between Armentières and Dunkerque Malo lived up to its billing with the hosts coming out on top (70-59). Mia Fisher led the way with 22 points, 4 assists and 4 steals while Anaïs Déas contributed 18 points.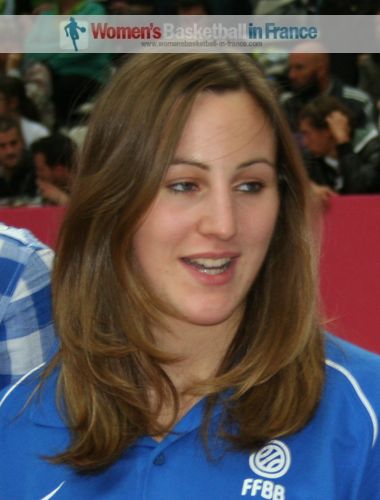 For Dunkerque Héléna Akmouche (in picture) with an almost perfect shooting day led the way with 19 points.
Limoges beat Reims (56-48) in a match where neither team shot the ball well.
Perpignan's slim hopes of sneaking into the top 4 has been made even more difficult as they fell at home in double overtime to Illkirch-Graffenstaden (75-79).
The duo Céline Schmitt-Sendner and Amina Njonkou combined for a total of 44 points as the SIG notched up their consecutive victory. Marie Ruzickova scored 22 points for Perpignan before fouling out.
Pleyber-Christ ran out winners against Voiron (82-70). Mélanie Venier who was fan favourite during her time playing for Pleyber-Chirst did not have the best of games and managed less than 10 minutes on court before fouling out.
Angers gave Nice time before running out of energy in the final quarter and conceding the game (74-82).
Cavigal Nice 06 final programme will see them play the top five teams in the division before concluding the regular season with a match against the CFBB.
Results of week 25:
Pau Lacq Orthez 44-76 AL Aplemont le Havre
Roche-Vendée 52-51 Lyon BF
Rennes 65-57 CFBB
Armentières 70-59 Dunkerque Malo
Limoges 56-48 Reims BF
Perpignan 75-79 Illkirch-Graffenstaden
Pleyber-Christ 82-70 Voiron
Angers 74-82 Nice
Look back on the previous LFB 2 news.
---
Return to Ligue Basketball news page
Return to women playing basketball in France Home page
GO Back to the top of the page
---
Basketball news picture credits:
womensbasketball-in-france.com
Elan Béarnais Pau Lacq Orthez
AL Aplemont Le Havre

Date created: 27 March 2011
---