Youth international basketball success for Russia and Sweden
---
---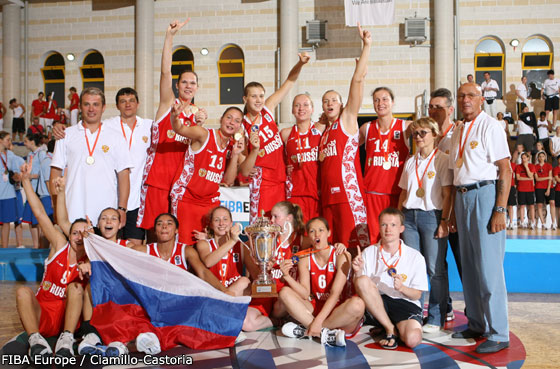 Russia won their fourth major U20 European Youth International Basketball Championship by beating France (67-58) in the final match.
They were the only team not to drop a game during the FIBA Europe U20 European Championship Women Division A and picked up the trophy for the fourth time.
Russia had won the first edition in 2000 with a team that included Irina Ospipova, Ilona Korstin, Tatiana Shchegoleva and Olga Arteshina. They also won the title in 2004 and 2006.
The final will be remembered for the Russians' solid defence and the lack of success for France from beyond the arc.
Russia led after the first period (17-10). But during the second period they suffered a 13-0 hammering allowing France to go into the lead (29-28). However Russia managed to recover and went into the break ahead (32-31).
Natalia Vieru, the tournament's MVP, picked up her fourth personal foul at the start of the third period, which should have been good news for France.
Yet Olga Zhuzgova, who came on, scored two quick baskets. Russia defended well and went into the final period leading (51-42).
However France reduced their deficit to 7 points (46-53) before Olga Petrov (21 points) hit a shot from the land of many.
France continued to fire from downtown but managed only 3-from-17 as they tried to close the gap.
While they failed in this exercise, Petrov from Russia excelled with 4-of-7 as she extended her side's advantage (65-50).
Russia missed a lot of free-throws in the closing two minutes but had enough points in reserve to keep France at bay.
Petrova finished top of the scoring charts with 21 points and Zhuzgova came off the bench to add another 10 points for Russia.
Marielle Amant finished with a double-double for France with 15 points and 10 rebounds. Ingrid Tanqueray contributed 12 points.
This is the second time France finish as runner-up in the U20 European Championship Women Division A.
Bronze for Serbia
Serbia clinched bronze as they cruised past Spain (73-46). Five Serbian players finished in double digits:
Jelena Milovanovic
led the way for Serbia with 17 points while
Sonja Petrovic
(former Bourges Basket player) contributed 15 points.
Dragana Gobeljic and Smiljana Ivanovic scored 12 and 11 points respectively while Iva Roglic chipped in 10 points and blocked 3 shots.
For Spain Jael Freixanet was the only player in double digits with 16 points.
U20 European Championship for women all-tournament team 2008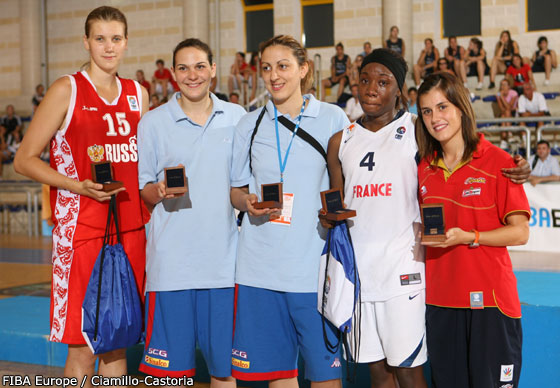 Natilia Vieru from Russia was named Most Valuable Player (MVP) and was joined in the all tournament team by: France guard Carine Paul, Serbian small forward Sonja Petrovic, Serbian power forward Jelena Milovanovic and Spanish point guard Gaby Ocete.
Sweden are U20 European Women Division B champions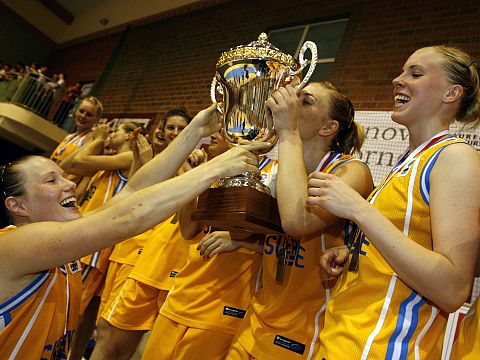 After winning bronze during the U19 World Championships last year, Sweden were expected to do well in this youth international basketball tournament.
They accomplished their mission as they did not lose a single game and held off the hosts Poland (64-60) in the final.
Sweden went into the final quarter trailing (49-53) but then went to hit their hosts 10-0 to take command of the game (59-53) with a little over five minutes to play.
Solid defending by Sweden and reasonable free-throw shooting down the stretch 3-of-6 from the free-throw secured victoru
Malin Edlund top scored in the final with 20 points. However Frida Eldebrink (MVP) was the player of the match with 18 points, 9 rebounds and 5 assists. Louice Halvarsson contributed 13 points and took 12 rebounds for the winners.
Joanna Zalesiak scored 17 points for Poland.
The all- tournament team contained three players from Sweden with the twin sisters Frida and Elin Eldebrink and Louice Halvarsson and Polish Agniezska Skobel and Hungarian's Finda Mansare.
Frida Eldebrink, who will be playing in France with Tarbes next season, was elected as Most Valuable Player.
---
Youth international basketball news from the European Championship Women U20 semi-finals
Youth international basketball news from the European Championship Women U20 Basketball Day 6
Youth international basketball final picture credit:
FIBA Europe

Date created: 22 July 2008
---