Partnership U18 Youth International Basketball Tournaments final day action
---
---
The youth international basketball tournament gave the coaches one more opportunity to try things out in this friendly U18 Women Partnership Tournament.
With Slovenia having already won the tournament, the main attraction was the battle for the minor places as four teams have identical records.
---
Ireland completing the hat trick by beating The Netherlands
After 90 seconds of observation Fieke Ligthart from The Netherlands put the first points on the boards with her characteristic low-post slip and turn move.
After four days of matches both coaches had a good idea of each other's systems. Hence both sides cancelled each other out for the first few minutes. Orla O'Reilly finally broke the dead-lock as she drove to the basket at full speed to score and draw the foul. She made her free-throw and Ireland took the lead (6-4).
Ireland extended their advantage as Clare Rockall split a pair of free-throws and hit a jumper while Orla O'Reilly hit a couple of free-throws (11-4). The Dutch coach called for a time-out - before the free-throws were taken by O'Reilly - and switched their defensive options. The Netherlands went scoreless for eight minutes as Ireland completed a 14-0 run with Hannah Thornton coming off the bench to hit a couple of baskets to lead (16-4) at the end of the first period.
Mascha van der Linden's turn of pace changed the Dutch options as they came out more aggressively. Within five minutes they had outscored their opponents (9-2) and trailed by only 3 points off the back of a trey from Demelza Ten Caat (15-18).
It was then the turn of the Irish staff to use a time-out as they required a change in approach. Ireland picked up the tempo but it was The Netherlands to hit first to reduce their deficit to a single point.
Rockall appeared to settle Ireland's jitters with a trey from the top of the key but the Netherlands were back (23-23) with back-to-back treys from Linden and Ten Caat.
The Netherlands took the lead with two seconds to play in the quarter (25-24) as Ligthart was on the end of a fast break transition (25-24).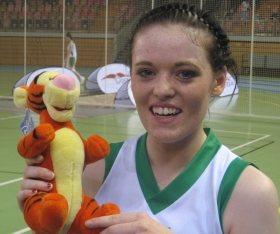 Eimear Mairtin (right) was at the end of two fast breaks for Ireland as they regained the advantage (28-25). Points from open play was hard to come by and Ireland stretched their lead from the free-throw line (30 25).
It took The Netherlands five minutes to break the Irish defence. From that moment the game changed with both sides running more and scoring more from open play. Ireland enjoyed this sequence of the game and went into the last quarter with a 6-point lead (38-31).
The cat and mouse game continued between the two sides with Ireland holding the advantage (41-35) with five minutes remaining in the game.
Ireland switched to zone defence. Within 90 seconds they had opened the first significant lead of the game (46-35).
Marianne van der Hoek then forced her way into the Irish paint to draw a foul. She converted the free-throws. However all the Netherland's hopes were dashed as Mairtin was left on at 45 degrees from beyond the arc. She hit the three giving Ireland a 12-point cushion to defend with 90 seconds left to play (49-37).
Ireland went on to win (54-46) with Orla O'Reilly leading the scoring with 18 points and was supported by Mairtin with 14 points.
For The Netherlands Ligthart and Ten Caat had 10 points apiece.
Jimmy Diggans (right in picture) and Tomás O'Hanlon, the coaching staff of the Irish team were very happy with their team's performance in this youth international basketball tournament. They are looking forward to the European Championship in Macedonia.
---
England come from far to beat Slovenia at the wire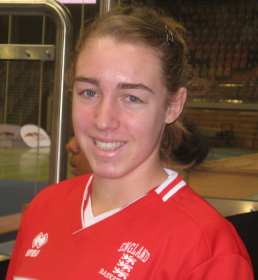 England quickly got into their stride. After a trey from
Tamzin Barroilhet
(right) they led (7-1). Renée Johnson-Allen had the task of watching Nika Baric and was called for two fouls. Baric then profited from the extra space to score back-to-back baskets. However Johnson-Allen made the necessary adjustments and managed to keep Baric at bay. Slovenia started to move the ball around and eventually went in front as
Tjasa Gortnar
was at the end of a fast break (9-8). England went back in front briefly as
Katrin Chiemeka
hit a pair of free-throws. Gortnar was at hand to give Slovenia the lead back, only for
Mary Durojaye
to pick up an offensive rebound and score. Slovenia then stepped on the turbo and scored 11 unanswered points to lead (22-12) by the end of the first period. England changed their defensive system. They used their pace in attack to feed the ball to
Hannah Shaw
who hit 6 straight points as England reduced their deficit (20-24).
The Slovenian head coach then called for time-out and made adjustments in defence. This managed to stall England's advance as the opponents held onto the lead (28-24). England's head coach was forced to change the system once again and England went in front as
Durojaye
(right) hit a pair of free-throws (29-28). The pace picked up and both sides went into the interval level (31-31).
Ines Kerin
(right) hit a trey to open the scoring for Slovenia as the two teams took time to settle. The game then went up a level with Slovenia stretching their advantage from the land of many despite the efforts of
Julia Colley
(left)for England who was also successful from beyond the arc (46-40). Slovenia's quicker movements off the ball opened space for them to score at will as they kept England at bay (53-42). Foul problems for Shaw complicated matters for England and Slovenia went into the final period (55-45). A fast flourish of baskets from both sides made the game pleasant to watch with Slovenia holding onto the advantage (59-52). England were running the ball more more and Colley, aggressive at both ends of the court, started to find her space. With Chiemeka hitting a back-to-back three-pointer England reduced their deficit (55-61).
England continued to press and Chiemeka hustled the Slovenians into a mistake at their paint to score. Then Colley followed by Barroilhet hit also back-to-back treys as Slovenia's advantage had evaporated to a single point (65-64).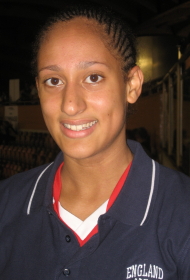 The Slovenian coach was forced to bring his starting five as the game entered money-time and their lead was only 3 points (69-66). The match-up
Baric
(left) -
Chiemeka
(right) reached its climax with Chiemeka tapping the ball off Baric at mid court to tie the game (69-69) with 43 seconds to play. Hannah Shaw won a crucial jump-ball situation under the defensive boards that gave England the ball. Colley was fouled in the corner and put in both her free-throws. England won (71-69).
In double figures for England were Colley with 16 points, Chiemeka had 14, followed by Shaw and Barroilhet with 13 and 12 points apiece while Durojaye had 10 points. Slovenia's top scorers were Kerin with 17 points, followed by Baric and Lea Jagodic with 13 and 11 points apiece. The English head coach Deirdre Hayes speaks after the experience of her team during the youth international basketball tournament:
(Note: If you are using Internet Explorer click twice on the triangle)


---
Germany beat Luxembourg to end youth international basketball tournament on a high
Germany raced out to an early lead (7-0) with back-to-back three-pointers from Danina Skrobek and Pia Mankertz. Luxembourg then fought back and were back to within 1 point after a trey by Marie Hetto.
Claude L. Weynandt completed the Luxembourg recovery as they briefly took the lead (10-9). However Germany went ahead at the end of the first period (11-10).
The second period was played at a slow pace with Germany scoring all their points from the free-throw line (18-10). Per Hermann, the Luxembourg head coach, was not very happy with his players. After his words they started to play with more conviction.
These changes by Luxembourg pushed Germany into changing offensive options as they held on to their advantage (28-21). The German had coach decided he needed a time-out in order to break the opponent's rhythm with half time approaching.
Germany went into the interval leading (32-24).
Germany kept tied control of the game not allowing Luxembourg any space to hit from the perimeter and increased their advantage (46-30).
With 3:40 left in the third quarter Lynn Schreiner, the locomotive behind the Luxembourg defence, fouled out of the game. Florence Welsch then stepped up and took over the three-point shooting duties and connected with her first attempt.
Germany were in no mood to let their advantage slip and went into the final period leading (52-38). Then Jo Schreiner from Luxembourg hit a three on the buzzer from downtown.
Sarah-Marie Frankenberger (left no. 15) for Germany started to move well in and out of the box which allowed Pia Mankertz (left no. 8) and Svenja Brunckhorst (left no. 6) to make use of their space. They created chances as Germany increased their lead (58-43).
Germany controlled the pace of the game to win (71-50).
Top scorers for Germany were Mankertz with 20 points. Brunckhorst and Leonie Bleker scored 13 and 12 points apiece.
For Luxembourg Lynn Schreiner and Haentges were in double figures with 13 and 10 points apiece.
For Luxembourg this defeat pushed them to fourth place. Ireland finished in second place and England finished in third spot in this youth international basketball tournament.
---
Youth international Basketball Partnership Tournament Luxembourg "Day 4
Youth international Basketball Partnership Tournament Luxembourg "Day 3
Youth international Basketball Partnership Tournament Luxembourg "Day 2
Youth international Basketball Partnership Tournament Luxembourg "Day 1
Youth international Basketball Partnership Tournament Luxembourg U18 women Preview
Return from Youth international Basketball Partnership Tournament Luxembourg to "What's New" page
Return to youth international basketball index
Date created: 20 July 2008
---