U20 Youth international basketball qualification round comes to an end
---
---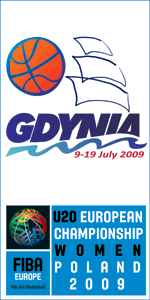 France beat Latvia (75-65) as the youth international basketball qualification round comes to an end.
France inside present was too much for Latvia with Marielle Amant, Doriane Tahane and Ana Cata-Chitiga combining for 30 points and 23 rebounds while restricting the Latvian duo of Anete Steinberga and Liga Surkusa to 2 points and 4 rebounds.
France completed the preliminary round with a victory against (70-60) and then notched up qualification round victories against Lithuania (77-57) and Poland (65-76).
France will play Turkey in the quarter-final.
Spain have also maintained a perfect record with 6 wins.
They completed the first phase with a comfortable victory against Germany (80-44.
They showed no mercy to Bulgaria and (89-38), they then held off Italy (75-59).
Spain were given a much harder test by Serbia whà had to do with out the service of Sonja Petrovic in wining (88-74).
The quaurter-final pairing is as follows:
Spain vs. Poland
Russia vs. Germany
Serbia vs. Latvia
France vs. Turkey
Montenegro stay in Division A is already over after falling to Belarus (68-73) while Ukraine have assured top flight play next season after winning beating the Czech Republic (74-68) for the second win in the relegation group
---
Return to the Youth International Basketball Index page
Basketball picture credits:

FIBA Europe
Date created: 15 July 2009

---