Youth international basketball in Gdynia, Poland
---
---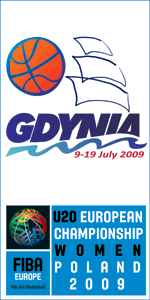 The U20 European Championship Women Division A youth international basketball event is a mini-dress rehearsal for the EuroBasket men that will be held in Poland between 7-20 September 2009.
Alain Jardel, the French head coach, completed his preparation with a tournament in Italy despite injuries to key players.
France lost to Sweden (59-60) but bounced back to win against Germany (77-53) and Italy (65-56).
The final U20 French roster for the European Championship is:
Marielle Amant – Asptt Arras
Isis Arrondo – Tarbes
Amel Bouderra - Charleville-Mézières

Virginie Bremont – Armentières
Carine Brossais - Nantes-Rezé
Ana-Maria Cata-Chitiga – Bourges Basket

Jessica Clémençon – Voiron
Aline Fischbach – Illkirch-Graffenstaden
Darline N'Soki – Illkirch-Graffenstaden

Mélanie Plust – Union Hainault
Audrey Salvi – Point Chaud Sprimont (Belgium)
Doriane Tahane - Nantes-Rezé

U20 European Championship Women Div A round-up
France were drawn in Group D and opened with a comfortable victory (87-55) against Belarus.
France dominated the first period (29-13). They more or less ended the game as a contest during the second period as their advantage reached 22 points at one stage (41-19).
France's lead was reduced slightly by the interval (45-26). Then France went further ahead ( 62-29) with 28 minutes played.
The game ended with a flourish by both sides with France winning comfortably (87-55).
Youth International Basketball Box Scores Box Scores.
In the other match in Group D, Russia gave Sweden a rude awaking by beating them (81-43).
The big news of the championship but not a surprise was the arrival of Alba Torrens, Tamara Abalde, Laura Nicholls for Spain. All three missed the competition last year because of the Olympic Games and have already participated with the senior women at EuroBasket Women.
Spain beat Turkey (78-50) in their opening match from Group A while Germany beat Ukraine (74-70).
In Group B Serbia showed no mercy in beating Bulgaria (91-47). Sonja Petrovic is on the Serbian roster and scored 14 points and finished with 6 rebounds in her 17 minutes on court.
Italy walloped Montenegro (91-64).
---
Return to the Youth International Basketball Index page
Picture credits:

FIBA Europe

Date created: 10 July 2009

---