France U16: international youth basketball
programme starts in Poinçonnet
Julien Egloff is responsible for the youth basketball programme for the U16 this season and will be assisted by Jean-Pascal Boisse and David Gallois.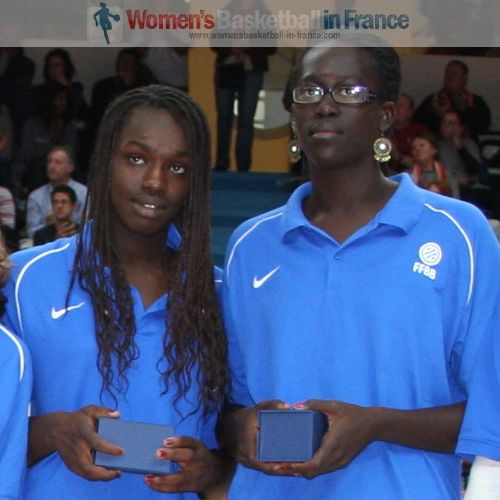 They called up 20 players for the first training camp of the season and selected 14 to participate in the "U16 Tournoi International du Poinçonnet".
France won the tournament in 2009 and again in 2010. They will meet last year's beaten finalist and 2008 champions Spain as well as Italy and The Netherlands.
Clarince Djaldi Tabdia and Aby Gaye (both in picture) will be making their second appearance in this tournament after representing France last year.
The three-day basketball festival will take place from Saturday, 23 April 2011 until 25 April.
Saturday: Italy vs. Spain; France vs. Netherlands
Sunday: Netherlands vs. Spain; France vs. Italy
Monday: Netherlands vs. Italy; France vs. Spain

The 14 players called up by the French Basketball Federation are:
| | | | | | |
| --- | --- | --- | --- | --- | --- |
| Name | Surname | Hight | Year | Position | Club |
| Katia | CLANET | 1.87 | 1996 | Center | Challes-les-Eaux Basket |
| Fleur | DEVILLERS | 1.77 | 1995 | Forward | CFBB |
| Bérengère | DINGA MBOMI | 1.74 | 1995 | Forward | CFBB |
| Clarince | DJALDI TABDI | 1.83 | 1995 | Center | CFBB |
| Sophia | ELENGA | 1.85 | 1995 | Center | Bourges Basket |
| Aby | GAYE | 1.95 | 1995 | Center | CFBB |
| Laëtitia | GUAPO | 1.82 | 1995 | Forward | CFBB |
| Mégane | HERO | 1.70 | 1995 | Forward | Lattes-Montpellier BA |
| Ophélie | IRABE | 1.84 | 1995 | Center | USO Mondeville |
| Assitan | KONE | 1.91 | 1995 | Center | CFBB |
| Alexia | LACAULE | 1.65 | 1995 | Guard | Basket Landes |
| Marie | MANE | 1.83 | 1995 | Forward | Bourges Basket |
| Elise | MARIE | 1.64 | 1995 | Guard | Tarbes GB |
| Clémentine | MORATEUR | 1.75 | 1995 | Forward | CFBB |
---
Go to French international youth basketball page
Go to Women Playing Basketball In France Home Page
Return to the top of page
---
picture credits:
womensbasketball-in-france.com


Date created: 23 April 2011
---