Union Hainaut's women playing basketball
in the LFB in 2010-2011
Corinne Bénintendi
is once again leading a team playing basketball in the Ligue Féminine de Basket (LFB) with Union Hainaut Basket Saint-Amand-les-Eaux (UHB-SA). UHB-SA made a quick return to the LFB after qualifying
for the NF1 final
last season.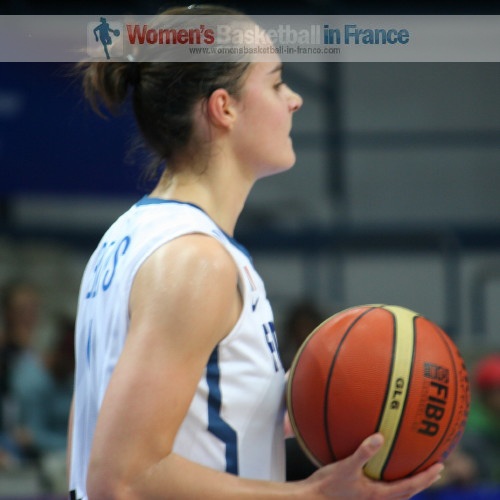 Only five players remain from the team that won promotion: Emilie Duvivier, Clémence Beikes (left), Noémie Lemaire, Céline Girard and Laëtitia Kamba.
Beikes, Duvivier and Kamba had already played in the LFB before.
They have signed Alison Bales who also plays in the WNBA with the Atlanta Dream. At 2.01m (6′ 7″) she is the tallest player in the league this season.
Jazz (Jasmon) Covington who has spent the last three seasons playing for different clubs in Europe is the second American in the team.
Steffi Sorensen is the third player from the other side of the Atlantic to join the team this season. However despite being born in the USA, she is also German.
This is her first season in the professional ranks after completing her NCCA career with the Florida Gators.
The roster is completed with two players from France: youth international Elsa Martins who played for Calais last season and and from Nice, Emilie Silbande-Petiteau.
Go back to the top of page
---
Go to Women Playing Basketball In France Home Page
---
Basketball picture credits:

womensbasketball-in-france.com

Date created: 09 November 2010
---