NF1 basketball is not always pleasant to watch
The NF1 basketball bubble for Pleyber-Christ looks to have burst after having suffered their second consecutive defeat to teams at the bottom end of the table.
They lost at home to the CFBB (58-63) in a match that was not nice to watch. Pleyber-Christ had a shooting day to forget with just 19-from-82 from the field and 17-from-31 from the charity stripes.
The CFBB statistics were not brilliant either with 21-from-61 from the field.
Yet they got their act together late in the third quarter to take the lead for good. They finished the game with a three-point buzzer beater by Hélèna Akmouche for her 10th point of the game.
Florine Basque led the scoring with 17 points for the CFBB and was the only other player in double digits.
For Pleyber-Christ Céline Boubala-Yembi was the most efficient player scoring 15 points with 5-of-9 from the field and 4-of-5 from the free-throw line. Naignouma Coulibaly compiled a double-double with 25 points and 22 rebounds but had a miserable day from the free-throw line with 5-of-16.
Pleyber-Christ drop down to 11th place, just one spot above the relegation zone.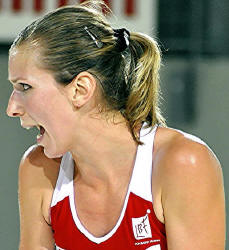 Lyon won the best match of the weekend by beating Nice BC 06 (90-88). The game went to the wire with Nice leading (88-82) with 90 seconds to play.
Géraldine Bertal (right) then came to the rescue for Lyon with 7 straight points to secure the victory and finish the game with 24 points.
Charleville-Mézières, playing away, crushed CSP Rezé (82-40) while UHB-SA won the derby of the North against Dunkerque (65-51).
Roche Vendée's play-off ambitions remain intact after beating Rennes (77-65).
What else happened this weekend in NF1 basketball?
Tours lost for the 15th straight game, this time at home (50-68) to US Laveryron. Tours are six games behind Pleyber-Christ and with just eight games left to play they have little chance of escaping the relegation zone.
Illkirch-Graffenstaden continue their negative record with their fourth straight defeat in NF1. This time they lost on the road to Voiron (63-86). However they still hold on to fifth place.
Reims move up to sixth place after beating Charnay-lès-Mâcon (59-46).
The FFBB proposal of changes to the structure of professional and amateur basketball in France was discussed last month and a release has been issued to the clubs.
An official release will be issued in due course. However it appears that next season NF1 will remain in place even if the league changes its name and comprises of 16 teams.

All the NF1 basketball results from round 23 of the 2009-2010 season are listed below:


CSP Rezé 40-82 Charleville-Mézières

UHB-SA 65-51 Dunkerque Malo

Roche Vendée 77-65 Rennes

Lyon BF 90-88 Nice BC 06

Voiron 86-63 Illkirch-Graffendstaden

Reims 59-46 Charnay-et-Mâcon

Tours 50-68 US Laveyron

Pleyber-Christ 58-63 CFBB (INSEP)

---
Round 22: Illkirch-Graffenstaden drop out of the top 4
Return from NF1 Amateur Basketball news to the Nationale Féminine 1 index page
Return from NF1 Basketball news to women playing basketball blog page
Go to Women Playing Basketball In France Home Page
---
Basketball news picture credits:
Dominique Bentejac
CFBB

Date created: 14 March 2010
---