SIG having a NF1 basketball hic-cup
After 22 rounds of NF1 basketball, the play-off picture is still very unclear with a total of 11 teams in the hunt for qualification.
Illkirch-Graffenstaden, the surprise team of last season, are finding the going harder this season. They have dropped their third game in a row this weekend by losing at home to Reims BF at home (79-91).
As a result the SIG drop down to fifth place and are now one game behind the teams in third and fourth place.
The SIG had the better of the first half and led (48-42) at the break.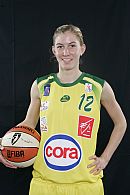 They managed to keep Manon Sinico quiet for most of the game. But they failed to pay attention to Jenny Fouasseau (In picture - 16 points) who brought the teams level with a trey (62-62) after 28 minutes of play.
She then put the guests in front briefly before Floriane Herrscher and Zuzana Gujaraidze (18 points) put the game firmly in the hands of Reims (68-64) going into the final quarter.
However the SIG fought back in the final quarter and the teams were level (74-74) with five minutes to play.
The SIG started to miss their shots while Reims went on a 10-0 run.
The SIG still had 90 seconds to save the game. With Charline Savage hitting a trey, the home fans kept on hoping.
Unfortunately a few seconds later Savage picked up a technical foul. Herrscher (22 points and 10 rebounds) hit the resulting free-throws and the chance of the hosts to come back was gone.
The rest of the points came from the free-throw line. Fatou Dieng had a lively game for Reims with 23 points and 7 rebounds.
Darline N'Soki with 13 points and 15 rebounds was the best player from the SIG while Lina Brazdeïkyte led the team with 19 points.
The rest of the NF1 basketball news
UHB-SA came away with a road victory (63-60) against Charnay-lès-Mâcon while NF1 leaders Charleville-Mézières beat Voiron (81-70).
Roche Vendée had no problems in beating the CFBB (70-35) to stay in third position while Dunkerque won against Lyon BF (72-69) and move up to fourth place.
Bénédicte Fombonne was the match winner for Dunkerque Malo with 24 points. She was a perfect 4-of-4 from beyond the arc.
US Laveyron ended a negative series of 9 defeats to beat Pleyber-Christ (79-68). Aurélie Carmona (right) was the player of the match with 26 points for Laveyron.
Rennes lost at home in overtime to CSP-Rezé (74-76) while Nice BC 06 had a comfortable victory against Tours (100-63).
Last weekend Rennes beat US Laveyron (75-67) in the rearranged game from the 14th round.
All the NF1 basketball results from round 22 of the 2009-2010 season are listed below:


CFBB (INSEP)35-70 Roche Vendée

Rennes 74-76 CSP Rezé

Charleville Mézières 81-70 Etoile de Voiron

Illkirch-Graffenstaden 79-91 Reims

Charnay-Mâcon 60-63 UHB-SA

Dunkerque Malo 72–69 Lyon BF

Nice BC 06 100-63 Tours

US Laveyron 79-68 Pleyber-Christ

Go back to the top of page
---
Round 21: Charleville-Mézières end perfect record of Philippe Sauret
Return from NF1 Amateur Basketball news to the Nationale Féminine 1 index page
Return from NF1 Basketball news to women playing basketball blog page
Go to Women Playing Basketball In France Home Page
---
Basketball news picture credits:
US Laveyron
Ligue Féminine de Basketball - LFB
womensbasketball-in-france.com

Date created: 06 March 2010
---