What is happening in NF1 basketball?
---
---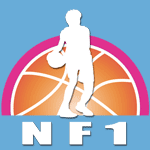 At the moment Charleville-Mézières are the NF1 basketball leaders. This weekend they did not let their guard down in beating the CFBB (76-46). But elsewhere nothing is certain.
Union Hainaut Basket-Saint Amand (UHB-SA) made up for their defeat last weekend by walloping Voiron (91-44).
UHB-SA got off to a slow start and led (6-2) after five minutes. They then stepped on the accelerator to lead (20-6) by the end of the first period. By the interval they killed off the game as a contest (49-18).
Clémence Beikes was once again the top scorer with 24 points. She also had 4 assists.
Karolina Piotrkiwicz poured in 20 points. Laëtitia Kamba finished with a double-double of 10 points and 15 rebounds while Janeka Loop added 11 points.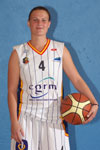 Dunkerque Malo trailed (51-54) going into the last five minutes of their game against Rennes. Yet they ended up winning the match (65-61) with 21 points coming from Amélie Fresnais (left).
US Laveyron's roller coaster season continues with a victory against Illkirch-Graffenstaden (58-48).
The greens from Laveyron had waited two years for this victory. Aurélie Carmona led the scoring with 18 points.
Roche Vendée have had a rough ride this season. But they are looking to turn things round as they won for the second week in a row, this time on the road against Tours (74-62). Livia Libicova led the way with 19 points.
Reims are quickly climbing up the table with their third victory in 10 days. This time they came away with a road victory (78-62) against Pleyber-Christ.
Nice BC 06 are also another club making things work to notch up their fourth victory of the season (81-70) against Charnay-lès-Macon.
In the last game of the round Lyon came out on top against CSP Rezé (75-59).
So after 10 rounds the situation in NF1 is as follows: Charleville-Mézières are leading the table and are currently three games clear of the team in 5th place.
This means that Charleville-Mézières can start thinking about qualifying for the NF1 basketball final four.
Dunkerque are currently second in the table and are two games clear of the teams in 4th and 5th place. But they are yet to play them. Everything can still change.
UHB-SA have played one game less than every team in the top half of the table. They have also lost two games this season but should be able to consolidate their position in the top 3 places over the next few weeks.
There is only 2 points separating the teams from the position 4 to 14 at the moment which basically means that all the clubs are in danger of relegation as well as having a chance for the play-offs.
The only club really struggling in the division is Charnay-lès-Macon with just two wins this season. As the CFBB cannot be relegated, their position in last place is only of concern for the team lying in 12th place.
---
---
All the results from round 10 of games in 2009-2010 for the Nationale Féminine 1 are listed below:
CFBB 46-76 Charleville Mézières
Rennes 61-65 Dunkerque Malo
Lyon 75-59 CSP Rezé
US Laveyron 58-48 Illkirch-Graffenstaden
Nice BC 06 81-70 Charnay et Mâcon
Tours 62-74 Roche Vendée
UHB-Saint Amand 91-44 Voiron
Pleyber-Christ 62-78 Reims

---
Week 9: NF1 basketball leaders are not having it easy
Return from NF1 Amateur Basketball news to the Nationale Féminine 1 index page
Return from NF1 Basketball news to women playing basketball blog page
NF1 basketball news picture credits:
FFBB

Date: 15 November 2009

---