NF1 basketball excitement
---
---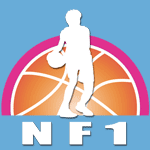 The NF1 basketball season is at the 1/3 mark and Charleville-Mézières is leading the table with 8 wins from 9 games.
The only team to have beaten them is Union Hainaut Basket Saint Amand (UHB-SA). Currently they are leading the championship.UHB have also just dropped one game this season but have only played 7 games at the time of writing this report.
However if they had lost two games, they would be still be in fourth position.
Charleville-Mézières consolidated their position as leader with an (87-51) victory against Rennes.
Charleville scored the first 11 points of the game and never allowed their opponents into the game. They led (24-8) by the end of the first quarter and more or less ended the game as a contest by half time leading (52-20).
Amel Bouderra once again led the scoring with 17 points and 4 assists. She also made 5 steals as Charleville-Mézières went on to win (87-51). Her team-mate Djéné Diawara contributed 15 points and picked up 12 rebounds in the victory.
Dunkerque who are second in the table suffered their second defeat (72-75) of the season against Nice BC 06. They went into the final quarter leading (58-49) and stretched their lead to 13 points with eight minutes to play.
Nice then went on a 14-0 run finishing with back to back three-pointers to take the advantage (66-65) for the first time since the opening score during the first period.
The game was tied (72-72) with 18 seconds to play. Yet a three-pointer by Barbara Cousin was enough for Nice to win the game.
Illkirch-Graffenstaden are currently in third position but they will not be happy with the way they are playing at the moment.
They beat the CFBB (59-55) but spent most of the game running after the score and had to thank Lina Brazdeïkyte and Céline Schmitt-Sendner with 26 and 24 points each.Florine Basque fired in 23 points for the CFBB.
The top 4 teams at the moment playing NF1 basketball have not built a sufficient lead to start taking about play-off ambition.
---
---
The rest of the NF1 basketball news from round 9
Voiron
continue to impress and beat Lyon (67-50).
Cyrielle Recoura led the scoring with 22 points. Lyon welcomed back Kristina Cesnaviciute but her presence made no difference to the final score.
The last three minutes of the first quarter was enough for Charnay-lès-Macon to spoil their chance of beating US Laveyron. They were outscored 9-1 and were unable to make up the deficit for the rest of the match and ended up losing at home (65-80).
CSP Rezé beat Tours (78-60) while Roche Vendée held off Pleyber-Christ (65-61).
All the results from round 9 of games in 2009-2010 for the Nationale Féminine 1 are listed below:
Charleville-Mézières 87-51 Rennes
Dunkerque Malo 72-75 Nice BC 06
Voiron 67-50 Lyon
Roche Vendée 65-61 Pleyber-Christ
CSP Rezé 78-60 Tours
Charnay et Mâcon 65-80 US Laveyron
Illkirch-Graffenstaden 59-55 CFBB
Reims 76-73 UHB-Saint Amand
---
Return from NF1 Amateur Basketball news to the Nationale Féminine 1 index page
Return from NF1 Basketball news to women playing basketball blog page
NF1 basketball news picture credits:

Date: 08 November 2009

---