Ligue Féminine de Basketball:
Confusion and excitement in round 20
The biggest winners in the Ligue Féminine de Basketball this weekend were Bourges Basket and Lattes Montpellier.
However with Tarbes' problems the battle for 4th place and relegation has become confusing.
In the weekend action of games Challes-les-Eaux suffered a home defeat against Arras (77-81) in a tough match with 11 lead changes and both teams shooting over 52% from the floor.
In the end there was not much between the teams and Arras edged the match from the free-throw line.
For Arras Nadezhda Grishaeva led the scoring with 21 points while Alex Tchangoue (in picture) followed up with a personal LFB record of 20 points. Leilani Mitchell also finished in double figures with 18 points and 6 assists while Sabrina Reghaissïa added 14.
For the hosts four players finished in double figures with Mistie Mims leading the way with 17. However the story of the match came from Sara Chevaugeon who went 5-of-6 from the field to score 12 points in 18 minutes.
All the same Challes-les-Eaux drop to third place in the Ligue Féminine de Basketball regular season standings.
Bourges Basket had no problem on the road against Nantes-Rezé with a comfortable victory (82-63). Greek international Styliani Kaltsidou and Cathy Joens (5 assists) led the way for the French champions with 17 points each. Jennifer Digbeu and Nwal-Endéné Miyem scored 15 and 14 points each.
Emméline Ndongue did not play while Céline Dumerc scored just 2 points while dishing out 7 assists.
This was the first defeat for Nantes-Rezé since the comeback of Aurélie Bonnan. Sarah Michell was the top scorer for the hosts with 17 points while Aminata Diop and Johanne Gomis added 14 and 13 points each.
Lattes Montpellier was given a scare during the first quarter against Cavigal Nice (21-22) before taking control of the game to win (88-69).
Montpellier had five players in double figures with once again Edwige Lawson-Wade leading the way with 18 points. For Cavigal Nice three players scored over 15 points: Jeanne Senghor-Sy 19, Aminata Konate and Merike Anderson 17 points each.
Montpellier are now alone in second place behind Bourges Basket, while Cavigal Nice still remain in the relegation zone.
The rest of the news from round 20 of
Ligue Féminine de Basketball
If Tarbes recover the 8 points deducted then their victory against Basket Landes in the TV game (70-67) would keep them in the hunt for fourth place. Currently they are in 14th place, two games behind Cavigal Nice.
Villeneuve d'Ascq held off US Mondeville (67-64) in a match that went to the wire. Ingrid Tanqueray had the chance to tie the game for Mondeville in the dying seconds but her lay-up did not roll in.
Emilie Gomis made her return after a two-week absence to lead Villeneuve in scoring with 21 points. Mondeville remain in fourth place while Villeneuve join three other teams sharing 6th place.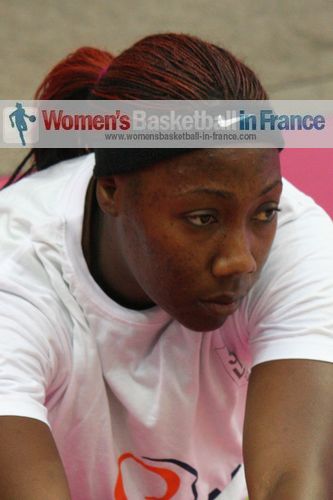 Lyon BF needed to beat Charleville-Mézières to put pressure on Aix-en-Provence directly above them. But they fell short on their home court (70-79).
Charleville-Mézières had five players in double digits with captain Yacine Séné leading the way with 16 points. For Lyon Krystal Thomas had her best game for Lyon with 23 points and 12 rebounds.
The story of the weekend was the 32-point performance of Amisha Carter Union Hainaut Basket beat Aix-en-Provence (80-72) in overtime.
The big losers of the weekend remain Cavigal Nice and Lyon who failed to draw closer to the teams above them.
With all the results of this weekend and provided Tarbes win their appeal then the immediate relegation fight is between Cavigal Nice, Lyon BF and Aix-en-Provence.
However if Tarbes lose their appeal then they will need to keep on winning to avoid relegation.
LFB results from round 20
Tarbes 70-67 Basket Landes
Challes-les-Eaux 77-81 Arras
Lyon 70-79 Charleville-Mézières
Lattes Montpellier 88-69 Nice
Hainaut Basket 80-72 Aix-en-Provence
Nantes Rezé 63-82 Bourges Basket
Villeneuve d'Ascq 67-64 USO Mondeville
---
Look back at what happened in round 19
Go to Ligue Féminine de Basket 2011-2012 page
Leave Ligue Féminine de Basket - Season 2011-2012 page and return to home page
Return to the top of Ligue Féminine de Basketball page
Ligue Féminine de Basketball picture credits:


womensbasketball-in-france.com


Date created: 20 February 2012

---