Ligue Féminine de Basketball
Leaders strive while newcomers struggle
Since the start of the 14th edition of the Ligue Féminine de Basketball fans of women's basketball in France have been delighted with the unpredictability of any match outcome.
Lattes Montpellier and Challes-les-Eaux remain unbeaten after seven rounds of games while Basket Landes and Bourges share third place with two games behind.
Veuillez trouver en bas du page un résumé en français sur la 7ème journée.
Cavigal Nice are the only team not to have won a ligue game. This weekend though - playing at home against Lattes-Montpellier - they showed for the first ten minutes that they can match teams in the LFB. However they have not been able to keep going for 40 minutes.
While Montpellier struggled with turnovers in the first quarter, Cavigal Nice, driven by Stéphanie Dubois, Fabienne Constant and Merike Anderson, edged the first quarter (20-16).
Montpellier corrected their errors in the second quarter. They were able to regain control of the game by half time (41-36) before killing the game off as a contest during the third quarter (72-54).
During the final quarter Montpellier's coach Valéry Demory allowed his two youth academy players some court time while resting key players for EuroLeague action.
Montpellier won the match (85-74).
Nice: Asitan Diarra 0, Aminata Konate 9 (4 assists), Merike Anderson 17, Barbara Cousin 3, Kesley Bolte 0, Krysten Boogaard 6, Stéphanie Dubois 7, Elodie Decker 8 (3 steals), Fabienne Constant 16, Guiday Mendy 0, Lea Moschetti 0, Jeanne Senghor-Sy 8
Montpellier: Léa Blatrie 0, Virginie Brémont 0 (4 assists), Mathilde Roche 0, Edwige Lawson Wade 17 (5 assists), Kristen Mann 7 (4 assists), Ana Lelas 19, Gaëlle Skrela 10 (3 steals), Sandra Dijon-Géradin 4, Stephany Skrba 11 (8 rebounds), Fatimatou Sacko 17
---
Challes-les-Eaux in economy class
Challes-les-Eaux took 24 shots less than Arras but went to the free-throw line 17 times more in their (70-63) road victory.
It was a tough and technical match in which neither side really controlled. Challes-les-Eaux had a lead of 5 points going into the final quarter and secured the victory by going 9-of-11 from the charity strips.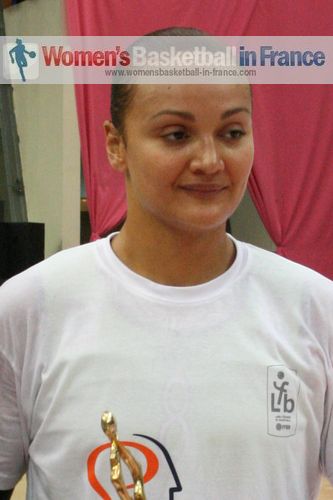 Mistie Mims (in picture) was in terrific form. In the first quarter she was a perfect 4-of-4 from the field. Although she could not maintain the focus for the whole game she still finished with 22 points and 9 rebounds. Emilija Podrug (4 assists) and Danielle Page both had 14 points.
Challes-les-Eaux are enjoying their best start in the Ligue Féminine de Basketball.
Arras struggled to get inside the paint with just Pauline Akonga-N'Simbo able to hold her own. Gabriela Marginean provided the mid-distance shooting option while Leilani Mitchell's job was to hit the long distance shots.
Arras: Joyce Cousseins-Smith 0 (4 assists), Leilani Mitchell 18, Laury Aulnette DNP, Soana Lucet 0, Krissy Badé 7, Joelly Belleka 0, Pauline Akonga-N'Simbo 16, Alexia Rol 2, Nadezdha Grishaeva 1, Gabriela Marginean 19
Challes-les-Eaux: Anaël Lardy 0, Romy Bär 2 (6 assists), Alexia Plagnard 6, Mistie Mims 22 (9 rebounds), Mélanie Plust 3, Sara Chevaugeon 0, Manon Morel DNP, Danielle Page 14, Emilija Podrug 14 (10 rebounds)
---
Marielle Amand (Bourges) versus Doriane Tahane (Nantes-Rezé)
The Bourges Basket injury list continues to grow with Nwal-Endéné Miyem having to sit out this game. The Ligue Féminine de Basketball pivot jinx at Nantes-Rezé may have struck again with latest signing Aminata Nar Diop missing for the game.
The match itself was fiercely contested and in particular the face-off between Marielle Amand and Doriane Tahane. Friends off the court, the two players showed no mercy to each other during the match and picked up most of their fouls against each other.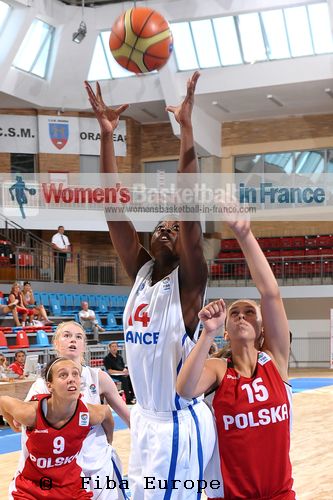 Tahane appeared to have had the upper hand and knocked her friend flying out of the court on one of her scores. While Tahane was in the game Nantes-Rezé stayed in contact.
When Tahane was to foul out with seven minutes left to play, Bourges led by just 1 point (52-51).
Christelle Diallo (right) took advantage of Tahane's departure to kick-start Bourges' final run to victory with 4 points and important defensive rebounds.
Bourges Basket: Margaux Galliou Loko 0, Ieva Kublina 10 (9 rebounds), Styliani Kaltsidou 10, Jennifer Digbeu DNP, Cathy Joens 18 (6 assists), Marielle Amant 12, Kiesha Brown 6 (4 assists), Lisa Bacconnier DNP, Christelle Diallo 14, Marjorie Carpréaux 0
Nantes Rezé: Tiphaine Mélois DNP, Caroline Aubert 3 (5 assists), Tania Boucand 0, Sarah Michel 7, Johanne Gomis 8 (3 steals), Lenae Williams 15, Yuliya Andreyeva 5, Regina Palusna 10 (7 rebounds), Doriane Tahane 10
---
What are the ambitions of Basket Landes?
Basket Landes are one of the most difficult teams to play in their hall and they showed Tarbes the way with a comfortable victory (75-53).
Basket Landes put together a 7-0 and a 9-0 run in the first quarter to lead (24-8) to never look back. Tarbes were able to make the final score look respectable due to the fact that Basket Landes played their academy players during the final quarter.
Jennifer Humphrey had a big game hitting 13-of-16 of her shots in scoring 26 points. She also had 1 block, 3 steals, 5 assists and 14 rebounds in what should be the best ranking score of the week.
Basket Landes finished 5th last season. Considering a top four place this year and a chance to play for the Ligue Féminine de Basketball title seems feasible for them.
Basket Landes: Clémence Dubrasquet 0, Camille Aubert 4, Katarina Manic 3, Bineta Diouf 4 (4 assists), Anaïs Le Gluher-Cano 13, Julie Barennes 8, Amélie Pochet 4, Julia Borde 0, Marion Laborde 13, Anaïs Deyres 0, Sarah Ousfar 0, Jennifer Humphrey 26 (14 rebounds)
Tarbes: Elodie Guillenteguy 0, Paoline Salagnac 4 (5 assists), Lauren Neaves 2, Maja Miljkovic 2, Pauline Krawczyk 5, Isis Arrondo 3, Naura El Gargati 6 (8 rebounds), Florence Lepron 6 (4 assists), Lubica Drljača 5, Ana-Maria Cata Chitiga 8, Charlotte Preiss 7, Daria Mieloszynska 4
---
Aix-en-Provence crumble in the final quarter
Aix-en-Provence played well for 30 minutes and went into the final quarter leading (67-65) against Hainaut Basket.
However Hainaut Basket and in particular Amisha Carter and Ashely Houts took advantage of their opponents' turnovers to regain the lead for good (73-67).
Aix-en-Provence's shooting deserted them for the rest of the quarter which allowed the guests from Saint Amand to pace themselves to victory (88-78).
Aix-en-Provence: Emmanuella Gorjeu DNP, Claire Tomaszeski 5, Tamara Abalde 14, Nathalie Hurst (4 assists) 15, Kelly Corre 6, Sylvie Gruszczynski 10, Cindy Lima 9 (4 steals), Lina Jansone 7, Natty Chambertin 0, N'Deye N'Diaye 12
Saint-Amand: Amisha Carter 27, Tracy Albicy DNP, Carine Paul 3, Clémence Beikes 15 (4 assists), Emilie Petiteau 0, Ashley Houts 25 (4 assists), Marie-Frédérique Aiyssi 2, Marina Solopova 13, Petra Stampalija 3
The results and link to the other games of the weekend:
USO Mondeville 59-57 Villeneuve d'Ascq

Charleville-Mézières 56-46 Lyon BF
Return to the top of Ligue Féminine de Basketball page
Pas de changement en haut du tableau
Les co-leaders du championnat Challes-les-Eaux et Lattes-Montpellier maintiennent leur sans-faute suivi par Bourges Basket et Basket Landes qui s'imposent aussi ce weekend pour rester en contact avec le haut du tableau.
(Pour les sommaires en français sur les rencontres Mondeville/Villeneuve et Charleville/Lyon, veuillez cliquer sur les liens en-dessus du résumé.)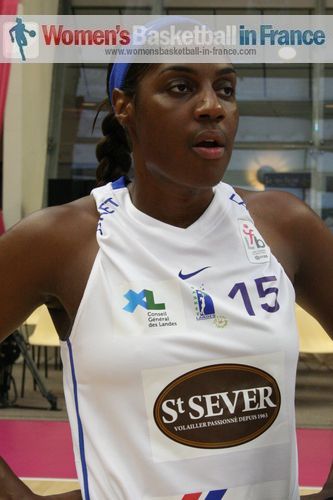 Tandis que les Challésiennes, portées par Marginean (19 points) et Mitchell (18 points), se débarrassent de leurs adversaires Arras qu'à la fin du rencontre (70-63), les joueuses de Lattes-Montpellier - après un début déboussolé - prennent les reines et gagnent haut les mains contre Nice par le duo Lelas (19 points) et Sacko (18 points, 8 rebonds) malgré les efforts azuréens de Anderson (17 points) et Constant (16 points).
Sans Tahane (sortie après sa 5ème faute) dans les sept dernières minutes Nantes-Rezé perd leur arme défensif contre Marielle Amant et ses co-équipières de Bourges Basket. Les Berruyères, à l'image d'une jeune Diallo (14 points) survitaminée et adroites au shoot, emportent une nouvelle victoire (70-58).
Tarbes, envahi par l'omniprésence d'Humphrey (26 points, 14 rebonds, 5 passes décisives, 2 interceptions, 1 contre; dans l'image au-dessus) et ses co-équipières Landaises, n'arrive pas à se sortir de sa léthargie et perd logiquement (75-53).
---
Ligue Féminine round 7: Charleville-Mézières undefeated at home
Ligue Féminine round 7: USO Mondeville 59-57 Villeneuve d'Ascq
Go to Ligue Féminine de Basket 2011-2012 page
Leave Ligue Féminine de Basket - Season 2011-2012 page and return to home page
Return to the top of Ligue Féminine de Basketball page
Ligue féminine picture credits:
womensbasketball-in-france.com

Date created: 7 November 2011

---