Webcast TV
Laetitia Kamba had the last word
The 7th round of the Ligue Féminine started with a Webcast TV match between USO Mondeville and Villeneuve d'Ascq.
Mondeville who did not have to play in the EuroCup Women this week were looking to bounce back from last weekend's defeat to Saint Amand Hainaut Basket while Villeneuve were hoping for the first time this season to win two straight games.
Veuillez trouver en bas du page un sommaire en français sur la rencontre entre USO Mondeville et Villeneuve d'Ascq, un match diffusé en direct au Webcast TV.
For the Webcast TV, Arnaud Dunikowski and Ivano Ballerini provided the colour commentary. Kathy Wambe was missing again from the Villeneuve line-up and is likely to be absent for a few more games.
For USO Mondeville, Egle Sulciute had to sit this game out due to back pains.
Mondeville did not waste much time in going offensively and led (8-2) after three minutes. Everything was going well for the hosts and with 10 first-quarter points they won the first quarter.
The second quarter belonged to the guests. With Emilie Gomis running the show and perfect shooting from Catherine Kraayeveld (3-from-3 from beyond the arc) they went into the locker room leading (38-34). On the other hand for Mondeville Naignouma Coulibaly was in foul trouble with 4.
The third quarter turned into a festival of misses and turnovers as both sides neutralised each other with similar defensive tactics.
For Villeneuve Olayinka Sanni was once again in foul problems. She was to foul out of the game during the final quarter.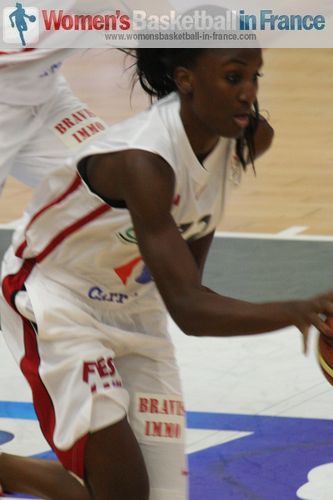 Laetitia Kamba (in picture) was beginning to throw her weight around for the hosts and tied the game (42-42) midway through the quarter. She went on to complete her team's 8-0 run for them to go ahead (46-42) with 27 minutes played.
Mondeville did not score again in the quarter while Villeneuve ended their barren spell through Laura Datchy. They went into the final quarter leading (47-46) after Kraayeveld's fifth three-pointer of the game.
For the first four minutes of the final quarter, both teams did not score, with just 1 point coming from the free-throw line.
Anne Breitreiner ended the non scoring sequence with a trey. This was quickly followed by a couple of points by Datchy.
K. B. Sharp responded almost immediately with a three-pointer of her own. However Villeneuve led (55-49) with four minutes to play.
Hervé Coudray called a time-out and 60 seconds later his team trailed by just 1 point (54-55). Hhadydia Minte then tied the game (55-55) from the free-throw line. Although she missed the second free throw Kamba won the offensive rebound but was fouled in the process by Breitreiner.
Kamba did not tremble and scored both free throws to put her team in front. But Gomis brought the teams back on level terms on the very next attack with her final points of the game.
Kamba was on hand once more to pick up an offensive rebound and to score as the game entered the final minutes (59-57).
With four seconds left to play Kamba lost the ball giving Villeneuve one last chance. However the hosts' defense was solid leaving Gomis with a next to impossible shot to finish the game.
USO Mondeville: Touty Gandega 2 (3 steals), Marie Mbuyamba 0, Awa Sissoko DNP, Ingrid Tanqueray 13, Kadidia Minte 2, K. B. Sharp 7 (4 assists), Giedre Paugaite 15, Laëtitia Kamba 18 (13 rebounds), Margaux Touraud 0, Naignouma Coulibaly 2
Villeneuve d'Ascq: Anne Breitreiner 5 (2 steals), Sabrine Bouzzenna 0, Alice Nayo 2, Laurie Datchy 6, Emilie Gomis 13 (11 assists), Olayinka Sanni 12 points (13 rebounds), Sabrina Palie 2, Catherine Kraayeveld 17
Return to the top of Webcast TV match report
Une victoire arrachée à la fin du match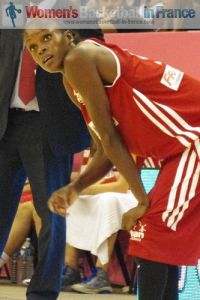 Mondeville 59-57 Villeneuve d'Ascq
Villeneuve d'Ascq - encore sans Cathy Wambe - peut compter sur Emilie Gomis (sur l'image, 13 points et 11 passes décisives) en tant que meneuse et souhaite continuer leur entâme avec un deuxième succès consécutif.
Pourtant ce sont des Mondevillaises qui rentrent dans le jeu plus facilement avec une machine bien huilée en défense et un collectif pour emporter le premier quart.
Mais les Nordistes répondent surtout avec Catherine Kraayeveld (4/4 à trois points en première mi-temps) et laissent derrière elles un USOM manquant l'adresse au shoot (38-34).
La deuxième mi-temps joue en faveur des visiteuses avec Laurie Datchy et Anne Breitreiner marquant des points importants. Mais K. B. Sharp et Laëtitia Kamba (18 points, 13 rebonds) dans la raquette se mettent au travail pour remettre leur équipe sur des bons rails pour mener par 2 points dans les 40 dernières secondes.
Un ballon perdu par Kamba pourrait être fatal mais la bonne défense des Mondevillaises empêchent Gomis à prendre un bon shoot. C'est donc USOM signant avec cette victoire leur quatrième dans ce championnat.
---
Go to Ligue Féminine de Basket 2011-2012 page
Leave Ligue Féminine de Basket - Season 2011-2012 page and return to home page
Return to the top of Webcast TV match report
Webcast TV picture credits:


womensbasketball-in-france

Date created: 5 November 2011
---