Ligue Féminine de Basketball
Charleville-Mézières' third quarter won the match
Charleville-Mézières won their third Ligue Féminine match of the season at home by beating Lyon BF (56-46). The Flammes Carolo at home appear to be a much different team that the one that travels. They took hold of the game during the third quarter.
Veuillez trouver en bas du page un sommaire en français sur le match de Charleville contre Lyon.
However before the game started Sarra Ouerghi who now plays for Lyon BF was given a special welcome by the home supporters. Ouerghi was a member of the Charleville-Mézières team that won promotion to the LFB in 2010 and was part of the club's roster last season.
The match itself was not a classic with too many unforced errors by both sides. However Charleville-Mézières driven by the locomotive Amel Bouderra raced out to a (9-4) lead with four minutes to play.
Lyon were able to pick themselves up with excellent point guard play by Audrey Sauret which enabled them to stay on the tail of their hosts at the end of the first quarter (12-15).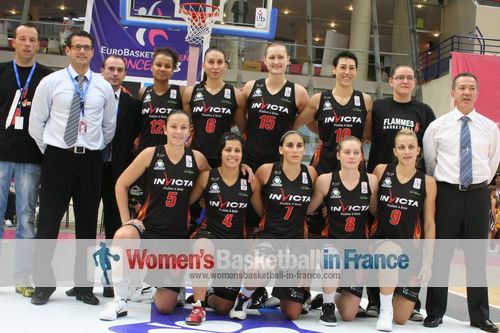 Charleville's form dropped in the second quarter. They started to miss a lot of shots but also their defending became untidy. As a result they committed too many fouls which Lyon converted into points at the free-throw line. Hence after 17 minutes of play the teams were level (27-27).
The hosts - thanks to some veteran play by Magali Lacroix - went into the locker room leading (29-28).
After the break Charleville were transformed. For ten minutes everything was perfect while Lyon did not hit a single field shot and their two points came from the free-throw line.
In the meanwhile Charleville scored the first 8 points of the quarter and another 9 points to lead (46-30).
2 more points by Bouderra at the start of the final quarter to complete the 11-0 run more or less made the game safe.
Leslie Ardon and Leigh Aziz tried to rally their team back with some power plays but the handicap was too big.
Charleville-Mézières: Amel Bouderra 9, Anne-Sophie Pagnier 0, Zoi Dimitrakou 10, Elodie Pélissou DNP, Coralie Desprez DNP, Ekaterina Dimitrova 2, Magali Lacroix 7, Djéné Diawara 8 (11 rebounds), Yacine Séné 14, Valeriya Berezhynska 6
Lyon: Charline Servage 1, Julie Legoupil 7, Marion Arfélis DNP, Audrey Sauret 8 (4 assists), Sarra Ouerghi 0, Leslie Ardon 7, Mame-Marie Sy-Diop 10, Krystal Thomas 5, Leigh Aziz 8
A domicile imbattable!
Quoique Charleville-Mézière enregistre leur troisième succès à domicile et ainsi leur troisième victoire en championnat, la rencontre se déroule dans la douleur contre des adversaires tactiquement à l'aise.
La défense lyonnaise leur fait perdre en adresse et avec une Sauret qui dirige son équipe à merveille, Lyon reste toujours à leurs talons trainant qu'avec 3 points après le deuxième quart. Mais en infligeant un 17-2 aux Rhodaniennes dans le troisième quart-temps et restreignant leurs adversaires qu'à 2 points, les Flammes Carolo prennent un avantage considérable (46-30).
Pourtant Lyon essaie de fermer l'écart grace à Ardon et Aziz (41-52). Mais à trois minutes de la fin du match, Charleville - à l'image d'une Bouderra adroite au shoot au buzzer (54-42) - s'impose finalement (56-46).
---
Go to Ligue Féminine de Basket 2011-2012 page
Leave Ligue Féminine de Basket - Season 2011-2012 page and return to home page
Return to the top of Ligue Féminine de Basketball page
Ligue féminine picture credits:
womensbasketball-in-france.com
Flammes Carolo Basket


Date created: 06 November 2011

---