Ligue Féminine de Basketball
Montpellier: back on top
It was a happy Sunday in the Ligue Féminine de Basketball for Montpellier with a victory against Tarbes, the birthday of assistant coach Guy Prat and the return of Diandra Tchatchouang.
Elsewhere the teams battling for third place: Basket Landes, Bourges Basket and USO Mondeville all picked up victories.
Basket Landes trailed (28-37) at half time against Hainaut Basket and looked out of contention.
After the 20-minute break and lots of encouragement from the home fans, Basket Landes were another team. A trey by Marion Laborde got things going and with just over three minutes played Basket Landes trailed by just a single point (36-37).
The match became more and more physical as the action under the basket and in the paint intensified.
Amisha Carter (20 points) and Petra Stampalija (16 points) battled away for Hainaut Basket while Anaïs Le Gluher-Cano (16 points) and Laborde (19 points) did the scoring for the hosts.
Basket Landes regained the lead just before the end of the third quarter (49-47) and stayed in front all the way to the end of the match (71-63).
Jennifer Humphrey was once again the player of the match with 15 points and 11 rebounds while also drawing 8 fouls.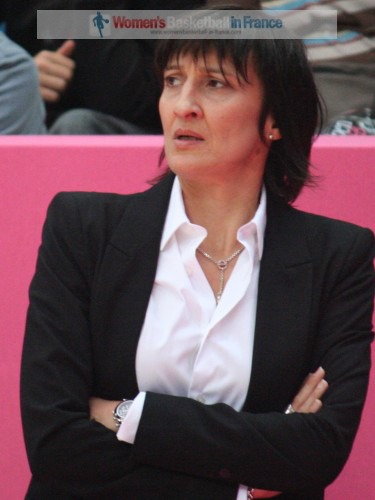 Valérie Garnier (right), the coach from Bourges Basket, was officially named as the new assistant coach for the French Senior Women team for 2012 by the FFBB this weekend.
This news appeared to have picked up her team Bourges Basket who put together one of their best collective matches of the season with all eight players getting on the score sheet in their road victory against Arras (63-56).
Arras could have beaten Bourges Basket if they not had a poor shooting day. They hit just 18 shots from 60 attempts of which 5 came from the land of many.
Pauline Akonga N'Simba and Joyce Cousseins-Smith led the scoring with 11 points each.
Bourges Basket are transformed with the return of Céline Dumerc who scored 7 points while dishing out 5 assists. Nwal-Endéné Miyem seems to be another player now that Dumerc is back. She helped herself to a double-double of 16 points and 10 rebounds.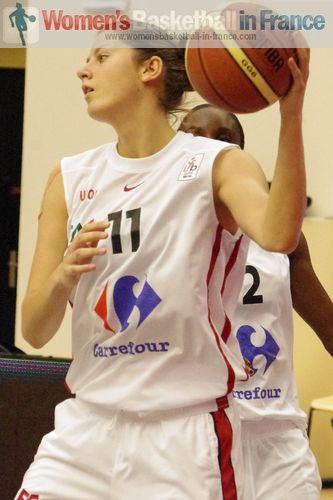 Whatever the objectives of USO Mondeville are in the Ligue Féminine de Basketball this season, they are not considered to be the new kids on the block despite having the youngest roster in the championship.
They beat Nantes-Rezé (63-59) thanks to a first quarter of almost perfect basketball. Giedre Paugaite (in picture) scored 11 points in the first 10 minutes as Mondeville raced out to a (22-11) lead.
After a first quarter of dreams, Mondeville somehow hung on for the victory despite being outscored in the remaining three quarters. Paugaite finished the game with 17 points while Naignouma Coulibaly in her best game of the season finished with 14 points and 12 rebounds.
For Nantes-Rezé Caroline Aubert dished out 10 assists and Johanne Gomis scored 17 points. But in general they relied too much on the long distance shooting and failed to take advantage of their superior strength inside the paint.
Some NCAA ACC news from the game Montpellier vs Tarbes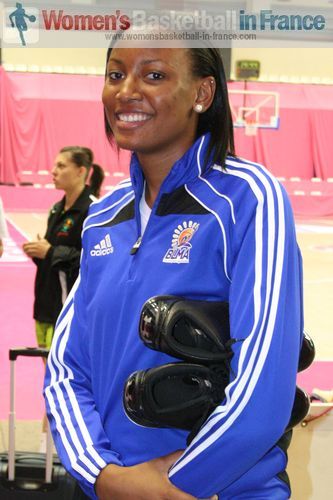 Diandra Tchatchouang
(in picture), a former Lady Terps (Maryland University), and Alex Montgomery, a former Yellow Jacket (Georgia Tech), both made their Ligue Féminine de Basketball débuts this afternoon.
Tchatchouang who is playing for the first time since her serious injury during the second round of the NCAA tournament in March of 2011 scored 4 points in eight minutes of play during her team's victory. Montgomery on the other hand played 31 minutes and scored 11 points but ended up on the losing side.
The match between Montpellier and Tarbes was not a classic as both sets of players appeared tired after their EuroLeague Women games in mid week.
Montpellier led (7-3) after five minutes but then Tarbes, sparked by Montgomery, went on an 8-2 run to go ahead briefly (11-9) with seven minutes played.
Montpellier then stepped up to finish the quarter with a 10-2 burst and take the lead for good going into the second quarter (19-15).
Montpellier, penalised by fouls in the second quarter, were unable to build on their advantage while
Florence Lepron
and Paoline Salagnac with 8 points each kept Tarbes in the game at half time (28-34).
The game remained close until Sandra Dijon-Gérardin came into action midway through the third quarter. She was everywhere and her 8 points during a 13-0 run set up Montpellier for victory as they went into the final quarter in front (58-40).
Dijon-Gérardin was not finished and added more points to her counter during the first part of the final quarter.
Montpellier won (74-57) with five players in double figures: Fatimatou Sako 14, Stephany Skrba 13, Dijon-Gérardin 12, Kristen Mann and Edwige Lawson-Wade with 11 points each.
Challes-les-Eaux loss to Villeneuve d'Ascq means that Montpelier is back on levels points at the top of the regular season standings.
Week 11 of Ligue Féminine de Basketball results:
Charleville-Mézières 78-62 Aix-en-Provence
Cavigal Nice 71-74 Lyon
Villeneuve d'Ascq 65-55 Challes-les-Eaux
Arras 56-63 Bourges Basket
Basket Landes 61-63 Hainaut Basket
Lattes Montpellier 74-57 Tarbes
USO Mondeville 63-59 Nantes Rezé

The
---
Look back at what happened in round 10
Go to Ligue Féminine de Basket 2011-2012 page
Leave Ligue Féminine de Basket - Season 2011-2012 page and return to home page
Return to the top of Ligue Féminine de Basketball page
Picture credits:


womensbasketball-in-france.com


Date created: 4 December 2011

---