Ligue Féminine de Basketball
Olayinka Sanni playing basketball
the Villeneuve d'Ascq way
Challes-les-Eaux' Ligue Féminine de Basketball winning streak was finally stopped with a defeat against Villeneuve d'Ascq. In the only other game on Saturday, Lyon came on top against Cavigal Nice.
A few weeks ago Abdou N'Diaye, the coach from Villeneuve d'Ascq, had decided to sit down and chat with Olayinka Sanni about her fouling-out rate.
He was not angry but after three seasons playing basketball in France, he just wanted her to understand that her back-up Alice Nayo was still learning her trade.
We can only assume from her performance in recent weeks that she understood the message because her play time has increased as she has managed to reduce her foul count.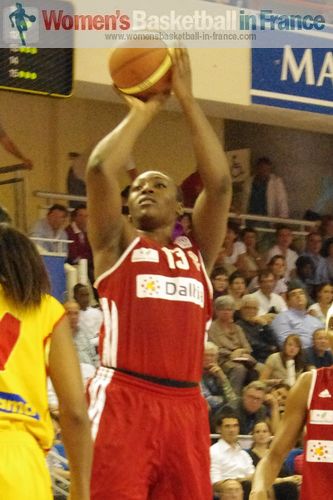 The performance of Sanni (right) against Challes-les-Eaux, especially her duel with Mistie Mims was the key factor in her team's victory.
She scored 27 points and picked up 13 rebounds of which 6 were on the offensive end. She committed only 3 fouls and was on the court for the full game.
Villeneuve d'Ascq played defensively in the first quarter despite a blitz start by their captain Emilie Gomis with the first basket of the game with five seconds played.
After a close first quarter in which Villeneuve won (15-13), the hosts took the lead for good with one minute played in the second quarter.
Their advantage was never more than 6 points as they headed to the locker room (33-27). To the delight of the home supporters Villeneuve survived the challenge of Challes-les-Eaux during the third quarter before pulling away during the final quarter for the victory.
Mistie Mims from Challes-les-Eaux did not have a great game by her standards while Romy Bär was having a bad shooting game. Yet Danielle Page and Emilija Podrug combined for 29 points. But it was not enough for their side to stay unbeaten.
For Villeneuve Gomis continued her retraining as point guard with 5 assists while scoring 15 points. Anne Breitreiner also finished in double digits with 14 points. Catherine Kraayeveld only scored 4 points but pulled down 11 rebounds.
With Aix-en-Provence losing to Charleville-Mézières (62-78) this weekend, this victory takes Villeneuve d'Ascq out of the relegation zone.
Cavigal Nice fell at home to Lyon BF
Playing basketball at the home of Cavigal Nice continues to be an offensive festival with the hosts losing (71-74) Lyon BF.
Cavigal Nice are not an easy team to play on their own court and with the game tied (58-58) going into the final quarter, the home supporters were hoping to celebrate victory number 2.
Lyon were shooting the ball much better than their hosts. They were able to sneak past Cavigal Nice in the final quarter on the back of a couple of three-balls by Leslie Ardon, the fighting spirit of Mame-Marie Sy-Diop (21 points and 10 rebounds) and the free-throw shooting of Audrey Sauret (15 points and 7 assists).
Leigh Aziz also scored 15 points and picked up 9 rebounds for Lyon.
So the question is what went wrong for Cavigal Nice despite 15 points each for Fabienne Constant and Merike Anderson (5 assists) as well as 11 points from captain Stéphanie Dubois: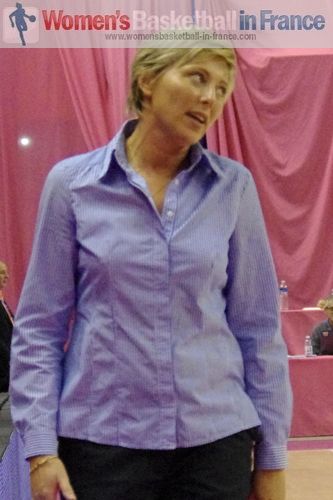 1) They used too much energy in missing a load of scoring opportunities as they made 25 shots from 68 attempts (37%) compared to a 50% shooting percentage from Lyon (28-of-56). A little more composure could have made a big difference especially on the turnover opportunities. They scored just 9 points despite making 14 steals.
2) They made just 19 trips to the foul line of which they converted 15. Lyon were not so good at this exercise making 14-from-21.
Olga Tarasenko (in picture), the coach from Cavigal Nice, should view this defeat as missed opportunity to get her team back in the battle for survival.
This setback leaves Cavigal Nice three ligue games away from safety and deep in relegation problems.
---
Look back at what happened in round 10
Go to Ligue Féminine de Basket 2011-2012 page
Leave Ligue Féminine de Basket - Season 2011-2012 page and return to home page
Return to the top of Ligue Féminine de Basketball page
Picture credits:


womensbasketball-in-france.com


Date created: 4 December 2011

---