2011-2012 Ligue Féminine 2
A first for Matthieu Chauvet
Toulouse occupy the top position in the Ligue Féminine 2 after knocking off joint leaders Armentières (66-57). The only other road victory of the weekend came from Perpignan defeating the CFBB (70-46).
En bas du page veuillez trouver un résumé en français de la 7ème journée en ligue féminine 2.
Home advantage counted for a lot of LF2 clubs in round 7 with five matches going to the hosts.
Former Latvian youth international Dace Pierre-Joseph led Dunkerque Malo to victory against Léon Trégor (68-63). She top scored with 30 points while also pulling down 13 rebounds. Pierre-Joseph went a perfect 6-of-6 from the free-throw line for the best performance of the weekend.
Roche Vendée made it two wins in a row by beating COB Calais (67-63). The 22 points and 3 assists of the Slovak Republic international Gabriela Kubatova (in picture) gave her the player of the match honours. Roche Vendée never looked back after a (25-14) first-quarter start.
At the moment US Laveyron are unstoppable. For the third consecutive time, they notched up a comfortable victory against Limoges (65-45). This weekend it was the turn of the youth players to shine with Caroline Misset and Jennifer Lafaurie leading the way with 15 and 10 points each.
Illkirch-Graffenstaden once again have to thank Céline Schmitt-Sendner for holding off Reims (70-66). She scored 24 points, pulled down 11 boards and dished out 4 assists.
The last home victory of the week 7 of the Ligue Féminine 2 action went to Voiron (76-62) against Le Havre. Faeza Bouderra continued her assist festival with 7. She also scored 12 points and made 5 steals.
Without Magali Mendy playing, Khadid Gassama and Cyrielle Recoura stepped up offensively scoring 13 and 17 points respectively. For Le Havre Kayla Smith, Bintou Dieme and Ida Preetzmann combined for 46 points.
The CFBB were unable to maintain home advantage as they lost to Perpiganan (46-70) inspired by Hélèna Ciak and Clémentine Samson who scored 19 and 16 points respectively.
However the big match of the round was between the two leaders Armentières and Toulouse Métropole.
Armentières, playing for the second week in a row at home, had the worst possible start to the game (4-14) after seven minutes.
Toulouse never trailed and paced themselves all the way on the back of a combined total of 40 points by Nina Bogicevic and Carrem Gay.
It was double satisfaction for Matthieu Chauvet (in picture), the coach from Toulouse because his team is now top of the table. This is the first time in his coaching career that he won a match in Armentières.
So after seven weeks of action in LF2, Toulouse are alone on top with Armentières in second place. Five teams share third place with 4 wins each.
At the other end of the table Reims and CFBB are bottom with just one win each.
Toulouse confirme son statut de leader en ligue féminine 2
Toulouse s'impose dans le Nord face à Armentières avec un duo Gay/Bogicevic qui marquent entre elles 40 points sur les 66.
L'équipe du Nord vacille dès le début avec une maladresse au shoot. Seule Armentiéroise qui arrive à marquer est Vierne. Mais il y a pire pour les joueuses de Stéphane Lalart: Carmona, Déas et Nedovic sont exclues après 5 fautes.
Donc Toulouse s'affirme logiquement (66-57) et est seule en tête du tableau suivie par Armentières sur la deuxième place.
Se disputant la troisième place, ce sont Calais qui tombe contre Roche Vendée (63-67) (elle aussi aux points égaux), et Léon Trégor 29 qui perd contre Dunkerque Malo (63-68) avec Pierre-Joseph en feu (30 pts, 13 rbds).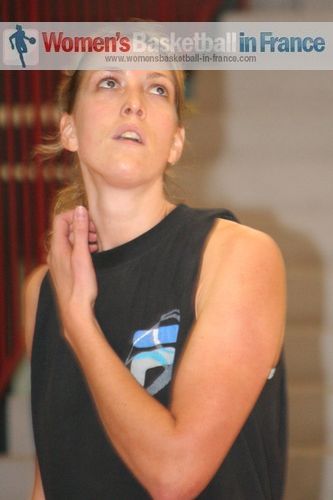 Aussi sur la troisième place: US Laveyron qui continue leur bonne forme en gagnant contre Limoges (65-45). Limoges est aussi à points d'égalité avec Dunkerque et Perpignan qui n'a pas de problème de se débarasser du CFBB (70-46) grâce à Ciak (19 pts, 6 rbds).
Reste Illkirch-Graffenstaden qui - à nouveau grace à Schmitt-Sendner (24 pts, 11 rbds, 4 ass) arrache une nouvelle victoire à domicile contre Reims (70-66) qui reste avec la CFBB la seule formation avec qu'une victoire.
Résultats et évaluation des meilleures marqueuses:
Voiron 76 vs 62 Le Havre
Amander Lassiter 14 pts, 5 ass vs Bintou Dieme 17 pts, 3 ass
Illkirch-Graffenstaden 70 vs 66 Reims
Celine Schmitt-Sendner 24 pts, 11 rbs, 4 ass vs Iva Grbas 15 pts, 8 rbs
Armentières 57 vs 66 Toulouse
Manon Vierne 13 pts, 3 ass vs Carrem Gay 21 pts, 11 rbs
US Laveyron 65 vs 45 Limoges
Caroline Misset 15 pts, 2 ass vs Linda Bousbaa 6 pts
Roche Vendée 67 vs 63 COB Calais
Gabriela Kubatova 22 pts, 3 ass vs Britany Miller 18 pts, 11 rbs
Dunkerque Malo 68 vs 63 Léon Trégor

---
Visit LF2 2011-2012 basketball news page
Visit the Ligue Féminine de Basketball news for 2011-2012
Leave Ligue Féminine 2 news and return to home page
Return to the top of Ligue Féminine 2 new page
Ligue féminine 2 picture credits:


womensbasketball-in-france

Date created: 31 October 2011
---