2011-2012 Ligue Féminine 2
Le Havre win, Armentières lose
No plane for the SIG
The sixth weekend of Ligue Féminine 2 was again rather offensive with plenty of high scoring games.
However for Illkirch-Graffenstaden it was a frustrating weekend as they failed to arrive in Perpignan and once again LF2 has a little flavour of the WNBA.
En bas du page vous trouvez un résumé en français sur tous les matchs de la 6ème journée.
It is not often that former WNBA players face each other in the second division of French basketball (LF2). But this weekend Britany Miller who played in one official game in the WNBA and Amanda Lassiter faced off against each other in the match between COB Calais and Voiron.
For COB Calais it was a perfect match because they won (85-76) and Miller was the player of the match hitting 9-from-11 shots to lead the scoring with 19 points. She also shared the rebounding awards with her team-mate Mélanie Arnaud with 15. Arnaud also scored 16 points.
For Calais Pauline Diawakana came off the bench to score 15 points and dished out 6 assists while Emilie Duvivier (in picture) added 17 points.
Voiron led (17-12) at the end of the first quarter thanks to 7 points from Mélanie Venier. Calais rallied back going into the locker room ahead (37-34). The lead changed a number of times during the second half before the hosts took command in the final quarter.
Amanda Lassiter went 10-of-18 from the field and finished with a game high 28 points. She also picked up 13 rebounds in defeat. Magali Mendy was also highly productive with 14 points coming from 6-of-7 in open play. She also had 3 assists. Vernier finished with 12 points.
Elsewhere in the Ligue Féminine 2 in week 6
Frequent flyers are familiar with the announcement "your flight has been delayed due to the late arrival of the incoming flight".
Unfortunately for Illkirch-Graffenstaden they were not able to make their connecting flight in Paris because due to mechanical problems their flight from Strasbourg was cancelled. By the time the cancellation was confirmed it was too late to get a train to an airport with a flight to Perpignan.
Armentières, back in their own hall for the first time this season, lost their unbeaten record and their 11-month winning streak at home to Roche Vendée (71-81).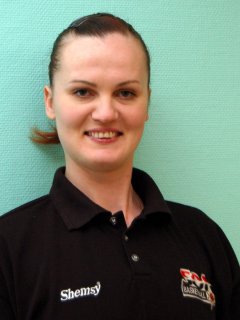 For Kateryna Pilyashenko-Novohatna (in picture) it was a victorious return to her old club, playing just eight minutes and scoring 2 points. Christel Morel and Johanna Tayeau scored 17 points each for the winners. Aurélie Carmona led the hosts with 19 points.
Toulouse won in the lowest scoring match of the evening against Limoges (60-44)to go back on top of the table with Armentières. Darline N'Soki led the hosts with 14 points with French youth international Agathe Degorces winning the battle of the point guards with 0 points and 6 assists.
Le Havre had to wait for Bintou Dieme to regain full fitness. She rewarded them with a display of 23 points and 9 assists in the win against Dunkerque Malo (73-71).
Léon Trégor 29 made light work of the CFBB at home (82-57) with 25 points coming from Oumou Tourre. Aude Kernevez added 22 points. For the first time this season Franck Simon gave all players a chance to play.
Reims kept it close but ended up losing to US Laveyron at home (71-77). Cheryl Malédon and Elena Vishnyakova accounted for 43 points for the guests.
So after six weeks action the CFBB and Reims are holding up the table with just a win each. Elsewhere the race is wide open for a place in the top 4.
La forme pour Calais et Roche Vendée dans le top 4
Avec toutes les équipes en complet, la compétition en LF2 est bien lancée. L'atout des formations est surtout l'offensive, illustré par des matchs souvent très serrés et des hauts scores.
COB Calais confirme son statut d'aspirant en s'imposant à domicile contre Voiron avec une Mélanie Arnaud en feu.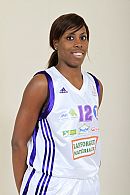 Cette saison Armentières perd son premier match à domicile (et son premier dans les onzer dernier mois) contre Roche Vendée dont Johanna Tayeau (16 points, 3 rebonds et 5 passes) et Christelle Morel (17 points et 9 rebonds) savent creuser l'écart pour une victoire bien méritée.
Toulouse à l'image de Darline Nsoki (dans l'images) gagne confortablement contre les Limaugeaudes.
L'équipe du Nord Dunkerque perd sur la route contre Le Havre de 2 points.
La CFBB ne trouve pas un moyen de s'imposer contre Léon Trégor et perd logiquement.
Reims, à nouveau, se plie à 6 points contre US Laveyron pour une nouvelle défaite.
Evaluations des meilleures joueuses de chaque équipe:
COB Calais 85 vs. 76 Voiron
Britany Miller 19 pts, 15 rbs, 3 stls vs. Amanda Lassister 28 pts, 13 rbs
Perpignan vs. Illkirch-Graffenstaden (reporté)
Armentières 71 vs. 81 Roche Vendée
Aurélie Carmona 19 pts, 9 rbs vs. Christel Morel 17 pts, 9 rbs and Johanna Tayeau 16 pts 5 ass
Toulouse 60 vs. 44 Limoges
Darline N'Soki 14 pts, 6 rbs vs. Hillary Klimowicz 10 pts, 8 rbs
Le Havre 73 vs. 71 Dunkerque MaloBintou Dieme 23 pts, 9 ass, 2 stls vs. Amélie Fresnais 1 pts, 4 ass and Dace Pierre-Joseph 16 pts
Léon Trégor 82 vs. 57 CFBB
Oumou Tourre 25 pts, 13 rbs vs. Lidija Turcinovic 14 pts, 8 rbs
Reims BF 71 vs. 77 US Layeron
Jenny Fouasseau 18 pts, 5 ass, 3 stls vs. Cheryl Malédon 24 pts, 4 stls, 4 ass
Return to the top of Ligue Féminine 2 new page
---
Visit LF2 2011-2012 basketball news page
Return to Ligue Féminine 2011-2012 index page
Leave Ligue Féminine 2 news and return to home page
Return to the top of Ligue Féminine 2 new page
Ligue féminine 2 picture credits:


womensbasketball-in-france
SO Armentières
LFB

Date created: 24 October 2011
---