Ligue Féminine 2 round 16
Who made the right decision?
In the last weekend of Ligue Féminine 2 action before the start of the "2012 Coupe de France" competition many head coaches were left with difficult decisions.
François Gomez, the coach from Perpignan had all week on thinking how his team would cope with Aïda Fall and Elena Vishnyakova from US Laveyron.
In the first match between these teams earlier in the season US Laveyron won (51-47). So Gomez was under pressure for the return match.
His tactic worked with his team hitting 10 three-pointers more than US Laveyron and also winning the battle of the boards. In addition it was the turn of Laina Badiane to have a perfect match with 26 points, 12 rebounds and 4 steals in the (87-61) victory.
Cyril Sicsic had every reason to be worried about playing Illkirch-Graffenstaden because of former COB Calais player Lina Brazdeïkyte.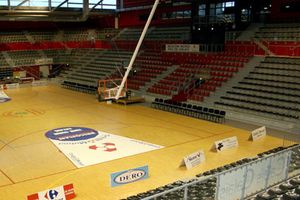 When Brazdeïkyte left Calais in 2009, she had plans to retire and concentrate on coaching. In her first season away she started coaching but continued to play for Illkirch-Graffenstaden. In her second season away (2010-2011) she had a baby.
She decided to put her coaching career on hold and return to the basketball court. Why Sicsic was worried was because on his roster only Aurélie Cibert and Mélanie Devaux had played more games at the "Salle Calypso" than Brazdeïkyte.
The match was not a classic with COB Calais holding on to win (58-56). It was Brazdeïkyte herself that brought the SIG to within 2 points of Calais in the closing minutes.
However a split pair by Devaux with 20 seconds to play just gave Calais the advantage they needed to hold on to the victory.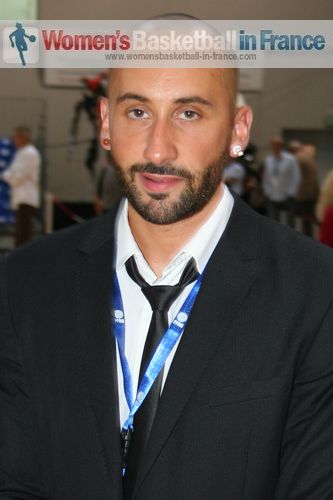 Matthieu Chauvet (in picture), the head coach of Toulouse, does not like playing against the CFBB. His team struggled for the first 20 minutes and trailed by 11 points.
Somehow he found the words to spark his players into action for the second half of the match. A 22-9 third-quarter run put them in front for good.
The final quarter was not pretty but Toulouse hung on to win (66-62) and remain tied for first place in Ligue Féminine 2 with COB Calais and Perpignan.
So the weekend ended successfully for all three coaches as their teams stay on course for the LF2 final four.
Ligue Féminine 2 basketball news from round 16
Roche Vendée remain in fourth place after beating Dunkerque Malo (75-46). The break was made during the third quarter with a 23-9 run. Roche Vendée had five players in double figures with Stéphanie Dufour leading the way with 12 points.
The fans of Armentières may decide to return in big numbers for the next home game after missing the game of the season against Voiron.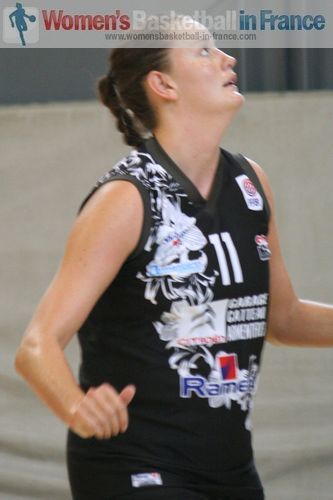 For people used to American style college basketball shoot-outs, then this was the match to watch. Mia Fisher (22 points and 5 assists) and Anda Nedovic (17 points, in picture) from Armentières and Amanda Lassiter (28 points, 10 rebounds and 4 steals) from Voiron were in their element.
Voiron were two seconds away from winning the match in regulation time when Rachel Goutière (17 points) struck and saved the hosts from defeat and forcing overtime.
Once again Voiron were in control leading (85-82) with less than a minute to play in overtime. Fisher came up with some magic to make it a 1-point game.
The suspense was total and with the clock running down Nedovic hit a three-ball to win the game.
With this victory Armentières move into fifth place.
In another match with plenty of suspense and drama Reims BF won on the road against Le Havre on the buzzer with their captain Anaïs Jomby (14 points) hitting the winning shot.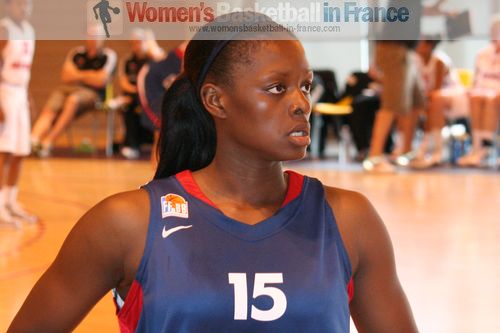 In order to increase the awareness of women's basketball in Le Havre, the match was offered to the general public for free.
From the two teams nine players finished with double-digit scores: for Le Havre Kayla Smith led the way with 21 points and 8 rebounds. Ida Preetzmann followed up with 17 points. Kekelly Elanga (in picture) and Bintou Diémé (10 assists) each finished on 15 points.
For Reims Jenny Fouasseau was the leading scorer with 16 points while Mélissa Micaletto added 15 points and dished out 7 assists while Iva Grbas and Astan Dabo both had 12 points apiece.
At the moment nothing is going right for Limoges. They are playing poorly and also have a habit of infecting their opponents. They lost to Léon Trégor (62-55) in a match that neither coach will want to remember.
The two teams combined for 64 turnovers and hit less than 30% of their shots between them. However Léon Trégor were able to win the match from the free-throw line with a success rate 26-from-31.
L2F, round 16 results:
Le Havre 79-81 Reims
Toulouse 66-62 CFBB
COB Calais 58-56 Illkirch-Graffenstaden
Léon Trégor 62-55 Limoges
Roche Vendée 75-46 Dunkerque Malo
Armentières 87-85 Voiron
Perpignan 87-61 US Laveyron

---
Visit LF2 2011-2012 basketball news page
Visit the Ligue Féminine de Basketball news for 2011-2012
Leave Ligue Féminine 2 news and return to home page
Return to the top of Ligue Féminine 2 news page
Ligue Féminine 2 picture credits:


COB Calais
womensbasketball-in-france

Date created: 23 January 2012

---