Ligue Féminine 2 round 15
Top four get victories on the road
The five clubs battling at the top of the Ligue Féminine 2 opened 2012 perfectly with victories. It was not a good weekend for hosts with just two victories from the seven games.
The CFBB finished 2011 with a series of three defeats and were hoping for a new start in 2012 with a home victory against
Roche Vendée
. They started the match with good intentions by winning the tip-off and leading (2-0) in the first minute.
However by the end of the first quarter turnovers and poor shot selections left them trailing (9-14). If only the young players from the CFBB knew that Nadja Morgan (10 points) and Christelle Morel (2 points) were not going to have a good day.
Instead they panicked and turned the ball over 27 times, 11 more than their guests. They also gave away too many free trips to the free-throw line.
Roche Vendée rode their luck during the first half (32-30). Then with steady scoring from Johanna Tayeau and Stéphanie Dufour with 16 and 13 points each they won (73-54).
Voiron's advantage on the rebounds helped them defeat Dunkerque Malo (83-66). Voiron led by just 8 points after the first half. But with a nine-player roster and strong offensive rebounding they pulled away for a comfortable victory.
Faëza Bouderra was on top of her game with 9 assists and 18 points while Khadidiatou Gassama scored 17 points for the winners. Both teams did not fire a lot of shots from beyond the arc: Voiron went 5-of-8 while Dunkerque 4-of-7.
Earlier in the season Perpignan, playing at home, had walloped Limoges (71-33). They almost replicated the same result with a (71-38) victory. Clémentine Samson did most of the offensive damage with a game high 26 points.
Limoges did not help themselves with just 8-from-43 shots hitting the target from two-point territory.
Illkirch-Graffenstaden's three-point shooting plan went wrong as they only managed to hit 8-from-32 attempts to fall at home (79-90) to Armentières.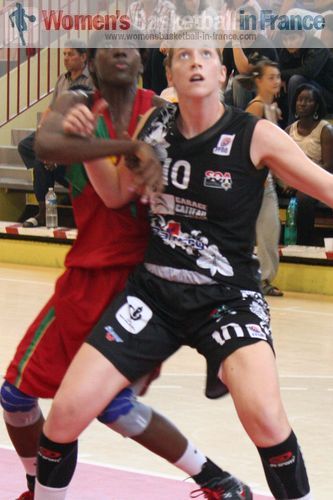 For Armentières, Aurélie Carmona (in picture) was on fine form. She hit 11-of-14 shots from the floor including a pefect 4-of-4 from beyond the arc to lead all scores with 28 points.
Four other players finished with double digit scores in the victory. For the SIG, Céline Schmitt-Sendner finished with 20 points and 11 rebounds.
Reims picked up their third victory of the season by defeating Léon Trégor (73-59). Reims made the break through with a 20-9 run in the third quarter.
Iva Grbas led the scoring with 21 points while Astan Dabo picked up 14 rebounds and Mélissa Micaletto dished out 6 assists.
US Laveyron gave away too many second-chance opportunities to COB Calais and paid the price by losing at home (57-72).
In the final game a strong second half display was enough for Toulouse to win on the road against Le Havre (71-47). Darline N'Soki and Emilie Maurice scored 16 points each for Toulouse.
COB Calais and Toulouse share first place with Perpignan on 26 points. However Perpignan have a game in hand over their rivals.
Perpignan's game against Illkirch-Graffenstaden which was not played due to transport issues has been rescheduled and will be played on 25 February 2012.
L2F, round 15 results:
CFBB 54–73 Roche Vendée
Reims BF 73– 59 Léon Trégor
Le Havre 47–71 Toulouse
Limoges 38–71 Perpignan
Laveyron 57–72 Calais
Illkirch-Graffenstaden 79-90 Armentières
Voiron 83–66 Dunkerque Malo

---
Visit LF2 2011-2012 basketball news page
Visit the Ligue Féminine de Basketball news for 2011-2012
Leave Ligue Féminine 2 news and return to home page
Return to the top of Ligue Féminine 2 news page
Ligue Féminine 2 picture credits:


womensbasketball-in-france
Date created: 15 January 2012

---