How good is Ligue Féminine 2?
A weekend of excellent shooting in Ligue Féminine 2 could show how good the basketball in the second division of women's basketball in France has become.
Roche Vendée have had their five-point penalty removed after a successful appeal. However all the managers from the club in L2F will be having a meeting with the French Basketball Federation (FFBB) to discus the rules of engagement.
A number of clubs have had similar issues to Roche Vendée. Furthermore other teams do not put ten players on the official team sheet on match days which is also breaking the FFBB rules.
Roche Vendée celebrated their return to the top half of the table by beating US Laveyron (88-77). Roche Vendée never trailed and scored 52% of their shots. Nadja Morgan led the way with 22 points and 15 rebounds.
Leaders Perpignan are unstoppable at home and crushed Le Havre (106-52). Le Havre were punished for opening the game with a (6-0) start. However the hosts were back on level terms after four minutes (8-8) and then it was one-way traffic all the way to the end.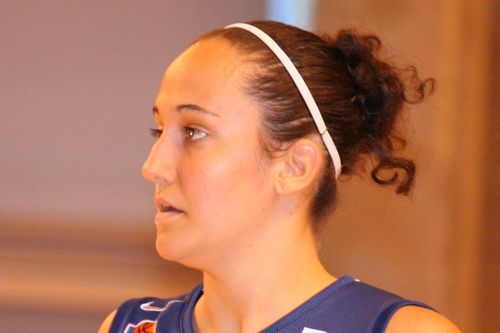 Perpignan finished the game by hitting 65% of their shots, which included 14-of-20 from beyond the arc. However their free-throw percentage should have been higher than 10-from-17 attempts as in this game.
It was a good team performance with a total of 26 assists. Clémentine Samson (right) had her best game of the season with 27 points and 5 assists. For Le Havre Kayla Smith and Ida Preetzmann both had 11 points.
COB Calais needed six minutes to take control of their game against Reims. Then it was plain sailing to the end (74-52).
Anaïs Jomby's opening attempt to destabilise COB Calais almost worked as her team led for the first four minutes. But a 9-0 run by COB Calais was enough to break Reims.
Calais led (20-11) at the end of the first quarter and maintained a double digit advantage for practically the rest of the match. Cherin Miller shone with 9-of-13 shots going in for her 19 points. She also picked up 13 rebounds. Jomby was the leading scorer for Reims with 18 points.
Carrem Gay had her first perfect shooting day in Ligue Féminine 2. All her 7 shots and her 1 free throw hit the target for a game high of 15 points as Toulouse beat Léon Trégor (60-49).
Voiron are the only team to win on the road this week and now share 4th position with Roche Vendeé.
Voiron actually struggled to get past the CFBB (71-62). They have to thank Magali Mendy who was not ready to accept defeat and finished the game with 22 points.
For the CFBB who are playing much better Lidjia Turcinovic filled the stat sheets with 16 points, 4 assists and 2 steals.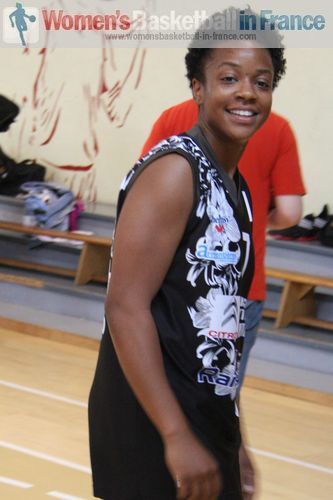 Dunkerque Malo and Illkirch-Graffenstaden have produced a number of high scoring games in the past. Although this game did not produce the high score, it was still tough. Dunkerque were the better team throughout the game but failed to blow away their opponents.
All the same they won the game (65-55) with another double-double performance by Dace Pierre-Joseph (22 points and 12 rebounds) and good scoring from Lynn Scott with 7 points. Four players from the SIG finished in double digits.
The big smile on the face of Mia Fisher (in picture) told the story of Armentières' victory against Limoges (92-74). Fisher had 21 points and 7 assists while her team-mate Aurélie Carmona also scored 21 points while collecting 12 rebounds.
For Limoges Hillary Klimowicz was again the big hitter with 22 points and 11 rebounds.
L2F round 13 results
CFBB 62-71 Voiron
Toulouse 60-49 Léon Trégor
Perpignan 106-52 Le Havre
COB Calais 74-52 Reims
Armentières 92-74 Limoges
Dunkerque Malo 65-55 Illkirch-Graffenstaden
Roche Vendée 88-77 US Laveyron
---
Visit LF2 2011-2012 basketball news page
Visit the Ligue Féminine de Basketball news for 2011-2012
Leave Ligue Féminine 2 news and return to home page
Return to the top of Ligue Féminine 2 news page
Picture credit:


womensbasketball-in-france
Date created: 12 December 2011
---