Ligue Féminine 2
SO Armentières, the only hosts to lose in week 11
SO Armentières' losing streak in Ligue Féminine 2 continues with their sixth straight defeat. They are the only home team to lose this weekend.
The CFBB pulled off the surprise of the weekend in beating US Laveyron (65-61) and spoiling the début of former Serbian youth international Irena Matovic.
Stéphane Lalart made his concern public about this weekend's match against Le Havre which may have not been appreciated by the supporters of the club as less than 200 people came for the match.
Once again Armentières dug themselves into a hole giving themselves too much to do in the final seconds. Once again their prayers were not answers as Mia Fisher's possible game winning shot failed to drop.
For Le Havre Kayla Smith was having a great game. She scored 23 points, dished out 4 assists while picking up 7 rebounds. Bintou did not have the best shooting day but still scored 15 points and dished out 7 assists in the victory.
COB Calais required something from Emilie Duvivier (right) to finally break Léon Trégor during the third quarter of their encounter. She hit 3 three-pointers in a row to finally put Calais in control (65-48) with about 26 minutes played.
The remaining 14 minutes were an offensive shoot-out between the two teams with Calais holding on to the advantage to win (90-70) with five players in double digits. While Duvivier had 17 points and 7 assists, it was the hard working Mélanie Arnaud with 18 points and 10 rebounds who was the player of the match.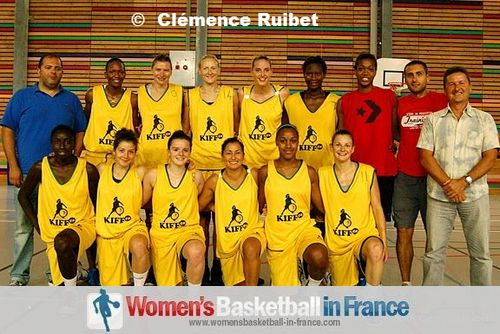 Etoile de Voiron have become serious contenders for a place in the Ligue Féminine 2 Final Four after their performance this weekend. They snapped the five-game winning streak of Illkirch-Graffenstaden with a comfortable home victory (82-58).
The damage was done during the second quarter when Illkirch-Graffenstaden failed to score for eight minutes and found themselves trailing (10-28).
A couple of treys by Magali Mendy (18 points) sent the hosts into the locker room leading (36-15).
It was one-way traffic for the rest of the match for the hosts although they were not able to play Amanda Lessiter in her starting role. She was injured last week and played just five minutes.
Faëza Bouderra was also injured in the game but her team coped without her. Mélanie Venier and Cyreille Recoura both scored 17 points and dished out 2 assists while Khadidiatou Gassama added 13 points and 5 assists.
What happened elsewhere in round 11 of the Ligue Féminine 2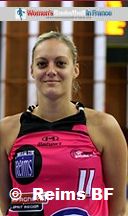 They say that stats don't lie and the proof is that
Iva Grbas
(in picture) has had her best game of the season for Reims with her 23 point total. However this was not enough for her team to avoid defeat against their hosts
Roche Vendée
(78-60).
With this victory Roche Vendée move off the bottom of the L2F regular season table. Gabriela Kubatova dished out 9 assists while scoring 13 points while Nadja Morgan fired in 20 points and picked up 11 rebounds.
Aurélie Durand has waited 11 weeks for this shooting performance. She made 9-of-10 shots to top score with 21 points as Dunkerque Malo beat Limoges (88-66). Linda Bousbaa who played for Dunkerque last season scored 13 points for the visitors and shared the scoring honours for her team with Belinda Mboma.
When Perpignan play like they did during the last 25 minutes against Toulouse, they should be very difficult to beat.
They hit big shots at the right moment and totally out-classed Toulouse. The only reason the winning margin was not larger was the way Mathieu Chauvet was coaching.
Perpignan hit 50 percent of their shots and went 7-of-12 from beyond the arc. They won the rebounding battle 40-28 and had five players in double digits. This was Perpignan's sixth victory in a row. They are only in second place because they have played one game less than Toulouse.
The CFBB's victory against US Laveyron was built on their advantage on the offensive rebounds (14 to 5). They never trailed in the match despite turning the ball over 21 times. Aby Gaye was the leading scorer with 19 points while Lidija Turcinovic and Olivia Epoupa added 13 and 11 points each.
Aïda Fall was the leading scorer for US Layeron with 22 points and débutant Irena Matovic added 10 points.
The results of this week are:

CFBB 65-61 US Laveyron
Perpignan 84-75 Toulouse
COB Calais 90-70 Léon Trégor
Armentières 66-67 Le Havre
Dunkerque Malo 86-66 Limoges
Roche Vendée 78-68 Reims
Voiron 82-58 Illkirch-Graffenstaden

---
Visit LF2 2011-2012 basketball news page
Visit the Ligue Féminine de Basketball news for 2011-2012
Leave Ligue Féminine 2 news and return to home page
Return to the top of Ligue Féminine 2 new page
Picture credit:


womensbasketball-in-france.com
Clémence Ruibet
Reims BF

Date created: 28 November 2011

---