Ligue Féminine 2
winning and losing streaks in week 10
10 weeks into the Ligue féminine 2 season, the picture at both ends of the table is confusing. Toulouse are still at the top while Roche Vendée are sitting on the bottom after a 5-point deduction.
Limoges snapped a four-game losing streak with a (51-46) victory against the CFBB. The CFBB pushed their hosts for most of the match and went into the final quarter on equal terms (35-35).
The teams were still locked together (39-39) with five minutes to play. An AND-1 play by Belinda Mboma with just under four minutes to play put Limoges in front for good. Hillary Klimowicz (17 points) and Elodie Leroux (10 points) then guided Limoges home to the relief of Maxime Bézin who was coaching the team for the second week.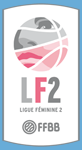 The game of the week in LF2 this weekend was between Perpignan and COB Calais. Perpignan, playing at home, were challenged for the first time at home this season.
The first 30 minutes were very tactical with both sides playing well defensively make scoring difficult. The hosts went into the final quarter leading (52-47) but Calais reduced the deficit to a single point (54-52) with eight minutes to play.
Pauline Lo and Héléna Ciak then stepped up aggressively for the hosts and within a space of five minutes Calais was blown away (57-70).
Clémentine Samson then finished off the job (79-59) for the fifth successive victory of Perpignan.
Nina Bogicevic was back for Toulouse after a two-week injury break. They were back to their best as they beat Roche Vendée (74-66). Bogicevic led the scoring with 20 points.
Armentières' losing streak continues. This time they fell on the road to Léon Trégor (66-79). Aude Kernevez, Oumou Toure and Adrina Gresnerova had a combined total of 60 points for the hosts.
US Laveyron led from start to finish in a bruising encounter with Dunkerque Malo, while Reims lost at home to Voiron (68-83). Illkirch-Graffenstaden made it also five wins a row by beating Le Havre (65-61).
Reims and Roche Vendée are now deep in relegation problems as they are two games behind the teams above them.
The results of this week are:

Perpignan 79-59 COB Calais
Reims BF 68-83 Voiron
US Laveyron 78-67 Dunkerque Malo
Léon Trégor 79-66 Armentières
Toulouse 74-66 Roche Vendée
Le Havre 61-65 Illkirch-Graffenstaden
Limoges 51-46 CFBB

---
Visit LF2 2011-2012 basketball news page
Visit the Ligue Féminine de Basketball news for 2011-2012
Leave Ligue Féminine 2 news and return to home page
Return to the top of Ligue Féminine 2 new page
Picture credit:


FFBB

Date created: 20 November 2011

---