Ligue Basket trendsetters Lyon BF
Lyon BF ambitions for this season is to host the Ligue Basket (LF2) final four. With sixteen victories from 17 matches they are two games clear of their rivals. They are on track for turning the ambition into reality.
Lyon have been in the news for fashion sense. Last season it was the less baggy playing kit. This season it is the tunics.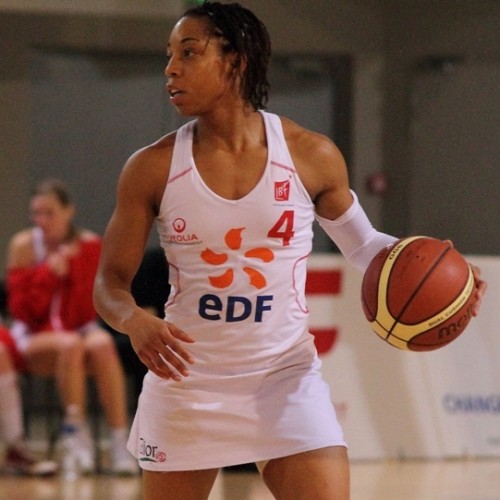 On the basketball court Lyon have taken the art of long distance shooting to another level.
This season they have had 437 shots from the three-point line or beyond. This works out about 25 shots per match or an attempt every 96 seconds.
They have attempted 120 three-point shots more than their nearest rivals Illkirch-Graffenstaden. Yet they have a success rate of 29%.
This weekend they played Illkirch-Graffenstaden (SIG) so the expectation was high that this match could turn into a three-point shooting festival.
Lyon did not disappoint by hitting 17-of-34 for 51 points while the SIG managed 7-from-21.
Lyon won the match (105-65) with Aurélie Carmona leading the scoring with a game high 21 points. Candyce Sellars (in picture above) finished with 17 points and 7 assists. She won the three-point shooting contest with 5-of-6.
Ligue Basket: The news from round 17
Roche Vendée required overtime to beat Armentières (77-75) in a game that can only be described as a yo-yo. The game was tied on 10 occasions and the lead changed no less than 14 times.
Armentières opened the game (12-0) but allowed the hosts to finish the first quarter with a 15-0 run to go ahead (28-23). This became the pattern of the match with each side having runs until overtime.
Mia Fisher (4 assists) and Cora Duval both scored 20 points for Armentières. But it was the hosts with a more balanced attack with five players in double digits that took all the points.
---
Reims required a final-quarter blitz to break Le Havre (73-61) to stay in third place. Nice reversed their defeat against Elan Béarnais Pau Lacq Orthez on day two with a comfortable victory (91-65).
Tanya Broring was ice cold from the free-throw line, going 4-for-4 in the last 30 seconds to take Limoges past Pleyber-Christ (65-63).
Results of week 17:
Rennes 55-67 Perpignan
Limoges 65-63 Pleyber-Christ
Roche Vendée 77-75 Armentières
Angers 58-72 Etoile de Voiron
Lyon BF 105-65 Illkirch-Graffenstaden
CFBB 63-67 Dunkerque Malo
Nice 91-65 Elan Béarnais Pau Lacq Orthez
Reims BF 73-61 Le Havre

Look back on the previous round from the Ligue Basket.
---
Return to Ligue Basket (LF2) news page
Return to women playing basketball in France Home page
GO Back to the top of the page
---
Ligue Basket picture credits:


Basketfly.fr

Date created: 16 January 2010
---