Ligue Féminine 2: Relief for Armentières
Delight for Le Havre
Armentières
notched up their sixth consecutive victory in the Ligue Féminine 2 with a road victory (73-60) against the CFBB.
Marie-Frédérique Ayissi (left) was the match winner with 31 points for SO Armentières.
Yet the guests made things difficult for themselves. Leading (41-31) at the interval, they found themselves trailing going into the final quarter (50-53).
Ayissi then went on a one-lady demolition act as Armentières with an 11-0 run in four minutes for her side to take command of the game for good.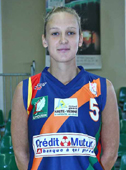 Limoges led for most of the game against Le Havre. With two minutes left to play they had the game in their hands (54-48).
Le Havre scored the next 7 points to go in front. But with one second left to play Maryska Kowalik (right) had the chance from the charity stripes to win the game for Limoges.
Both her attempts went astray and the game was lost.
With the top 4 teams winning this weekend, Limoges - who are in fifth place - are the big losers in the top half of the table. They find themselves now two games behind Nice that are in fourth place.
Lyon BF are one victory away from booking their ticket for the LF2 final four after beating Perpignan (71-50).
Lyon continued their three-point avalanche connecting 11-from-24 attempts. Roche Vendée remain in second place after coming out on top against Dunkerque Malo (79-74).
Reims BF had no trouble in beating Pleyber-Christ (88-63). The game was over as a contest by the end of the third quarter with Reims leading (70-43).
A first-quarter blitz (32-15) set up Nice for their victory (89-79) in a topsy turvy match.
Ligue Féminine 2: Relegation contest becoming complicated
Armentières have left the relegation zone and AL Aplemont Le Havre are doing their best to move out of the zone.
However for the SIG, with just one victory in the last six games, they find themselves deep in the battle.
Rennes ended their negative series of five defeats by beating the SIG (61-47).
Angers may have condemned Pau Lacq Orthez to relegation by beating them (59-51).
The CFBB cannot be relegated and with just two wins this season they occupy 16th position.
Pau Lacq Orthez have only had four wins this season and even with a game in hand they will remain in 15th place and at least three games behind the teams in front of them.
Angers, Dunkerque, Le Havre and Rennes are tied with 28 points and all share 11th place while the SIG in 10th place have 29 points.
The battle to avoid relegation will become more intense in the coming weeks because next season only 14 teams will play in LF2.
And with just two teams winning promotion from third division (NF1), it will become harder for teams getting relegated to return back.
Results of week 21:
Rennes 61-47 Illkirch-Graffenstaden
Limoges 54-55 Le Havre
Roche-Vendée 79-74 Dunkerque Malo
Angers 59-51 Pau Lacq Orthez
Lyon 71-50 Perpignan
Reims 88-63 Pleyber-Christ
CFBB 60-73 Armentières
Nice 89-79 Voiron

Look back on the previous round news for women playing basketball in the Ligue Féminine 2.
---
Return to Ligue Basketball news page
Return to women playing basketball in France Home page
GO Back to the top of the page
---
Ligue Féminine 2 picture credits:


LFB
Limoges

Date created: 22 February 2011
---