Ligue Féminine 2 surprise weekend
In a couple of media outlets dedicated to the
Ligue Féminine 2
, they predicted that this week would be tough for the leaders.
They got it right because Roche Vendée, Reims BF and Cavigal Nice 06 all ended up losing on the road.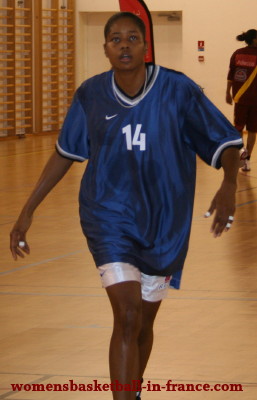 However the leader Lyon BF did enough on the road to beat Pau Lacq Orthez (60-49).
Lyon did not have an excellent match but did the damage with a 17-5 second quarter score to lead (31-22).
Leslie Ardon (right) led the attack for Lyon with 18 points while Candyce Sellers and Julie LeGoupil added 13 and 11 points. Clarisse Mpaka had 17 points for Pau.
Lyon are now four games clear at the top of the Ligue Féminine 2 and the first team to be mathematically safe from relegation.
The lowest position that Lyon can finish in the division is 9th place. So the regular season title dreams for Illkirch-Graffenstaden, Dunkerque Malo, Rennes Avenir, Angers, Al Applemont Le Havre and Pau are over.
However for Limoges, Pleyber-Christ and Voiron, the final four is still a possibility.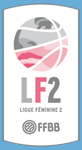 Alex Tchangoue
was all over the court in
Le Havre
for their victory against Roche Vendée (58-55). She scored 16 points, pulled down 13 rebounds and dished out 5 assists.
Perpignan went on a 15-0 run at the start of the third quarter against Reims BF. They finished the quarter with an 11-0 run to lead (51-35) going into the final quarter.
Reims were down and out and ended up losing (53-67).
Cavigal Nice 06 blew a 10-point first quarter advantage (19-9) and ended up losing (53-65) to Armentières.
Despite Armentières losing Mia Fisher during the first half of the match they pulled things around during the second half of the match 42-17.
Limoges have sent the SIG into the relegation battle after walking away with a road victory (56-51) despite 25 points from Céline Schmitt-Sendner.
Aude Kernevez, the captain of Pleyber-Christ, has had some bad experiences playing against the CFBB. But this season she will be happy that her side had two victories.
She led Pleyber-Chirst with 23 points in the (71-47) victory.
In the remaining game Dunkerque ended their negative series with a hard fought victory against Angers (74-69). Latvian Dace Brumermane and former Senegalese international Mariame Dia fired in 18 points each.
Faeza Bouderra went 11-of-15 from the free-throw line to finish with 15 points and 7 assists as Voiron beat Angers (74-63).
Results of week 20:
Voiron 74–63 Rennes
Illkirch-Graffenstaden 51–56 Limoges
Le Havre 55-58 Roche-Vendée
Dunkerque Malo 74–69 Angers
Perpignan 67–53 Reims BF
Pleyber-Christ 71–47 CFBB
Armentières 65–53 Nice
Pau Lacq Orthez 49–60 Lyon
Look back on the previous round news for women playing basketball in the Ligue Féminine 2.
---
Return to Ligue Basketball news page
Return to women playing basketball in France Home page
GO Back to the top of the page
---
Picture credits:

Date created: 13 February 2011
---