Villeneuve d'Ascq close to finalising 2008-2009 LFB team roster while Bourges and Challes-les-Eaux are ready.
---
---
Villeneuve announce LFB team roster changes for 2008
Villeneuve d'Ascq have more or less completed their LFB roster for next season with the announcement of four new players.

Florence Lepron who has been at Bourges for the last three seasons decided it was time to change clubs as her court time has been reduced considerably over the last couple of seasons. She is only 23 years old and has already six seasons behind her in the Ligue Féminine de BasketBall. In addition to her success with Bourges she has also won medals at all categories for France at youth international level at the European championships. She also won a bronze medal from the U21 world championships in 2003. Although she is not in the French 2008 preliminary roster this year, she has been in the squad in 2006 and 2007.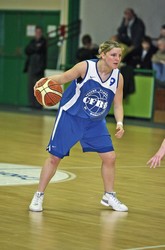 Laurie Datchy is coming out of the French National Basketball Academy at INSEP, where she played for the CFBB in NF2 and NF1. She has been a key member on the French U16 and U18 squads in the past and is expected to be a member of the U18 team again this summer. She is principally a point guard but has the flexibility to play other positions. She is also an excellent three-point shooter.

Martina Rejchova, who is 1m96, will be making her first appearance in France after five seasons in Italy. She has already played in the FIBA EuroLeague Women competition with Chieti during the 2004-2005 season and also in the EuroCup Women on four other occasions. So she is well adapted to the rhythm of playing two games a week.
The fourth signing is that of 1m90 Mijijani Evtoukhovitch, also known under her maiden name Maganjic. She has been playing for the last two seasons in Slovenia and will bring her rebounding skills for her first experience in France. She played for Croatia at youth level and since 2005 has been part of the national team set-up.
Ljubica Djljaca, Géraldine Robert and Fatimatou Sacko have confirmed that they will be back next season. The club has not made any announcement about Bintou Dieme but it is clear that she will not be at the club next season. There will be seven professionals or maybe eight and Villeneuve will integrate players from their basketball academy (centre de formation).
Bénédicte Fombonne (left) and Kathy Wambe who have been team mates for the past six seasons at Villeneuve are both leaving the club but will remain in the area.
Wambe will join the new club of USVO-Saint Amand while Fombonne will join Dunkerque.
Shala Crawford is expected to go back to play in Spain. Jasmina Ilic and Dantas have not made any formal announcements of their future.
---
---
LFB team roster 2008 completed for Bourges Basket
Pierre Vincent, the head coach of Bourges Basket, and Pierre Fosset, the president of the club, have not wasted much time completing their team roster. Seven players remain from last season's roster. Three players of which two played in France during the current season will complete the roster for next season.
Katia Manic is the last addition to the squad. The Serbian international player at Lattes-Montpellier this year came to prominence during the second phase of the season.
The Bourges roster for next season is:
Cathy Melain, Endene Miyem, Ana Cata-Chitiga, Céline Dumerc, Carine Paul, Emméline Ndongue, Nora Bujdoso, Ana Lelas, Katic Matic, Alessandra Santos de Oliveira.
---
Challes-les-Eaux unveiling LFB team roster for 2008
Corinne Benintendi, the head coach of Challes-les-Eaux, has not many changes to the team that finished last season's campaign.
Slavka Frniakova will not be part of the team next season. She had an injury plagued season and is currently recovering from the injury that put an end to the current season. Marie Bacquet will also be playing elsewhere next season.
Chandi Jones and Amra Mehmedic who came onboard late in the season will not be back in September.
The new arrivals to the club are Kirby Copeland who played in the English league this season with the Rhondda Rebels. At the end of this report you can listen to the comments of Andrea Congreaves who played alongside Copeland for the Rebels.
Aida Fall makes her return back to the LFB after a season in NF1 with Racing Strasbourg. The 1m95 centre has had a nomadic career that has seen her win the trophée coupe de France (French amateur cup) with Perpignan in 2006 before her first season in the LFB with COB Calais in 2007. In her junior days she also spent a season playing for USVO Espoir.
Silvia Janostinova whose current season with Mondeville never happened due to injury will be hoping to make a fresh start next season with Challes. This is a club she played for before joining Mondeville.
The last signing is that of Mélanie Arnaud who has had a season to forget at ASPTT Arras.
The Challes roster for next season is:
Emilie Duvivier, Johanne Gomis, Marlous Nieuwveen, Laina Badiane, Martina Luptakova-Gyurcsi, Stéphanie Dubois, Aida Fall, Silvia Janostinova ,Mélanie Arnaud, Kirby Copeland
Andrea Congreaves' comments on Bourges and players from England joining the French League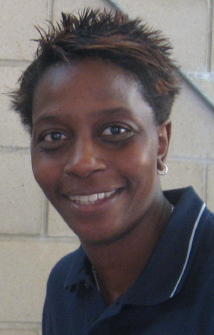 Andrea Congreaves believes that Bourges are a unique club and that they have a formulae for winning championships with players that are not necessarily super stars. She is not surprised at them winning another championship. Although she only spent one season with the club she has always loved Bourges. She is of the opinion that Kirby Copeland, who will be joining Challes-les-Eaux, is a good player in one on one situations but now has to work on her team game. She is a player that is used doing it all by herself. She may struggle initially with this in the French League. Once settled in and distributing the ball, she should have a good season.
Andrea went on to explain why players like Lauren Koehn and Copeland need time to adjust after playing in the English League. She, more or less confirmed, what other players have said about the French league with no easy games. However in England with only two or three real tough games a season players with their skills have it too easy and get away with things that will not work in leagues of a higher standard. You may listen to her comments in English:
(Note: If you are using Internet Explorer click twice on the triangle)

Return from LFB team roster changes to "What's New" page
Return from LFB Team Roster Changes to LFB Basketball news
LFB team roster changes basketball news as of 19 May
LFB team roster changes basketball news as of 8 May
LFB team roster picture credits:
Laurie Datchy - www.basquetebol.org
Florence Lepron - LFB

Date: 24 May 2008
---