Update on LFB team roster changes announcement for 2008-2009
---
---
Aix-en-Provence announced their LFB team roster changes for next season during a press conference last weekend.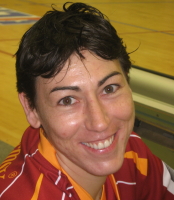 They will have only eight players in the professional roster for next season. With no European Basketball next season they are likely to bring in players from their centre de formation (basketball academy).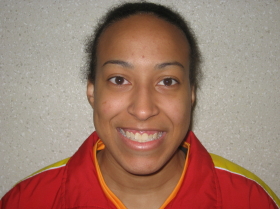 The three players coming back for another season in the Ligue Féminine de basketball are:
K. B. Sharp
, (left) who is back in the WNBA with Chicago Sky;
Magali Lacroix
(captain-above) and
Yacine Sene
(right).
The new players include two Australian internationals:
Hollie Grima (1m90) who played in Italy last season; and Renae Camino (1m77) who is currently playing for the Adelaide Lightning.
Furthermore there are the Belgium international Laurence Van Malderen (1m94) who also played in Italy last season; Anaïs Deas from Arras and Fanny Cavallo who is coming from the CFBB.
For Cavallo this is a return to her region after three years with the INSEP basketball academy.
For the other players on the last season's LFB team roster it was confirmed that Joyce Cousseins-Smith is off to COB Calais and Stéphanie Beuzelin has signed for ASPTT Arras.
Some news on movements around the clubs in the LFB
DorianeTahane has already found a club for next season as she will be joining LFB newcomers Nantes-Rezé.
Sylvie Gruszczynski has signed for two seasons with Lattes-Montpellier where she will be reunited with Valéry Demory who was her coach during her time at Mourenx.
Gruszczynski will be joined at Montpellier by North Carolina State star Khadijah Whitttington who was the 26th draft in the WNBA and is playing for Indiana.
Pauline Krawzyk is the third signing for Montpellier.
Bourges have already found a replacement for Sonja Kireta in Alessandra Santos de Oliveira. Florence Lepron is on her way to Villeneuve d'Ascq. The other confirmed departures are Nora Budjoso, Sonja Petrovic and Belinda Snell.
Return from LFB Team Roster Changes to LFB Basketball news
LFB Roster basketball news as of 8 May

Date: 19 May 2008
---