2011 LFB championship semi-final ends
after two games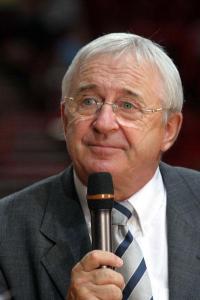 Alain Jardel
's (in picture) first season in the LFB has been rocky but his preparation in neutralising the threat of
Mistie Bass
from Challes-les-Eaux must have come as one of the high points of the season.
Bass scored just 10 points of which 8 came from the free-throw line.
Bass was 9 points below her average for the season and Tarbes ran out winners by 9 points (75-66).
Once again Roneeka Hodges was decisive in this series with a game high 22 points while Jelena Dubljevic added 21 points.
Bianca Thomas was the leading scorer for Challes-les-Eaux with 21 points.
Tarbes stay on course to defend their title of Ligue Féminine de BasketBall Champions.
Bourges Basket have qualified for their eighth straight LFB Championship final after beating Montpellier (65-55) to clinch the series 2-0.
Both games can be seen again by clicking on this link.
The final will be played on the 1st and 5th of May. If a third game is required then it will take place on 7th May.
All the games will be broadcast by Sport + but will not be streamed live on the internet.
You can read the news from game one here.
Tarbes weathered the storm to qualify for the LFB final
The first ten minutes were lively with both teams going perfect from the free-throw line.
Bass was provoking fouls but was not hitting her shots while Tarbes kept things simple in the paint to lead (18-17) by the end of the first quarter.
Florence Lepron found herself in foul trouble early in the second quarter and had to return to the bench for Tarbes.
Jelena Dubljevic, back from suspension, kept out of trouble during the first half.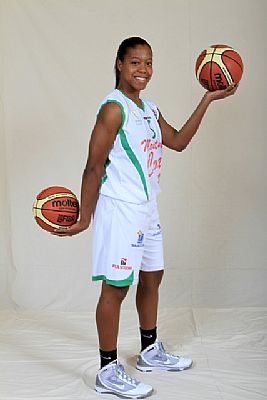 Magali Lacroix and Bianca Thomas (in picture) went on the rampage for Challes as they opened up a 10-point lead late in the second quarter while Tarbes went on a missing festival.
However Tarbes regained their scoring touch before the interval. Thanks mainly to Roneeka Hodges they trailed by just 7 points going into the second half (34-41).
Then Bass continued to draw fouls and miss free throws while Tarbes made up their deficit.
The pendulum was beginning to swing in favour of Tarbes as they regained the lead by the end of the third quarter (55-52).
Challes-les-Eaux had the worst start possible to the final quarter with their coach Aldo Corno picking up a technical, which resulted in a 2-point play. This turned into a 6-0 run for Tarbes.
Lepron controlled the pace of the game for Tarbes the rest of the way while Hodges and Dubljevic kept on scoring.
Challes did bring down the deficit to 3 points but without Bass on fire and Romy Bär (not allowed to play), they did not have a rotation strong enough to overcome Tarbes.
Challes-les-Eaux 66-75 Tarbes
Challes-les-Eaux: Bianca Thomas 21, Alexia Plagnard 9, Sabrina Palie 5, Mistie Bass 10 (4 assists), Magali Lacroix 15, Clarisse Costaz 2, Jennifer Fleischer 4
Tarbes: Jelena Dubljevic 21 (3 assists) Roneeka Hodges 22, Ivanka Matic 10, Pauline Lo 7, Biljana Pavicevic DNP, Isis Arrondo 0, Naura El Gargati 2, Florence Lepron 7 (3 assists), Darline Nsoki DNP, Brooke Smith 6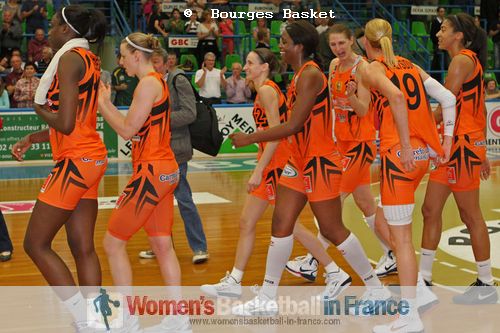 Bourges are hard to stop when on the back foot
The Bourges fans did not turn up in mass for this game and the arena lacked its usual atmosphere.
Bourges opened up with a (7-0) start. They appeared to blow Montpellier away leading (10-2) with less than four minutes played after a trey by Cathy Joens.
However Montpellier picked themselves up in a very physical phase to edge the first quarter (18-17) with 9 points coming from Ana Lelas.
The second quarter turned into a nightmare for Montpellier as they picked up 2 technical fouls and had 3 key players in foul problems.
Bourges took full advantage to take a 6-point lead into the locker room (32-26).
With Montpellier being handicapped they were unable to compete on equal terms with Bourges.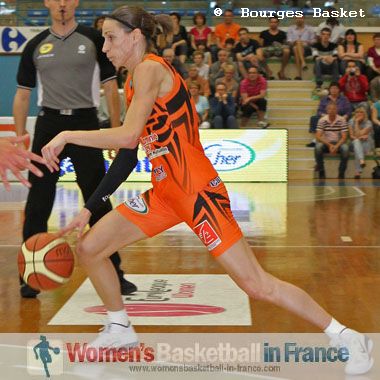 Paoline Salagnac (right) pushed her team-mates into action as they increased their advantage (51-37) going into the final quarter.
Yet Montpellier did give Bourges a little scare as they reduced the deficit to 5 points with six minutes to play.
However a trey by Joens put Bourges back on top for good.
The final minutes were a little rough and scrappy but Bourges, with a deeper rotation, did enough to qualify for their eighth consecutive LFB final.
Bourges Basket 65-55 Lattes-Montpellier
Bourges Basket: Anaël Lardy 5 (3 assists), Maja Miljkovic 5, Nwal-Endéné Miyem 8, Styliani Kaltsidou 8, Jennifer Digbeu 4, Catherine Joens 14, Paoline Salagnac 10, Emméline Ndongue 11, Ilona Burgrova 0
Lattes-Montpellier: Alicia Poto 5 (3 assists), Iva Perovanovic 4 (10 rebounds), Cyrielle Hugues 0, Ana Lelas 10, Gaëlle Skrela 17 (6 steals), Sandra Dijon-Gérardin 6, Ines Ajanovic 2, Fatimatou Sacko 11
---
Return from LFB Basketball News to Ligue Féminine de BasketBall index
Go to Women Playing Basketball In France Home Page
Return to the top of page
---
LFB Basketball news picture credits:
womensbasketball-in-france.comLFB
IS/FFBB
Bourges Basket

Date created: 24 April 2011
---