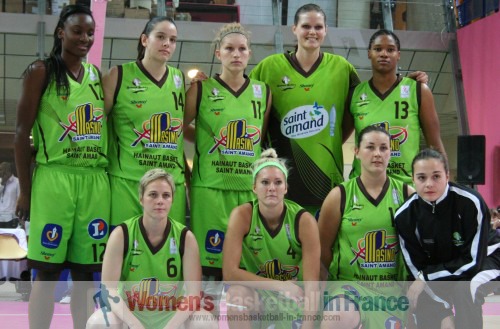 Union Hainaut Basket's third LFB match of the season went according to plan with a comfortable victory (74-47) against Toulouse Métropole Basket.
For UHB Clémence Beikes returned for her first game of the season while Emilie Silbande-Petiteau sat out with a light ankle sprain.
The suspense did not last long in this game after a 11-0 opening start by the hosts.
UHB went on a 12-0 run to close the quarter with a commanding lead (25-4).
Chandrea Jones saved Toulouse from a complete blow-out as she kept her team in the game going into the interval(20-35).
Corinne Benintendi, the coach from UHB, must have said something to her players during the interval as her players put the game out of their guest's reach by the end of the third quarter (52-31).
During the final quarter, Benintendi continued to turn her bench which resulted in Céline Girald (back from injury) making her LFB début.
Union Hainaut: Steffi Sorensen 5 (6 assists), Emilie Duvivier 14, Clémence Beikes 14, Emilie Silbande-Petiteau DNP, Noémie Lemaire 3, Céline Girard 0, Laetitia Kamba 10 (12 rebounds), Jasmon Covington 24, Elsa Martins 0, Alison Bales 2 (12 rebounds)
Toulouse: Lou Mataly 0, Jessie de Colo 0 (4 assists), Camille Aubert 3, Chandrea Jones 16, Emilie Maurice 7, Leslie Matanga 3, Lola de Angelis 0, Shanavia Dowdell 12, Suzanna Milovanovic 6
Review the LFB basketball news from round 4
---
Return to other LFB matches for the current season
Return to Ligue Féminine de BasketBall index
Go to Women Playing Basketball In France Home Page
Return to the top of page
---
Picture credits:
womensbasketball-in-france.com

Date created: 30 October 2010

---