2011 LFB Championship final, game one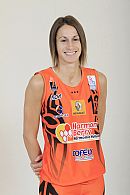 The first game of the LFB Championship final was rather technical and not interesting to watch. Bourges did what they needed to do to win the game while
Tarbes were unrecognisable from the team that eliminated Challes-les-Eaux
during the semi-final.
Tarbes, playing at home for the last time this season, were unable to get into this game and allowed Bourges Basket to dominate them in all sectors of the game.
For Bourges Basket Paoline Salagnac (left) and Nwal-Endéné Miyem led the way with 14 points each, while Emméline Ndongue added 10 points.
For Tarbes Jelena Dubljevic and Roneeka Hodges with 15 and 13 points were the only players in double digits while Brooke Smith with 9 points and 8 rebounds was their best player.
The second game is on Thursday, 5 May 2011.
Bourges take the lead in LFB Championship series
Bourges went on the attack from the tip-off and despite missing their first three shots opened the scoring through their captain Emméline Ndongue.
Ndongue showed her defensive side with a block against Jelena Dubljevic moments later.
Brooke Smith stripped the ball of Styliani Kaltsidou and fed a pass to Dubljevic who then scored Tarbes' first points of the game.
Anaël Lardy fired in a trey for Bourges. But Roneeka Hodges replied with back to back baskets and a free throw for Tarbes to take the lead briefly (7-5).
Pierre Vincent started to turn his bench with his team stepping up defensively keeping Tarbes scoreless for more than three minutes. At the same time they went on a 9-0 run concluded with a trey by Jennifer Digbeu (14-7).
Bourges maintained the advantage all the way till the end of the quarter (18-11).
Dubljevic started to make her presence known with a couple of baskets for Tarbes.
However Bourges continued their festival from beyond the arc with Maja Miljkovic and Paoline Salagnac enabling them to open up a double digit lead (26-15) after 12 minutes.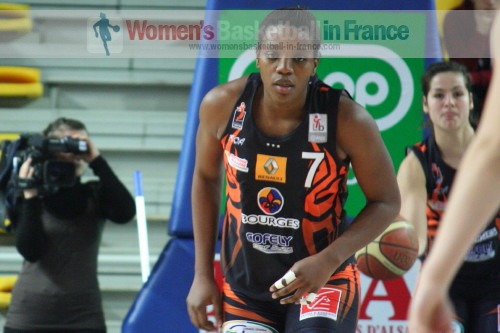 Nwal-Endéné Miyem (left) more or less took on Tarbes by herself by scoring 8 of her team's last 10 points, which helped them to maintain a 10-point lead going into the locker room (36-28).
Ndongue scored the first 6 points of the third quarter as Bourges stepped on the accelerator.
Cathy Joens added 2 more points which forced Alain Jardel to call for a time-out with his side trailing (26-44) with 24 minutes played.
Tarbes managed to stop Bourges from scoring and started a run of their own with Hodges, Florence Lepron and Dubljevic all scoring (32-44).
Bourges woke up and started to find their way to the basket. They stretched their lead to 15 points (50-35) with 90 seconds left to play in the third quarter.
Hodges hit a three-pointer for Tarbes but two free throws by Lardy allowed Bourges to start the final quarter (52-38) ahead.
Bourges Basket basically stopped Tarbes from playing basketball and the game was not interesting to watch.
Hodges was left to play on her own: she fired in a trey but Bourges maintained control.
Salagnac went on the attack for Bourges and more or less put the game out of reach for Tarbes. She scored 5 points quickly, followed by 2 points for Ilona Burgrova.
With an 18-point advantage (61-43) with six minutes to play Bourges then paced themselves to victory (61-43).
Tarbes 53-71 Bourges Basket

Tarbes: Jelena Dubljevic 15, Roneeka Hodges 13, Ivanka Matic 8, Pauline Lo 2, Dominique Armand DNP, Isis Arrondo 0, Naura El Gargati 2, Florence Lepron 4 (4 assists), Darline Nsoki DNP, Brooke Smith 9 (8 rebounds), Aurélie Pinto DNP
Bourges Basket: Anaël Lardy 9, Maja Miljkovic 5, Nwal-Endéné Miyem 14, Margaux Galliou-Loko DNP, Styliani Kaltsidou 0, Jennifer Digbeu 7, Catherine Joens 4, Paoline Salagnac 14, Emméline Ndongue 1O, Ilona Burgrova 8
---
Return from LFB Championship Final to Ligue Féminine de BasketBall index
Go to Women Playing Basketball In France Home Page
Return to the top of page
---
LFB Championship final news picture credits:
womensbasketball-in-france.com
LFB

Date created: 01 May 2011
---