Advantage to home teams in LFB challenge round semi-finals
The first leg of the LFB challenge round semi-finals went to the hosts Arras and USO Mondeville.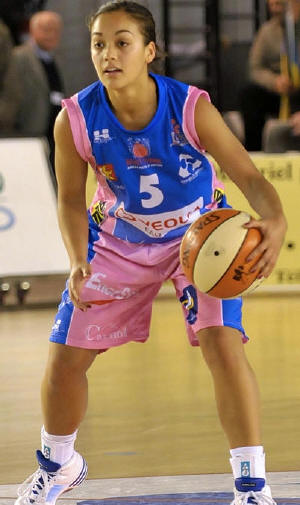 Arras beat Nantes-Rezé (71-59) with Leilani Mitchell (photo) leading the way.
She played for the full 40 minutes scoring 27 points which included 12 points (4-from-6) from behind the arc.
Lindsay Taylor was once again the leading scorer for Nantes-Rezé with 18 points.
USO Mondeville got off to a flying start, leading (15-3) with three minutes played. Basket Landes somehow managed to avoid being blown away but were unable to extend their LFB winning streak.
Aurélie Bonnan scored 22 points, picked up 11 rebounds, made 4 steals and dished out 3 assists in leading Mondeville to victory (70-59).
You can read the basket news from the second leg of the challenge round quarter-finals.
USO Mondeville won but Basket Landes finished stronger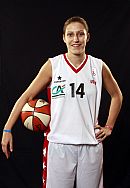 Mondeville had the best start to the game with a couple of treys by Lenae Williams and 6 points in the paint by
Aurélie Bonnan
(left) as they went on a (15-3) run with just over three minutes played.
Olivier Lafargue, the coach from Basket Landes, had no option but to call a time-out immediately and change his defensive options.
Basket Landes switched to zone which slowed down the Mondeville attack and at the same time gave them chances to score.
Bineta Diouf started the fightback for Basket Landes. Then she was joined by Jennifer Humphrey with a couple of free-throws and a trey by Julie Barennes to close down the deficit.
Touty Gandega got Mondeville going again. Afterwards K. B. Sharp and Aurélie Bonnan restored their team's advantage (24-18) by the end the quarter.
Mondeville continued to play aggressively and was rewarded with an 11-point lead after 15 minutes played (31-20).
Just like in the first quarter Basket Landes picked up after a time-out. Barennes fired in her second trey of the game which was followed by back to back scores from Diouf.
Basket Landes reduced their deficit to 8 points (25-33) but Hervé Coudray from Mondeville was able to turn his bench to good effect.
Despite Marion Laborde's efforts, Mondeville restored the double-digit advantage going ahead into the locker room (39-28) with Bonnan leading the way with 16 points.
Without Tamera Young and with Jennifer Humphrey having an off day, Basket Landes were unable to stop Bonnan.
They did not fall further behind as Valeriya Berezhynska was not having a good game too.
All the same Mondeville stretched the advantage and went into the final quarter leading (55-38).
USO Mondeville led by as many as 17 points and should have won by a bigger margin but they gave away 2 technical fouls during the last five minutes.
Then they allowed Anaïs Le Gluher to score 5 points in the last 30 seconds.
Mondeville still won the first leg of the LFB challenge round semi-final (70-59) although they allowed Basket Landes right back into the match.
USO Mondeville: Touty Gandega 4, Anne-Sophie Pagnier 3, Esther Niamké-Moisan DNP, Aija Brumermane 4, K. B. Sharp 13 (6 assists), Lenae Williams 14 (3 assists), Yacine Séné 6, Pauline Thizy DNP, Aurélie Bonnan 22 (11 rebounds, 4 steals, 3 assists), Valeriya Berezhynska 4
Basket Landes: Aminata Konate 0, Katarina Manic 4 (5 assists), Bineta Diouf 7, Anaïs Le Gluher 11, Julie Barennes 10, Julia Borde 0, Marion Laborde 19, Laurie Lapeyre 2, Jennifer Humphrey 6 (11 rebounds)
Arras winning by 12 points gives them a slight advantage for the second leg
Arras led for most of the match and even put a 16-0 run together but ended up winning by just 12 points.
Leilani Mitchell played the full 40 minutes and scored well, Pauline Akonga N'Simbo was also active.
Nantes-Rezé made sure that Johanne Gomis did not have many scoring changes before leaving the game for good towards the end of the third quarter with what looked like a sprained ankle.
All the other players from Arras were poor in shooting.
Laurent Buffard had a full roster for this game with the return of Allison Hightower and Emilija Podrug. However his team had a poor shooting day and in the end were thankful for the scoring of Lindsay Taylor and Caroline Aubert.
Arras leads (71-59) going into the second leg of the LFB challenge round semi-final.
Arras need to win this competition to be sure of picking up a place in Europe next season after finishing 7th in the regular season.
Arras: Leilani Mitchell 27, Laury Aulnette DNP, Krissy Badé 4, Sarah Michel 5 (4 assists), Johanne Gomis 9 (3 steals), Olesia Malashenko 2, Adja Konteh 0, Marielle Amant 6, Aija Putnina 2, Pauline Akonga N'Simbo 18 (9 rebounds)
Nantes-Rezé: Florine Basque 0, Caroline Aubert 11 (5 assists), Joyce Cousseins-Smith 2, Mélanie Plust 0, Allison Hightower 4, Yuliya Andreyeva 0, Mame-Marie Sy-Diop 6 (12 rebounds), Lindsay Taylor 18, Sabine Niedola 4, Emilija Podrug 8
---
Return from LFB Basketball News to Ligue Féminine de BasketBall index
Go to Women Playing Basketball In France Home Page
Return to the top of page
---
LFB Basketball news picture credits:
LFB
Romain Chaib

Date created: 27 April 2011
---